Bok Choy Salad with Apples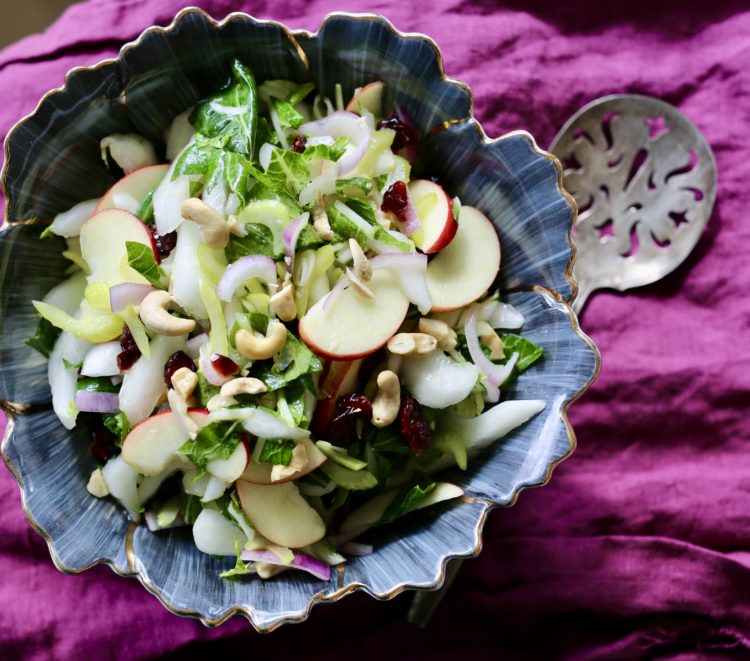 In this bok choy salad with apples, you get two kinds of crisp juiciness combined with celery, raisins (or craisins) and cashews in a light, lemony dressing. It's like a Waldorf salad but grown all the way up.
We've been getting a LOT of bok choy in our CSA boxes and it's one vegetable I prefer raw over cooked. Talking the big, white-stemmed standard bok choy (aka bok choi), not the baby or Shanghai bok choy. Those little ones I like best stir fried. (Try those in a hot dog stir fry! or a baby bok choy and soba noodle bowl!)
But the fat white stems of a big ol' head of bok choy, to me, are so delightfully crisp and juicy, it's a shame to cook them til they're limp. Or to cook them at all.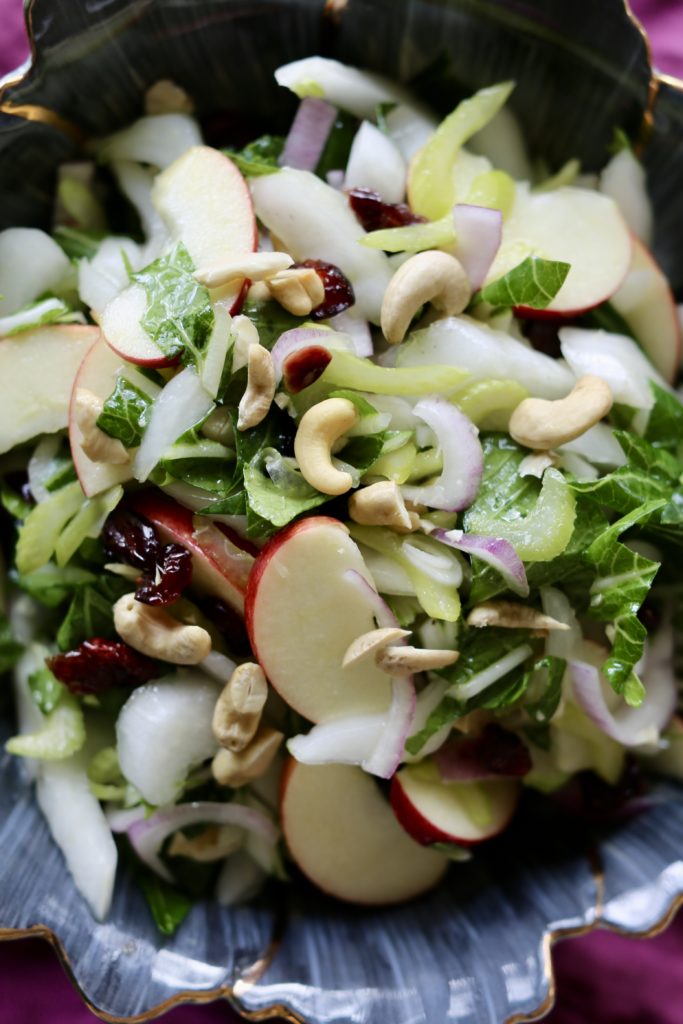 You'll want to slice everything about the same thickness. Rather, thin-ness. The point is to make it all small enough so that you can get a bit of boy choy, a bit of apple, a bit of celery, a raisin, a cashew, all into your mouth at the same time without choking to death. The bok choy stems I like to slice lengthwise first, then cross-wise on the diagonal. Diagonals always look better, imo. The green leaves can be rolled up and chiffonaded. I don't think I'm supposed to verb that noun, but I'm doing it anyway.
2020's almost over, let's chiffonade every damn thing!!!
Serve bok choy salad along with any heavier dish that needs a light counterpart. Although bok choy is hails from Asia, this recipe could go with anything. Such as??!?! Well, perhaps a jalapeño fried chicken, or a couple of fried pork chops? I don't know! The world is your steak with oysters!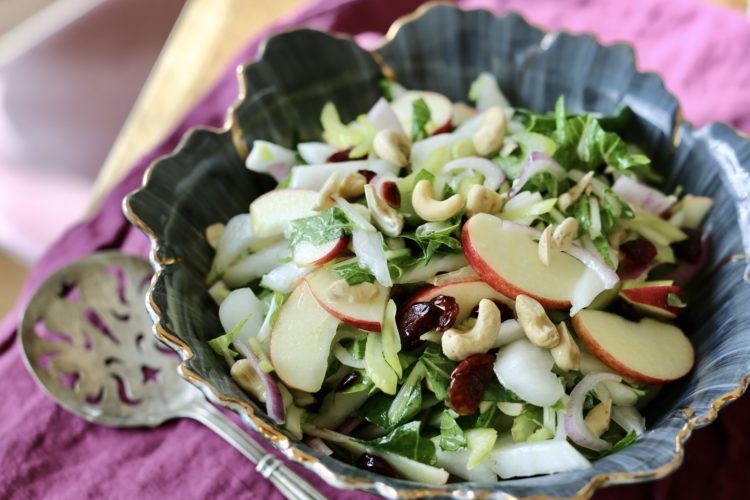 Print
Bok Choy Salad with Apples
4 cups sliced Bok Choy (about 12 ounces weight)
1/2 cup thin-sliced celery
1/4 cup thin-sliced red onion
1 small apple, quartered and sliced thinly
1/4 cup dried sweetened cranberries, raisins or dried cherries
1/2 cup toasted cashews
Dressing:
2 tablespoons olive oil
2 tablespoons lemon juice
1 teaspoon sherry vinegar
1/2 teaspoon salt
Instructions
Slice all your. vegetables no thicker than a nickel, or so. If you like, soak the red onion slices in cold water while you prepare everything else to take the "bite" out of them.
Whisk dressing ingredients together in the bottom of a large bowl.
Add the vegetables, cranberries and cashews and toss to coat. 
Best refrigerated for one hour before serving. Eat within 24 hours.