I first encountered a breakfast salad fifteen years ago. My ex-husband's sister-in-law was from Japan and she always ate a small salad with breakfast and told me salad was a regular component of Japanese breakfasts. I thought to myself it was a grand idea, but never made it part of my daily breakfast habit.
And if I'm being real with you, it's still not exactly a habit, but I aspire for it to be, and so I've been playing around with the concept of breakfast chef salads this past year. Once you've had a big salad for breakfast you'll feel much better about the cookies you have for lunch, I promise.
Since it's fall and most of the "salad vegetables" like tomatoes and cucumbers are out of season for a few months, I've recently been doing our breakfast salads with more root vegetables, like diced radishes and carrots, roasted and cooled sweet potatoes or winter squash, shredded cabbage and massaged kale in addition to crisp lettuces.
In the spring and summer, I'll use tomatoes, cucumbers, blanched and cooled green beans, and lots of fresh herbs mixed in with my choice of lettuce.
I would also like to direct your attention to sprouts at this time. Growing your own sprouts is easy and alfalfa sprouts especially are delicious on sandwiches and salads of all kinds. If you've never done it, check out my blog post on how to grow sprouts. It's fun for kids to watch and sometimes in the winter, it's the only kind of gardening I do.
Now, you know I love to get loose-goosey with my salad recipes at home so I've tried to boil it down to a basic recipe here but it really depends on what you've got going on in the fridge so there are several substitutions suggested. Play around with it, have fun, and be proud because you just had a super healthy breakfast!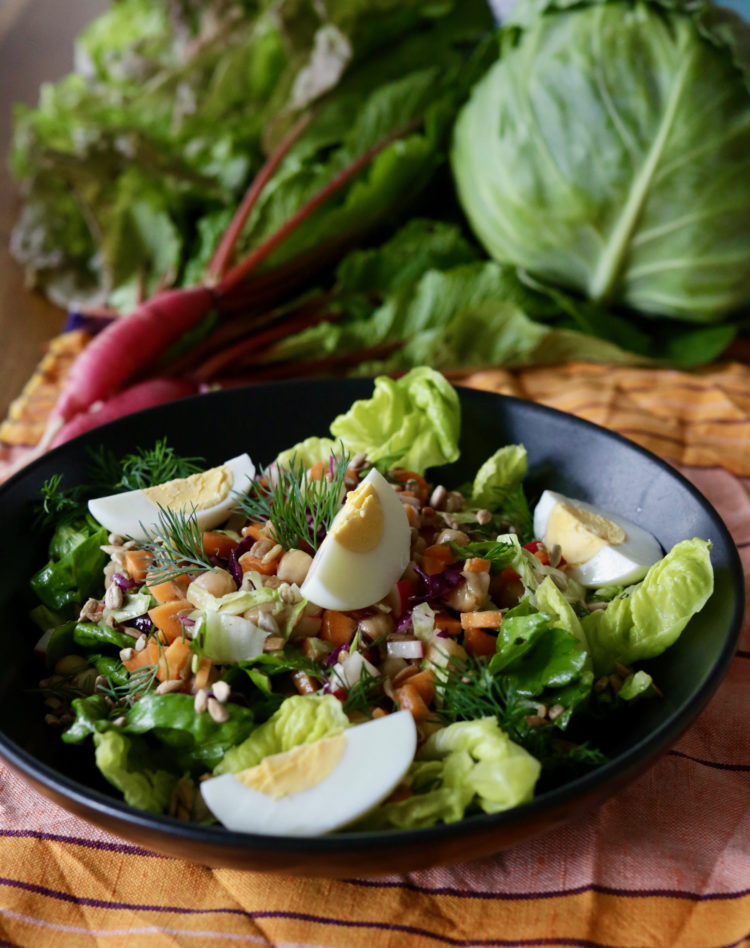 Advance Preparation Tips for Salad
In order of able-to-be-prepped-most-ahead-of-time to least-ahead-of-time:
Carrots: Scrub (or peel) and cut into sticks. Put into a wide-mouth jar, cover with water and screw a lid on. Will keep refrigerated for two weeks or more. Just chop a few sticks into your salad (also works great if you just want crisp carrot sticks on hand for snacks). I got this idea from my friend Michelle.
Boiled eggs: Here's my start-in-boiling-water way of boiling eggs that makes them easy to peel. Lately I've been doing them in the Instant Pot, though. Put a cup of water in your IP, place cold eggs on a trivet. Set on high pressure for five minutes. Then let natural release happen for five more minutes while you get an ice water bath ready. After five minutes of natural release, quick release the rest of the way and use tongs to transfer eggs to ice water bath. Boiled eggs will keep (in their shells) for 10 days.
Cabbage: Thinly slice it with a knife or a mandolin. Store in an airtight container or even a plastic produce bag with the air pressed out and twisted shut. Will keep a week in the fridge this way.
Lettuces: Trim the root end off to separate the leaves. Dunk them all well into a large bowl of cold water. Drain and repeat two-three times until the lettuce is free of sand. (Eco-tip: Use the rinsing water to water plants!!) Lay the leaves out onto a clean tea towel and gently roll it up like a pinwheel sandwich. Place the lettuce towel into a plastic bag and refrigerate. Lettuce is always ready to go and clean and crisp! Romaine lettuce will last over a week, softer lettuces like red and green leaf will last five to seven days.
Radishes and Beets (raw): Scrub and matchstick them. Store as carrots, above, covered in water and refrigerated. Will keep one week. (I have kept them longer than that sometimes but once they fermented !!! so I won't recommend longer than a week.)
Kohlrabi: Peel and matchstick, store as radishes above. If you've never heard of or had kohlrabi, it's a winter vegetable in the brassica family. Often only found at farmers' markets in the fall, crisp with a mild broccoli stem flavor. Definitely need to peel the thick skin off with a paring knife. Good raw or roasted, it's worth trying if you haven't!
Sweet potato and Winter squash: Peel winter squash, or scrub sweet potatoes. Cut into 1/2″ (1cm) dice and toss with just enough oil to give them a sheen (maybe 1 teaspoon/pound of veg) and a sprinkle of salt. Spread onto a baking sheet and roast at 400F for 15 minutes or so, until tender and browned. Cool, transfer to a container and refrigerate up to five days. Toss them into your salad cold.
Green beans: Blanch and cool in an ice water bath (Eco-tip: use all that leftover water to water your plants!) Store refrigerated up to five days.
Kale: Wash in two changes of water, remove thick stems, tear or chop into bite-size pieces. Drain well in a colander or salad spinner if ya got one (I don't). For one bunch of kale, sprinkle about 1/2 teaspoon of salt over the chopped bunch and use clean hands to squeeze and rub, massaging the kale. It just takes a minute. Once it's softened and darker green, transfer to a covered container and refrigerate two to three days.
Cucumbers: You can dice or slice these up to two days in advance.
What About the Salad Dressing?!?!
I vastly prefer a simple, on-demand whisk of oil and vinegar with salt (see this video on salad for the how-to).
BUT. If you're the type who likes to have a bottle of salad dressing at the ready, I also have a homemade Italian dressing recipe (a la Kraft) and an orange juice vinaigrette you can try out. Or just buy some! No shame in that.
Print
Breakfast Chef Salad
A delicious way to add more vegetables to your day. 
1 teaspoon olive oil
1/2 teaspoon red wine vinegar
1/2 teaspoon dijon mustard
1/4 teaspoon salt
1/2 cup shredded cabbage
1/2 cup cooked or canned beans, drained
1/2 cup diced carrots
1/4 cup diced radishes
1 cup torn lettuce
1 boiled egg, quartered
2 tablespoons toasted sunflower seeds
Instructions
Pour oil, vinegar, mustard and salt in the bottom of a large bowl. Whisk together with a fork until emulsified. Add cabbage, beans, carrots, radishes, stir to coat well. 
Gently mix in lettuce. Taste for salt. Top with boiled egg and seeds. Eat.
Notes
Please refer to header text/blog post for ingredient substitution suggestions and advance preparation techniques. 
Nutrition
Serving Size:

1

Calories:

267

Fat:

12

Carbohydrates:

28

Fiber:

9

Protein:

14
Keywords: breakfast salad, breakfast, salad, boiled eggs