How to Make Salad Dressing
How to Make Salad Dressing – scroll down for salad dressing recipes
New collaboration video with Adriene from Yoga with Adriene! Watch the video above to see how to make a classic French tossed salad and to see a recipe for a homemade salad dressing you can store in the fridge.
There are about as many ways to make salad dressing as there are people on earth. Like all food, salad dressing is a personal taste. How tangy, how smooth, how salty, how sweet, even how much dressing you put on a salad — nobody can tell you how to do it! I'm exaggerating. Of course I can tell you how to do it. Or how to get started anyway.
As far as ingredients go, use any oil and any vinegar you like. Extra-virgin olive oil is perfect for salads, but so is any "nice" (read: expensive, cold-pressed, fancy oil) oil such as walnut or hazelnut or safflower oil. I might warn you to steer clear of really strong-flavored oils like peanut or sesame, but you might choose to ignore me and that's fine! Try it! I really like unfiltered apple cider vinegar for its fruity flavor, but red wine vinegar, balsamic, champagne vinegar … they all work. No vinegar? Use lemon or lime juice.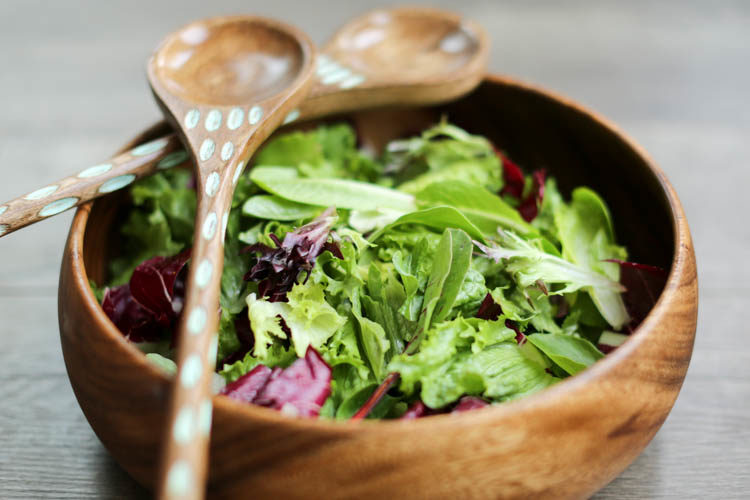 Classic Tossed salad
First technique, the classic French method of building your salad dressing in the salad bowl. Start with a large bowl. You need lots of room for tossing that salad, baby!
If you want a garlicky bite, rub the inside of your bowl with a cut clove of garlic. Then add the oil and vinegar. The classic ratio is 3 parts oil to 1 part vinegar (or 1 tablespoon oil: 1 teaspoon vinegar) but I encourage you to mess with that to find what you prefer. Often I do 3:2 for a little more sourness in my salad.
Add in some fresh cracked pepper, then your salad greens. At least a couple big handfuls. Toss well until all the leaves are coated and glossy. Add some fresh herbs if you want. Salt the salad and toss again. And as the French say, Voila! Salad is served.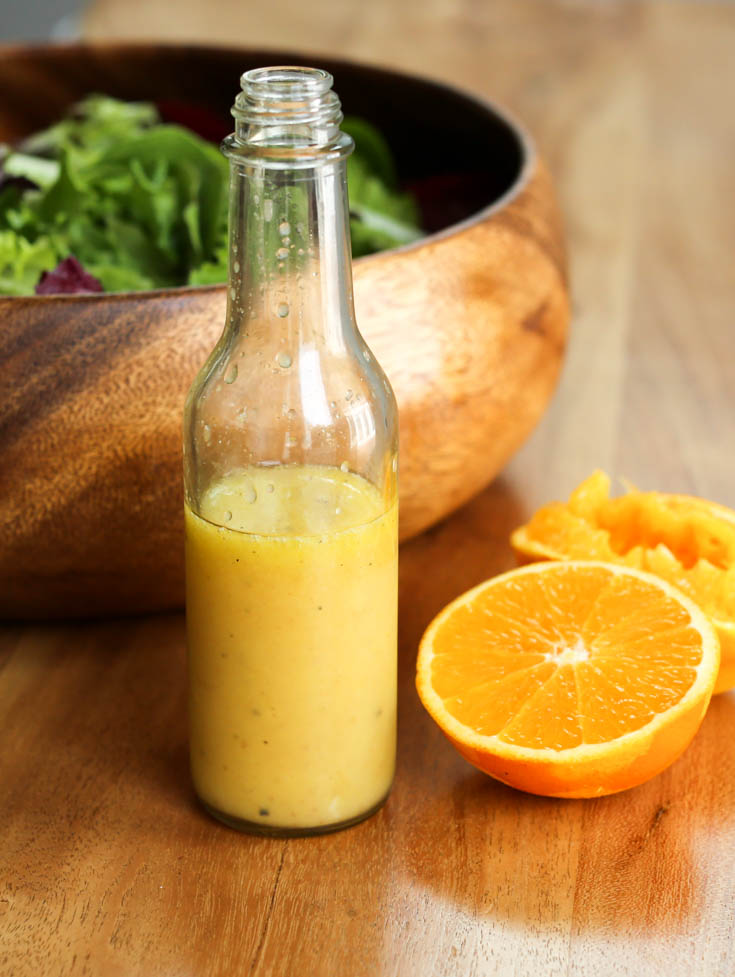 Second option is the more American-style of preparing a larger quantity of dressing at once and storing it in the fridge to use as needed. Here are two of my favorite homemade salad dressing recipes: Orange juice vinaigrette and Italian dressing (think Kraft "Zesty Italian" and you're on the right track 😉 )
Orange Juice Vinaigrette
Print
Orange Juice Vinaigrette
Author:
Yield:

1/2 cup

1

x
¼ cup

fresh orange juice

1

clove garlic, finely minced

2 teaspoons

oil (olive oil, walnut or other nut oils, or mild oil like canola)

2 teaspoons

apple cider vinegar (or another kind)

1 teaspoon

mustard, any kind

¼ teaspoon

each salt and pepper
Instructions
Combine all ingredients in a jar and shake well. Store in refrigerator for up to 10 days.
Notes
Try this recipe with grapefruit juice, too! Add a little honey if you like.
Bon appetit! For more salad recipes, check out this Vegan Caesar salad, Couscous salad, or Greek pasta salad!