Buñuelos Navideños – Colombian Christmas Buñuelos
Buñuelos Navideños Video Demo (scroll down for printable recipe)
Part five in my Christmas Around the World series! Christmas in Colombia, focus on: BUñUELOS! Muchas gracias a Cristina for this recipe and others that she has shared with me. ¡Abrazos!
Colombian buñuelos Navideños are quite different from any buñuelos I'd seen before. These buñuelos are more akin to Brazilian pan de queso than they are to the flat, sweet buñuelos of Mexico. There are not many ingredients, and most of them are easy to find except maybe the tapioca flour. Tapioca goes by many names: manioc, yuca, cassava. It's the same plant that provides the tapioca pearls that pudding and bubble tea are made with, but don't try to substitute tapioca pearls for the flour. If you can't find tapioca flour, use more cornstarch instead.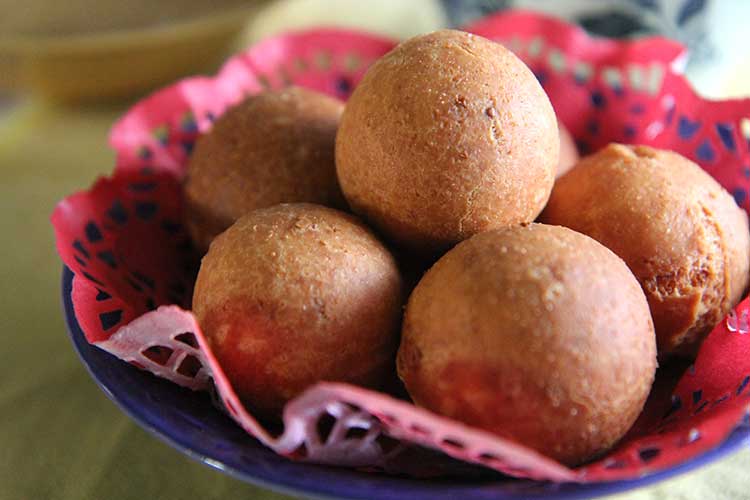 A Colombian cheese called queso costeño is used in Colombia. Lacking that, use Mexican queso cotija, and lacking that you could try it with some dry feta cheese. When making the dough, grate the cheese as finely as possible; it should be like fine bread crumbs to get the right look and texture for the final product. The dough will be smooth and fairly soft and should easily roll into balls without sticking to your hands. Adjust the amount of milk if necessary to get a consistency like that shown in the video.
Make sure you have a thermometer to regulate the temperature of your oil. The oil should stay right around 325F/160C to prevent the buñuelos from cracking or exploding in the oil. Not that they will explode in a dangerous way, but they will turn out with little "tails" and start to resemble giant spermatozoa swimming in the oil, rather than perfect round balls which are the goal. It's better to have your oil a little under 325 than over 325, in my experience.
Buñuelos Navideños Recipe — Printable!
Print
Prep Time:

10 mins

Cook Time:

15 mins

Total Time:

25 minutes
2 cups (1/2 pound) finely grated salty cheese
2 cups cornstarch
2 tablespoons "Yuca" starch (Tapioca)
½ cup milk
2 teaspoons sugar
2 eggs
1 tablespoon baking powder
1 pinch of salt
4 cups oil (peanut, canola) for frying
Instructions
Mix all ingredients except oil to form a smooth dough.
Take portions of dough and shape into 1-1/2 inch balls. Set on a plate.
Heat 3 inches of oil to 325F/160C or even a little bit lower than that, and fry the balls about 4 at a time for about 10-12 minutes. They will sink the the bottom at first, then after a minute begin to bubble and float to the top. For the first several minutes they will magically rotate themselves but as they start to brown, you will need to maneuver them with a slotted spoon to make sure they brown evenly.
Remove when dark golden brown and let drain on paper towels.
Best eaten while hot, but they are still pretty damn good at room temperature!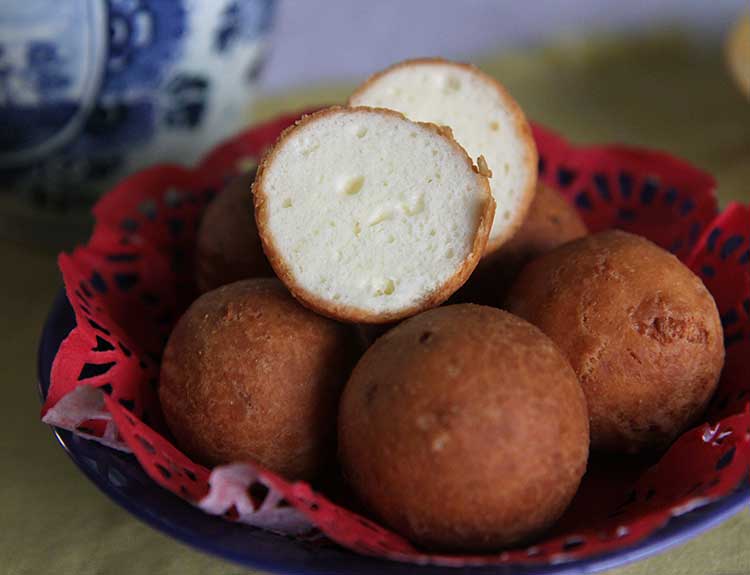 Other Colombian Christmas recipes!
Natilla
Natilla is a cornstarch custard that the bunuelos are usually served with. This video from Diana of Sweet y Salado shows how to make it!
Cristina said they are also served with a type of Colombian drinking chocolate (rum is added to it for the adults). I think this version would be a delicious substitute!

This is my take on a Colombian dish called Aji Machucado. It's one of the finest things I've put into my mouth in a while. Give it a try!