Caponata is a Sicilian eggplant recipe, served warm, with a sweet and sour thing going on between some balsamic vinegar and raisins. This caponata salad got its name because when I was mixing it up, it smelled just like the singular time I made caponata (the Joy of Cooking recipe I think) for a party and I loved it but judging by the large quantity left over, I was just about the only one who did. I wasn't offended. I think Americans aren't really accustomed to sweet and sour preparations unless it's a bright red sauce with chunks of fried chicken. And now I want sweet and sour chicken.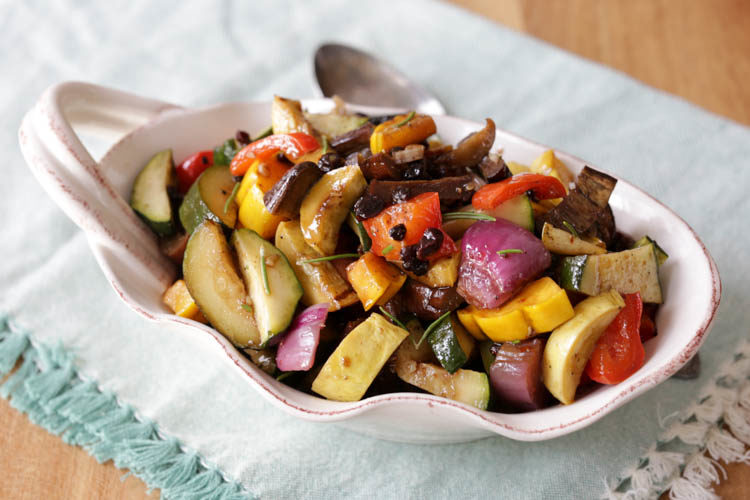 You might think this is more like a ratatouille salad since it's got a lot more than just eggplants happening, but there's no tomato sauce so I still think caponata salad is the name of this game.
Grill the vegetables over charcoal if you can, otherwise broiling in a hot oven will do fine. Go ahead and add more of the vegetables you do like and less of the ones you don't, too. Basically you just want about 3 pounds of vegetables total. This salad keeps very well in the fridge, making it easier and faster than ever before to eat your dang vegetables! Some other marinated salads I like to keep around for efficiency are: lentil salad with herbs, spicy broccoli salad, and cucumber orange salad. Truly, I believe it is wise to keep some things like this in your fridge at all times, but especially during holiday months when it's extra hard to eat healthy food.
Delicata squash is a small, cylindrical winter squash that's bright yellow inside and out. The rind is edible so you don't peel them. If you can't find one, use more of another vegetable.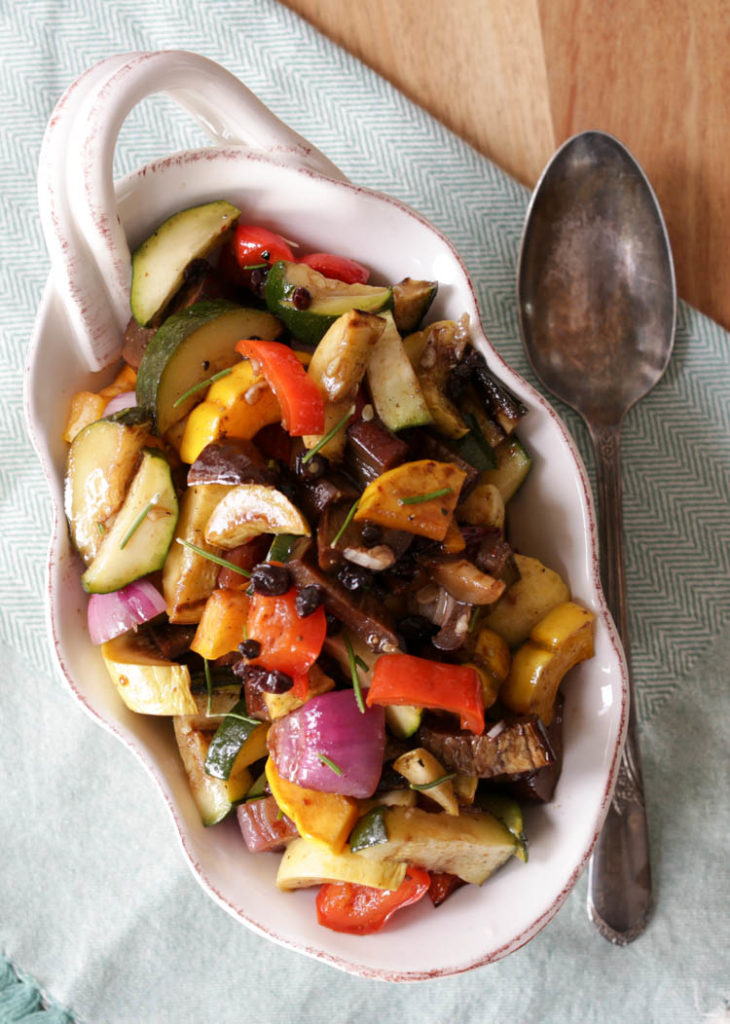 Print
Caponata Salad
2 Japanese eggplants
1 large zucchini
1 yellow summer squash
1 red onion
1 red bell pepper
1 small delicata squash
1/4 cup olive oil, divided
2 tablespoons balsamic vinegar
1/2 teaspoon salt
1/2 teaspoon fresh rosemary, minced
1 clove garlic, minced
2 tablespoons currants or raisins
Instructions
Wash the vegetables and cut the eggplant, zucchini and summer squash into slices lengthwise, about 1/2 inch thick. Peel the onion and cut into 8 wedges. Halve the pepper and remove stem and seeds. Cut the delicata into cross-slices about 1/3 inch thick and use a small knife or round cookie cutter to remove seeds from each slice.
Brush or drizzle all veg with 2 tablespoons of the olive oil and sprinkle them with a little salt and pepper.
Either grill over medium-high (350-400ºF) for 5 minutes on each side or stick them under the broiler for a few minutes, flipping as needed. Once the vegetables are tender-crisp, remove and let cool to handle.
Cut into bite-size pieces and toss with remaining ingredients. Taste for salt.
Best if you can let it marinate for a couple of hours and serve at room temperature.
Nutrition
Serving Size:

1 cup

Calories:

158

Fat:

9

Carbohydrates:

17

Protein:

3.5