Cucumber and Orange Salad
This simple cucumber and orange salad was inspired by something I ate at a farm-side restaurant outside Barcelona years ago.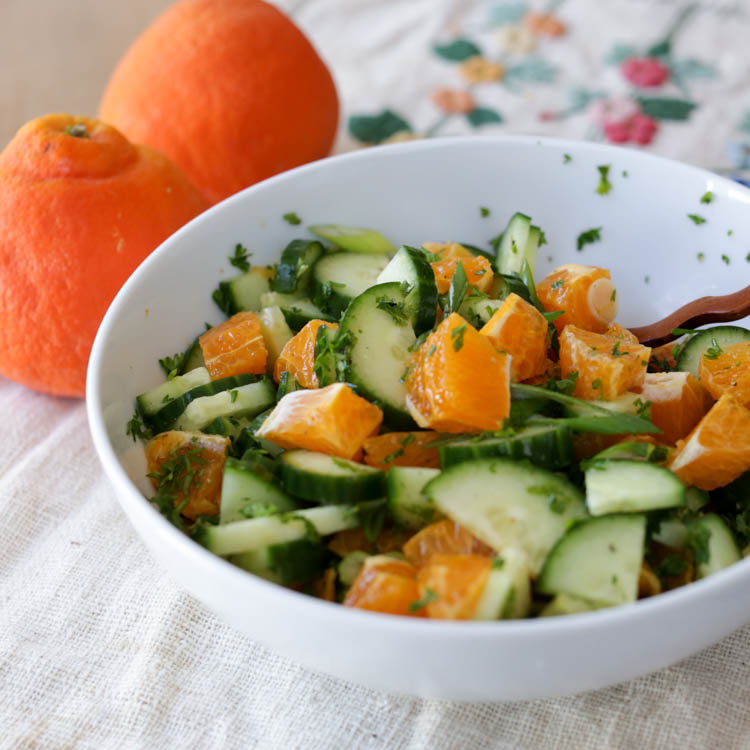 I was on a very-low-budget European tour with a girlfriend in 1999 and one of the many many many pickles we found ourselves in on that trip included the time my entire purse — passport, travelers checks, driver's license — was stolen on a train between France and Spain.
Fortunately, we have a family friend from Barcelona, Jose María, whom I contacted as soon as we were off the train and he helped me find the consulate, get a new temporary passport, get reimbursed for stolen checks, and he put us up in a hotel! What a saint! (The hotel turned out to be haunted, but it made for yet another scary/great story from that trip.)
After we got settled, he drove us out to Lleida to see some huge Roman aqueducts and have lunch on a farm. I guess farm restaurants are pretty common in Spain but I'd never seen anything like it. A stone room with a few tables, full of hungry people, surrounded by acres of farmland. There was no menu; you just ate what they put on the table.
The details are fuzzy, but there was a cucumber and orange salad; gazpacho; house-cured anchovies and olives; and my first taste of the famous melon-and-ham combination was had at that table. There was sangría, too, which we were allowed to drink since we weren't in the ol' U.S. of Prohibitionist A.
Anyway, there's so much more I could say about that trip but I'll save it for another post. Here's my rendition of the cucumber and orange salad we had at that beautiful place. It is delicious along with grilled meats or fish; or chop the ingredients smaller and use as a relish for beans and rice.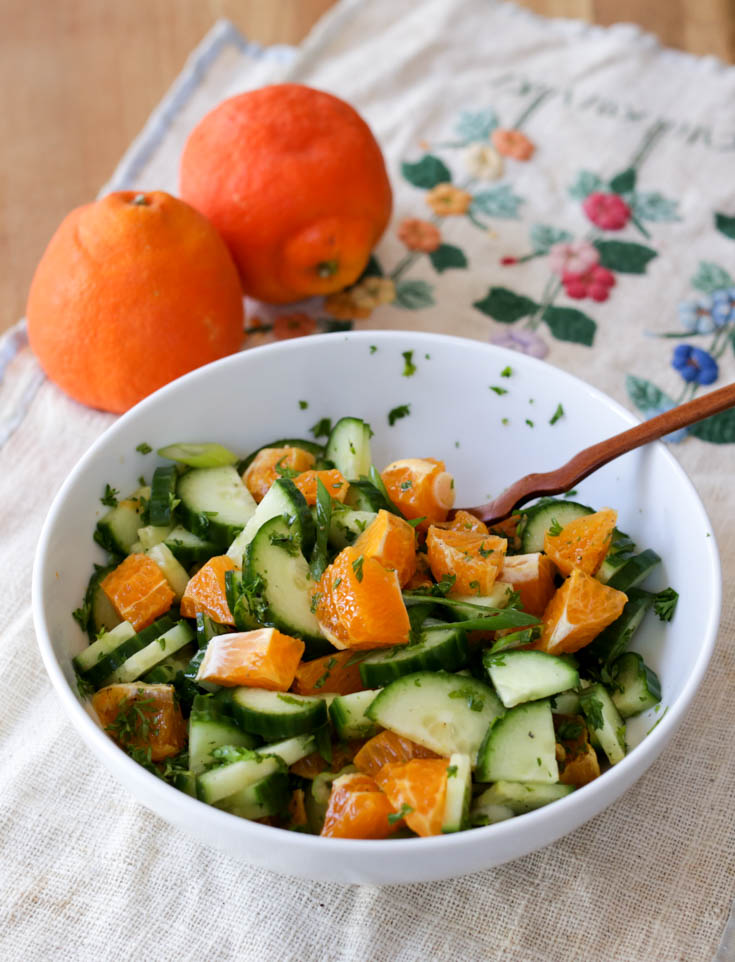 Print
Cucumber and Orange Salad
1/2 English cucumber (or 4 Persian cucumbers)
3 small Naval or CaraCara oranges or tangelos
3 tablespoons fresh minced parsley
1 green onion, thinly sliced
1/4 teaspoon salt
fresh ground black pepper
Instructions
Cut the cucumber in quarters lengthwise (or in halves if using small Persian cucumbers) then cut into thin slices. Place in a large bowl.
Peel the oranges and dice, removing seeds as you go. Add to bowl.
Add minced parsley, onion, salt and pepper and toss gently.
Let rest 10 minutes before serving or refrigerate up to a few hours.
Notes
This salad goes great with avocado, too! Not as "Spanish" but still delicious — just dice an avocado and add it before serving