Chick-Fil-A Copycat (Original Chick-Fil-Gay Sandwich)
If you've been dreaming of a way to make your very own junky fast-food-that'll-kill-ya at HOME, today is your lucky day with this Chick-Fil-A copycat recipe! Here is Chick-Fil-A's secret recipe* and my secret* home-frying technique,  because unlike those chicken behemoths, CFA and KFC, we little people don't have pressure fryers in our kitchens.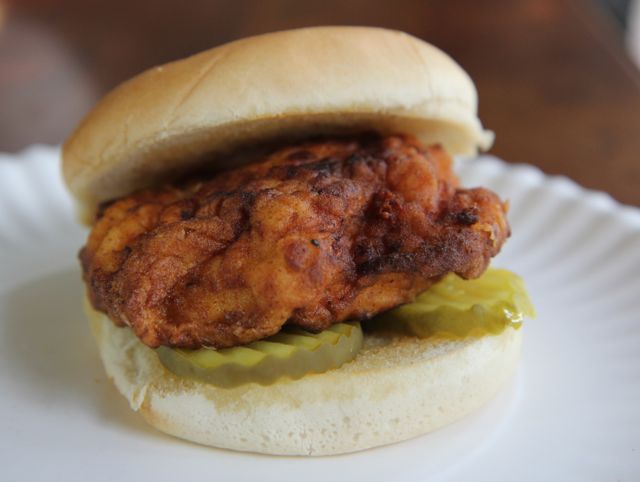 To make it "just like" CFA, serve on a buttered, toasted white bun with two (only TWO) slices of dill pickle. Those very cheap, slightly yellowish "hamburger dills" work the best in  my opinion, for the juice marinade and the pickles themselves.
(And for the confirmed pickle-haters who've expressed concern over the chicken tasting pickle-y, fret not! Numerous commenters have agreed that the final product does not taste like pickles. Instead, the pickle juice marinade just makes the chicken really juicy (and salty). If you're still skeptical, please skim the comments on this post; there are several substitutions offered for pickle juice!)
You can totally make this into nuggets, too! Just cut the chicken into smaller pieces, marinate 20-30 minutes, continue as directed. Fry 1-2 minutes on each side.
the unfathomably controversial Chick-Fil-Gay video (scroll down for recipe)
Chick-Fil-A Copycat Recipe
Print
Chick-Fil-A Copycat
Author:
Prep Time:

40 mins

Cook Time:

5 mins

Total Time:

45 minutes

Yield:

2

1

x
1

boneless, skinless chicken breast

1/4 cup

pickle juice (sour dill is my favorite)

1

egg

1/4 cup

milk

1/2 cup

flour

1 tablespoon

powdered sugar

1/2 teaspoon

paprika

1/2 teaspoon

salt

1/4 teaspoon

black pepper

1/4 teaspoon

garlic powder

1/4 teaspoon

celery salt
Optional: up to 1/2 teaspoon cayenne pepper for a spicy sandwich
Oil for frying (about a cup)
For serving: Buns (buttered and toasted) and pickle slices!
Instructions
Wrap the chicken loosely between plastic wrap and pound gently with the flat side of a meat tenderizer until about 1/2 inch thick all around.
Cut into two pieces, as even as possible.
Marinate in the pickle juice for 30 minutes to one hour (add a teaspoon of Tabasco sauce now for a spicy sandwich).
Beat the egg with the milk in a bowl.
Combine the flour, sugar, and spices in another bowl.
Dip the chicken pieces each into the egg on both sides, then coat in flour on both sides.
Heat the oil in a skillet (1/2 inch deep) to about 345-350.
Fry each cutlet for 2 minutes on each side, or until golden and cooked through.
Blot on paper and serve on toasted buns with pickle slices.
Notes
I've used peanut oil, coconut oil, vegetable oil, and grapeseed oil all with fine results. Peanut oil is what CFA uses, but don't use that if anyone has a peanut allergy.
Also, if you'd prefer to bake: substitute bread crumbs (Panko if you got em) for the flour and coat as directed. Bake at 375 degrees F for 10-15 minutes until cooked through.
*Not exactly, but pretty close!
For answers to some commonly asked questions about this recipe, watch the Chick-fil-Gay follow-up video.
596 Comments