Bummer Alert. There's actually not "pot" in chicken pot pie. So, you're not going to get high on this… unless you mean high on deliciousness! Oh dear. Perhaps a Bad Joke Alert would have been in order, too.
chicken pot pie video – scroll down for recipe
I made this pot pie from scratch, all the way up from the bottom. Some shortcuts you may want to apply would be using leftover chicken or turkey, buying a rotisserie chicken and stripping it, or even using canned chicken (do they still sell that?) and using store bought stock (or maybe you have some homemade stock already in your freezer?). If you want a two-crust pie, make sure you have enough dough. Double this recipe for pie crust, or buy some. Often, though, pot pies only have a top crust — make sure to cut vent holes in it if you don't do a lattice crust like I did or it will cause problems. The benefit of only having a top crust (along with fewer calories per serving) is that the pie won't need to bake as long, maybe only 30 minutes.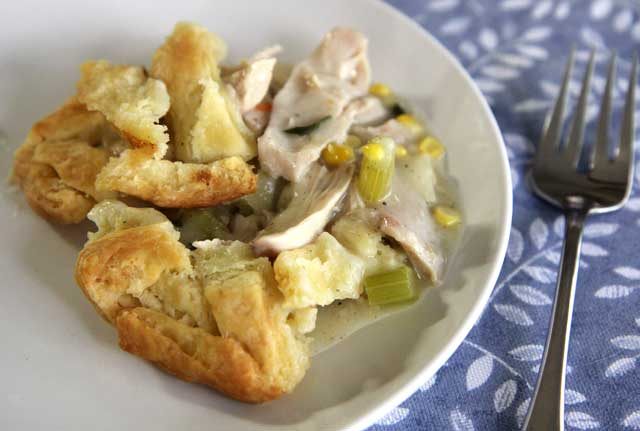 An even simpler way to make a pot pie is to put the filling into a casserole dish, then top with squares of biscuit dough and bake.
This recipe makes enough filling for two deep-dish pie pans or one 9×13″ pan. When filling the pans, leave about 1/2″ at the top to allow for expansion and help prevent bubble-overs. Just in case of bubble-overs, though, I recommend putting a cookie sheet on the rack under the pie to catch any spills before they burn onto your oven floor, creating carbon stalagmites.
chicken pot pie recipe – from scratch
Print
Chicken Pot Pie
1

2-3 pound chicken (or

2

–

3

pounds chicken parts, bone-in)

4 cups

water

1

bay leaf

1 teaspoon

salt
Pie crust for 1 or 2-crust pie or 1 batch of biscuit dough

1/2 cup

(

4 ounces

) butter

1

onion, diced (about a cup)

1

carrot, sliced

2

stalks celery, sliced

1

ear of corn, kernels (about

1/2 cup

corn kernels)

1/2 cup

flour

1 teaspoon

dried sage

1/2 teaspoon

black pepper

1 tablespoon

fresh parsley, optional
Instructions
Set your oven to 400ºF.
Cut up the chicken and put in a large pot with the water, bay leaf, and salt. Boil 1 hour until tender. (Alternately, cook 20 minutes in a pressure cooker). Remove the chicken to a plate to cool, reserving the cooking liquid. When the chicken is cool enough to handle, pull off the meat, discarding the skin and bones.
In another pot, saute the vegetables briefly in 4 tablespoons butter until beginning to soften, or about 5 minutes. Remove and set aside.
In the same pot, melt the remaining butter and make a roux with the 1/2 cup flour.
Add about a cup of the cooking liquid and incorporate into the roux by whisking. Add the rest of the liquid slowly, whisking constantly to remove lumps until you have a smooth sauce.
Add the sage and pepper and simmer about 5 minutes, or until the sauce has thickened. Turn off heat.
Prepare your baking pans, either 2 pie pans or one 9×12 dish, lining with pie crust if you like a 2-crust pie.
Layer the vegetables, chicken, parsley, then carefully pour the sauce over. Do not overfill; leave 1/2″ or so from the rim of the dish to allow for bubbling over.
Top with pie crust or biscuit squares or rounds. If using a solid pie crust, cut a few slashes in it to vent.
Bake for 30-45 minutes until golden brown.
Let cool 20 minutes before serving.