Vinaigrette Coleslaw Recipe
Vinaigrette Coleslaw video – scroll down for recipe card
Subscribe to my YouTube channel to get notified of new videos.
This is one of the simplest coleslaw recipes EVER. In fact, this version is even slightly more complicated than I usually make. Most of the time, I just do salt, lime juice, and cilantro and boy howdy is that good. But I like the addition of the nuts and chipotle and the honey balances everything out.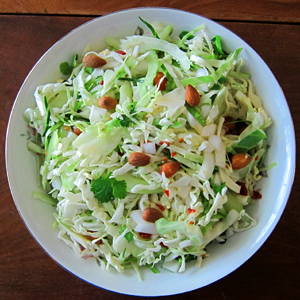 Cabbage is a poor, misunderstood vegetable but if you take the time to try this easy coleslaw recipe, I think you and cabbage will become friends fast and go to potlucks and barbecues together forever and ever, amen.
Vinager Coleslaw Recipe – printable
Print
Chipotle Vinaigrette Coleslaw
1

pound cabbage, thinly shredded

1/2 teaspoon

salt

2

stalks celery, sliced on diagonal

1/2 cup

fine diced onion

1/4 cup

torn cilantro leaves

1/2 cup

roasted almonds or peanuts
Dressing:

1 teaspoon

minced chipotle in adobo

2 tablespoons

lime juice

1 tablespoon

red wine vinegar

1 teaspoon

olive oil

1 teaspoon

honey
Pinch of salt and black pepper to taste
Instructions
Combine the cabbage and the 1/2 teaspoon salt in a large bowl. Toss to coat and set aside at least 10 minutes, up to 30 minutes.
Combine dressing ingredients in a jar and shake to mix.
Toss cabbage with celery, onion, cilantro and dressing.
Refrigerate an hour preferably.
Add nuts right before serving.
This would be perfect with some fresh fried catfish!
Subscribe to my YouTube channel to get notified of new videos.