Fried Fish: Cornmeal Fried Catfish
Me and my bestie Shannon spent most of our summer days fifth grade through eighth grade either at the coast or at the lake. The coast was awesome because her family liked to party and there was always a giant shade tent, cold beers (not that we got any) and cookouts. Also guitar pickin' and singing. Shannon and I did a rousing rendition of "That's What Friends are For" once that I think made her dad cry. Just a little.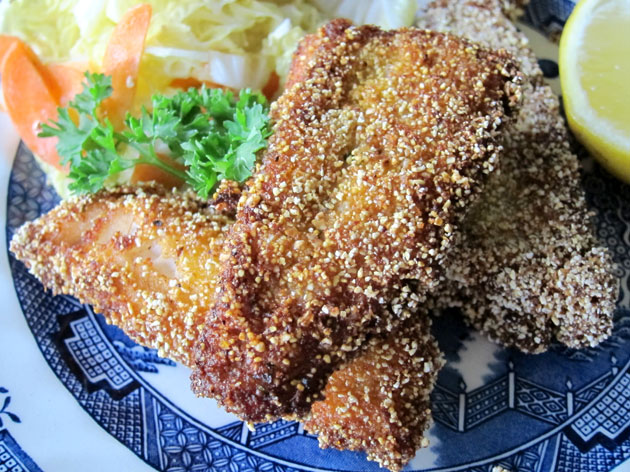 Lake house times were awesome, too, though, because that meant fresh-caught catfish, fried catfish for dinner. Not that I appreciated it. I used to hate fish passionately, as you may know. But after years of being forced to try "one bite", finally one day I proudly and happily declared I actually liked it. And here's how to make it. Try it with some tartar sauce, hushpuppies, jalapeño-cheese bread, coleslaw, perfect potato salad, and homemade peach ice cream for a real bang-up summertime meal.
Special thanks to Robin and Shannon for showing me that fried fish is one of the best things in life.
Fried Catfish Video!
Southern Fried Catfish Recipe – Printable!
Print
Fried Catfish
1

pound catfish fillets
For the marinade:

1 cup

milk + 1 tablespoon lemon juice (or

1 cup

buttermilk)

1 tablespoon

fresh parsley, minced

1/4 teaspoon

salt
Tabasco sauce to taste, a few dashes
For the breading:

1 cup

cornmeal

1/4 teaspoon

cayenne pepper

1/4 teaspoon

black pepper

1/4 teaspoon

salt
Oil for frying (about 3 cups)
Instructions
Cut fish into pieces about 1″ wide by 4″ long.
Combine marinade ingredients and immerse fish in marinade. Allow to sit at room temperature for 10-30 minutes. (Now's a great time to make your tartar sauce and coleslaw!)
Combine the breading ingredients in a shallow bowl. Coat each piece of fish and set aside to rest while your oil gets up to temperature.
Heat 1/2″ of oil in a large skillet to 360-365 degrees F.
Fry a few pieces at a time (don't over crowd the skillet) for about 2 minutes on each side, or until they float away from the bottom of the skillet.
Drain on a rack over paper for at least 3 minutes to avoid burning your mouth. Them fishes is HOT!