Cheesy Jalapeño Beer Bread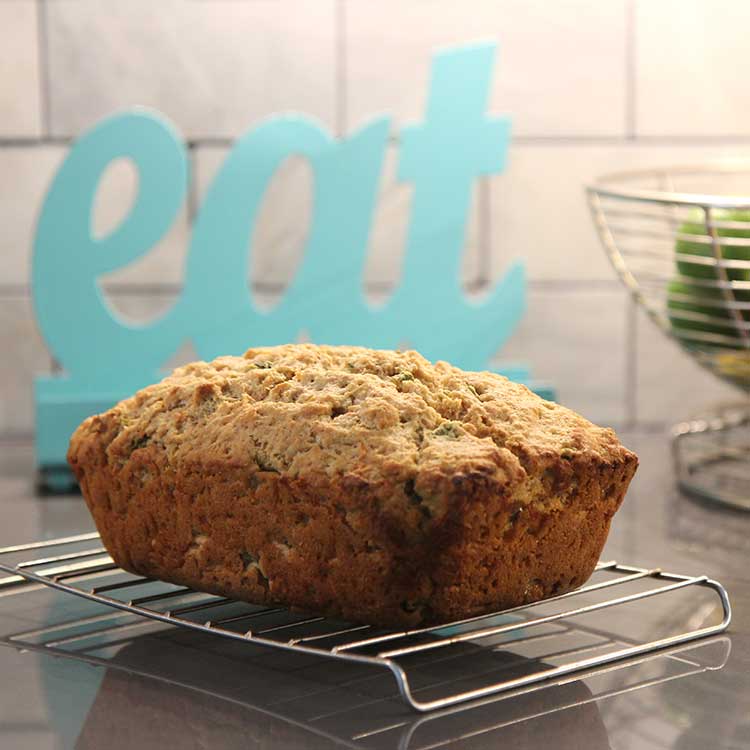 I adapted this beer bread recipe from my friend Kathryn at AustinGastronomist, who in turn adapted it from another site. It's a recipe roundtable.
Kathryn used the recipe as part of a food swap, handing out bags of the dry ingredients mixed together with a note attached: Just add beer. It's a great gift, I think, for housewarming (what makes a house warmer than a loaf of bread baking in it?!) or new baby or any other situation in which quick food is a blessing.
The idea to add jalapeños and cheese came from the Czech Stop bakery in West, Texas where we shot the episode on that Czech-Tex classic, the kolache. The bakery is also known for their jalapeño cheese bread and good god almighty, is it delicious. We watched them make it and I was shocked – Shocked! – at how much cheese and jalapeños they stick in there! Phew! Enough to make your eyeballs pop outta yo head. But so tasty.
My version doesn't go quite as heavy on the peppers and cheese because I like my eyeballs right where they are, but you could probably up them both a little without much effect on the final product, save it being more cheesy and delicious and calorie dense. Since I prefer mine slathered with soft butter, I'm a little more reasonable with the cheese. A little more cheesonable, if you will.
Sorry bout dat. It's the fetus in my womb talking.
Beer Bread Video
Beer Bread Recipe – Printable!
Print
Cheesy Jalapeño Beer Bread
Author:
Prep Time:

10 mins

Cook Time:

60 mins

Total Time:

1 hour 10 minutes

Yield:

1

0

1

x
1 1/4 cups

whole wheat flour

1 1/4 cups

all purpose flour

1/4 cup

brown sugar

1 1/2 teaspoons

salt

4 teaspoons

baking powder

1/2 cup

grated sharp Cheddar (

2 ounces

)

1/2 cup

chopped pickled jalapeños

12 ounces

beer

2 tablespoons

butter, melted
Instructions
Set oven to 350ºF and grease a loaf pan.
Combine dry ingredients in a large bowl, making sure there are no sugar lumps, and toss grated cheese shreds around to coat.
Add beer and jalapeños and mix. Dough will be thick.
Scrape into loaf pan and spread evenly. Pour melted butter on top.
Bake 45-55 minutes until a toothpick inserted in center comes out clean.
Cool in pan 5 minutes, then turn onto rack to cool completely before storing or slice and eat while warm, with more butter of course
Nutrition
Serving Size:

1 slice

Calories:

274

Fat:

3

Carbohydrates:

30

Protein:

4.8
Sliced beer bread is awesome when it's warm and buttery next to a bowl of Texas chili or minestrone soup. It's also great on its own as a snack (Testify!) or toasted for breakfast. I bet it would make fan-tiddly-astic grilled cheese sandwiches, too. It's best served the same day, in my opinion, but it will last just fine for a couple days at room temperature if wrapped up tightly. The cheese and beer help keep it soft and tender. Refrigerate for longer storage, me thinks.