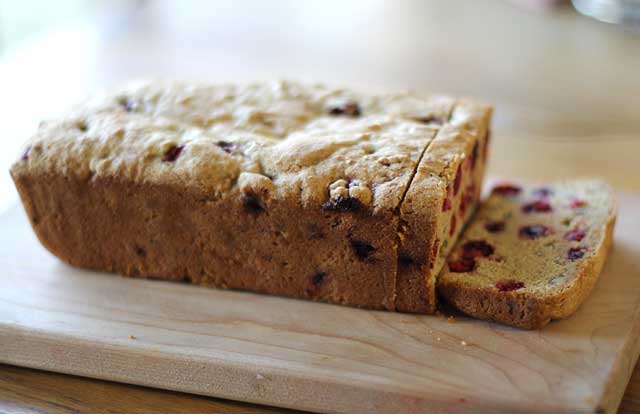 This is my great-grandmother's cranberry bread recipe. She was quite the cook, indeed.
I'd had these Meyer lemons sitting in my fruit bowl for a couple of weeks, a gift from a friend's yard. In years past, I'd have already turned them into limoncello or salted and preserved lemons, but this year — specifically the last month — has been grossly over-stuffed. It's been the turducken of months and I have had no time to get my kitchen jollies. And I apologize for using turducken and jollies in the same sentence. The idea of a turducken is stomach-turning and the word jollies makes me think of old perverts working as mall Santas. Sooo . . . sorry 'bout that.
I hope this awesome cranberry bread recipe makes up for it! I think this might be my fave quick bread, sweet bread, breakfast bread, and fruit bread all rolled into one. I was skeptical when I saw it used water instead of something else, like milk? Juice? Diet Coke? I don't know what I thought it should be instead, but I was wrong anyway so it doesn't really matter. This bread is dope.
More Fresh Cranberry Recipes
Cranberry Sauce or Cranberry Relish
Cranberry Bread Recipe Video
Cranberry Bread Recipe
Print
Author:
Cook Time:

45 mins

Total Time:

45 minutes

Yield:

1

2

1

x
1

egg

2 tablespoons

soft butter

1 cup

sugar

1/4 cup

Meyer lemon juice

1/3 cup

water

2 cups

whole wheat flour

2 teaspoons

baking powder

1/2 teaspoon

baking soda

1/4 teaspoon

salt

1/2 teaspoon

Meyer lemon zest

2 cups

fresh cranberries

1/2 cup

chopped nuts
Instructions
Set oven to 350º F. Grease a loaf pan.
Cream egg and butter together. Beat in sugar and mix for a minute on medium speed until light and fluffy.
Mix in juice and water. (Remember to zest the lemon first and set aside.)
Whisk flour with dry ingredients and add to the wet mixture gradually, mixing on low speed until incorporated. Make sure there's no flour stuck to the sides or egg tuck underneath. Mixture will be very thick. If necessary to fully combine, add an extra tablespoon of water.
Stir in the zest, cranberries, and nuts.
Spread into loaf pan and bake 45 minutes, or until a toothpick inserted in the center comes out clean.
Notes
Meyer lemons are a thin-skinned variety with an exceptionally floral flavor. Orange zest and juice can be substituted for lemon. One medium-large Meyer lemon or orange should provide sufficient zest and juice for this recipe.
Cooked loaf can be wrapped tightly and frozen for up to 2 weeks. Thaw gradually in fridge, still wrapped.
More Fresh Cranberry Recipes
Cranberry Sauce or Cranberry Relish