Homemade Cranberry Sauce Is Easy!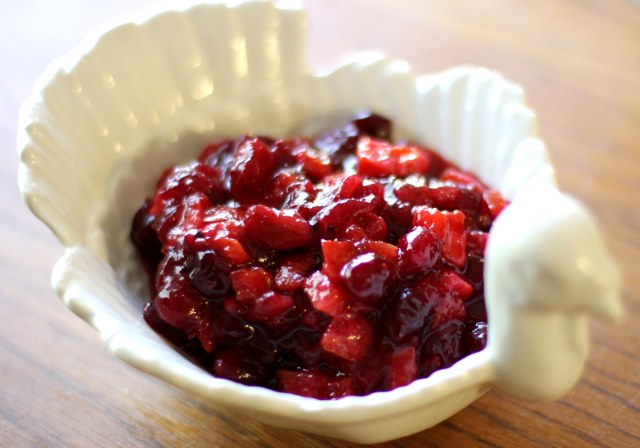 Cranberries grow in bogs. Bogs are like swamps. I've always had a thing for bogs and swamps. Did you know all that?
For a while after college, I considered going to graduate school to study either parasitic plants or bogs and swamps. I got my bachelor's degree in botany and really, with a degree like that, one has to go higher if one wants to ever use all the fun facts one learned in college. But also, I had absolutely no idea what to do next. More school seemed like a great way to put off the problem.
Unfortunately, procrastinating real life is not a great motivator.
I only applied to one school, and spent about five minutes on my application essay. It went something like this:

I would like to study parasitic plants. Parasitic plants are real cool and there's not a lot of people studying them. I also like bogs and swamps.
I'm not shitting you. It was that awesome.
I didn't get in. Instead, I ended up going to work for my mom and here, over 10 years later, I still am. Woe is me.
But anyway, back to the cranberries that live in the bogs.
Cranberries are native to North America and related to blueberries and huckleberries, which sound like a made-up berry but actually are real. Bogs are the super-acidic, freshwater wetlands where cranberries grow, as well as many super-specialized, carnivorous plants like pitcher plants, sundews, and "Audrey II" from Little Shop of Horrors. (Feed me, Seymour!) Being a bog also means being in a cold climate. I'm pretty sure that's the big difference between bogs and swamps — cold versus hot — but don't quote me on that.
Cranberries were introduced to European settlers in the New World by Native Americans who'd been grubbing on cranberries for a long time. They are chock-full of antioxidants and probably saved more than a few people from dying of scurvy. Because they ripen in the fall, they cranberry has become synonymous with Thanksgiving celebrations throughout North America, and by that I mean even Canada! Dang!
While the can-shaped, jellied-cranberry-sauce-log certainly still has it's place (usually sliced and fanned out on a plate with a parsley sprig) homemade cranberry sauce is another thing entirely.
It's gorgeous. Like a bowlful of garnets, it's so sparkling you may be able to get away with using it as the table centerpiece. It's complex. More of the natural tartness of cranberries combined with the warmth of orange oils and cardamom make for a relish worthy of your great, grand turkey. It's easy. Perhaps not quite as easy as opening a can, but nearly so, and the extra beauty and flavor you get from it makes it worth the extra five minutes of your time. Really.
Homemade Cranberry Sauce Video
Homemade Cranberry Sauce Recipe
Print
Cranberry Sauce
Homemade cranberry sauce made from fresh cranberries
1

pound fresh or frozen cranberries

1

large seedless orange, scrubbed well

1 cup

sugar

1 teaspoon

cardamom seeds, lightly crushed (from about

10

whole pods)

1/2 cup

water
Instructions
Dice the orange, skin and all.
Combine all ingredients in a sauce pan and stir to combine.
Cover and put over high heat until it boils.
Remove lid and cook for 5 minutes more, stirring frequently, until berries are popped and the liquid has thickened.
Cool completely in the refrigerator before serving.
Bonus Recipe: Uncooked Cranberry Relish!
You don't have to even cook this! If you want less of a jelly-like sauce and more of a salad-like relish, you could also just throw everything in a food processor, minus the water, and whizz it around until it's all finely chopped. Refrigerate a couple hours for the flavors to blend.