Maybe the best gift you can give this year is to learn how to roast a turkey for your loved ones. Just an idea.
It's now November — the month of Thanksgiving, all!
Thanksgiving, despite its morally questionable beginnings, is my second-favorite holiday (after Halloween of course). I love giving thanks and being grateful for everyone and everything I have in my life. I have a good life, and I am glad for that. I'm lucky to have the friends I have who've encouraged us and helped us make this show for the last almost-two-years! I'm grateful to have a house and a job. I'm really grateful that I know how to read and write. I'm thankful for Chris. I'm thankful for you.
What are you thankful for? Tell me in the comments!
Aaa-anddd… all gooshiness and mushiness aside, I also really, truly appreciate the Thanksgiving feast. You know I'm not one for gluttony or waste, but there is something utterly luxurious and magical about a Thanksgiving table heaving under the weight of a giant roast turkey, all varieties of creamed vegetables, pies, relishes, rolls, and gravy boats sloshing about as if on a pirate ship.
That is why this month will obviously be dedicated to this most-excellent holiday as far as food is concerned.
Now let's talk turkey*.
*Apologies for the terrible pun.
How to Roast a Turkey
Roasting a turkey isn't any harder than roasting a chicken, but it requires a little more planning. Here are my guidelines: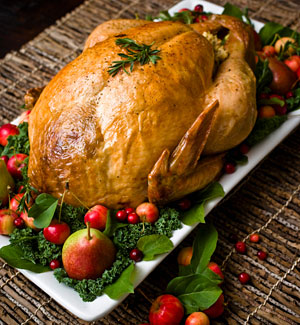 DO get a turkey that's big enough to serve everyone! Figure one pound per guest, then add a pound or two for leftovers if you like.
DO get a fresh turkey if possible. Turkeys labeled "fresh" are held under refrigeration at 26 degrees. While that is below the freezing point of water, it's not cold enough to freeze the bird. Frozen turkeys are flash-frozen to -30 degrees then held at zero degrees. A frozen turkey may be drier than a fresh turkey, depending on how long it's been frozen. And a frozen turkey will require up to 3 days in your refrigerator to thaw completely. For those reasons, I recommend sticking with a fresh turkey.
DO bring your turkey to room temperature before roasting by leaving it on the counter for one hour before cooking. A turkey that is still icy on the inside when it goes in the oven will prove to be a disaster later on, with an overcooked breast and undercooked thighs.
DO remember how much your turkey weighs. The cooking time depends on it! Estimate 12 minutes per pound.
DO allow the turkey to rest for 30 minutes before carving. This lets the bird "finish" cooking in its own residual heat. It also allows the juices to redistribute throughout the meat.
DON'T rely on the pop-up timer that comes with most turkeys. They are unaccountable. Use a meat thermometer to check the bird's temperature in the thigh when your timer goes off. Remove the turkey when the temperature reaches 170 degrees F. After resting, the final temperature should have risen to the proper 180 degrees.
DO remember to baste your turkey! I used a mixture of melted butter and sherry. Baste every 30 minutes with a brush or a turkey baster.
DON'T overstuff. If you choose to stuff the turkey itself, have the stuffing at room temperature or warmed, and spoon it lightly inside. Fill the turkey no more than 3/4 of the way.
DON'T use a disposable aluminum pan unless you are roasting a very small turkey. They are too flimsy and you risk dropping the turkey. Use a deep roasting pan, 4″ height is good.
DO RELAX! If your turkey ends up a little on the dry side, consider it a chance to highlight your mad turkey gravy skillz. If your bird wasn't completely thawed and the breast is done before the legs and thighs, go ahead and carve off the white meat and put the rest back in the oven for 30 more minutes while you start eating. Two courses of turkey: WIN!
How to Roast a Turkey Video
Don't forget the turkey gravy!
Butter-Injected Roast Turkey Recipe
Print
How to Roast a Turkey
How to roast a butter-injected turkey
12

–

15

pound turkey

1 tablespoon

each salt and pepper

1/2 cup

chicken broth

4 tablespoons

butter
Tabasco sauce, a few dashes

1/2

bunch parsley

1

small apple

1

small onion

5

cloves garlic

2 teaspoons

each dried rosemary and sage
Extra melted butter or oil for basting
Instructions
Preheat the oven to 325 degrees F.
Remove the neck and giblets from the turkey. Save them to make gravy.
Allow the turkey to sit out at room temperature for one hour to make sure it's completely thawed.
Rinse the turkey inside and out with cool water. Rinse it good. Drain and pat dry with several paper towels.
Sprinkle with salt and pepper inside and out.
Coarsely chop the apple, onion, two cloves of garlic, and the parsley stems. Put them inside the cavity.
Combine the broth with the 4 tablespoons melted butter and Tabasco. Inject this mixture into the breast of the turkey. Insert the injector into the meat and depress the plunger slowly. Make an even pattern all over. Save a little of this for basting.
Mince the rest of the garlic cloves with the parsley leaves and combine with the rosemary and sage. Use your fingers to separate the skin from the breast and push the herb mixture under the skin as far as you can.
Truss the turkey if you want. It gives it a nicer finished look, but will also increase the cooking time.
Put the turkey on a heavy rack in a deep roasting pan.
Pour the rest of the injecting sauce over the turkey.
Roast for 12 minutes per pound, basting with extra melted butter every 30 minutes.
Remove when the temperature in the thigh registers 170 degrees.
Allow to rest 30-40 minutes before carving.