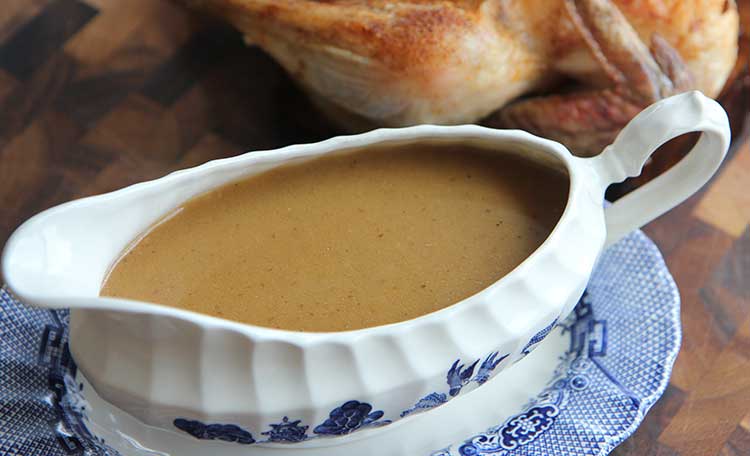 It's Thanksgiving time and that means horrible dry turkey that is only edible once slathered in turkey gravy! I kid. Your turkey doesn't have to be dry; follow this butter-injected turkey recipe to see. But, dry turkey or delicious, having a gravy-boat-load (or several) of turkey gravy on the table is very necessary.
Pour that stuff on your classic mashed potatoes, your cornbread dressing, your rolls or biscuits with abandon! I mean, abandon all thoughts of holiday pounds gained and your butt becoming one with the turkey fat. Abandon all hope, ye who enter here — into this vat of awesome gravy you're gonna wanna dip your toes in to.
Too much?
Turkey Gravy Video
Turkey Gravy Recipe – Printable
Print
Turkey Gravy
1 quart

turkey or chicken stock (can be storebought)

1

bay leaf

1/2 teaspoon

thyme

1/2 cup

sherry, white wine or apple cider
Turkey or chicken giblets (heart and gizzards, halved)

1/2 cup

pan drippings (add butter to make up the difference)

1

shallot, diced

1/3 cup

flour
Instructions
minutes to an hour before turkey is done, combine stock, bay leaf, thyme, sherry and giblets, if using, in a pot and bring to boil. Crack the lid and simmer 30 minutes (or longer if you like) until giblets are cooked. Turn off heat and set aside.
Remove turkey from roasting pan to rest while you make the gravy. If there are roasted vegetables in the pan, remove them and add to stock pot. Bring stock pot up to simmer.
Place roasting pan with drippings over two burners on medium heat. Add butter if necessary to make up a 1/2 cup of drippings. Saute shallot until soft and browned, about 90 seconds.
Add flour and cook the roux until browned, about 1 minute.
Strain half the stock into the roux and whisk until smooth. Add remaining stock and whisk. Bring gravy to simmer while you finely chop the giblets.
Simmer gravy 5 minutes or until thickened. For a silky gravy, strain back into stock pot before adding diced giblets.
Serve gravy hot, or refrigerate for up to 3 days before using.
Nutrition
Serving Size:

1/4 cup

Calories:

124