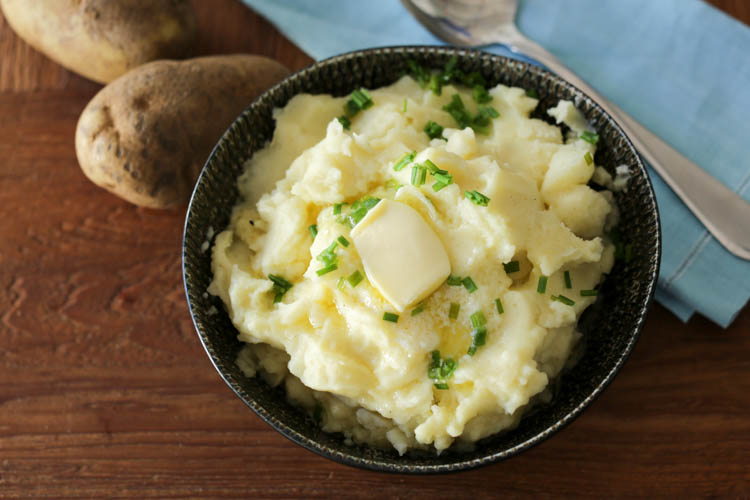 Classic mashed potatoes — smooth, buttery, rich and savory — are one of my favorite foods. When fresh and hot and fluffy, there's not much better to eat. These are the kind of mashed potatoes you want on your plate with your chicken fried steak and cream gravy. These are the ones to serve with roast chicken or fried pork chops.
Here's 5 tips for the best mashed potatoes:
1. Use a starchy potato like Russet or Yukon Gold (not red potatoes or fingerlings). Starchy potatoes can absorb more cream and butter and make the fluffiest mashed potatoes
2. Boil potatoes until soft and then DRY them. Drain well and then put back into the pot over low heat until all the extra water has evaporated. This should just take a few seconds. If your potatoes aren't drained well, you'll end up with watery, bland mashed potatoes
3. Use a potato ricer for maximum fluffiness and smoothness; use a potato masher or bean masher if you like chunky mashed potatoes
4. Use heavy cream or half-and-half for rich, creamy potatoes like you get at fancy steakhouses. Whole milk, light sour cream, or plain yogurt work well if you want to reduce the fat.
5. Add a couple of peeled garlic cloves to the boiling water and mash them up with the potatoes because it tastes good
Watch the Mashed Potatoes Video on YouTube!
And since I LOVE tips, here's two to help you do some of the work ahead of time:
1. Peel potatoes up to 2 days in advance and store covered with water in the fridge. The water prevents oxidizing and turning brown and if you store them in the pot, then you can go straight from fridge to stove!
2. Boil potatoes before serving time. When tender, turn off heat but leave pot covered. The potatoes will stay very hot for up to 30 minutes. Just drain and mash when you are ready.
To keep mashed potatoes warm, put them in a double boiler or bain marie. A tip from my pal Bruce: smear a thin layer of cream all over the top of the mashed potatoes to keep them from drying out, then stir it in before serving!
Try adding fresh herbs like basil (sounds weird but believe) or some funky cheese like gorgonzola or feta. My preference is to use just cream and butter … but my mom has been known to use sour cream instead of heavy cream and my friend Laurel uses cream cheese. I encourage all to experiment! Mashed potatoes are a blank canvas just waiting for your inspiration! Here are two of my favorite mashed potato variations: Horseradish mashed potatoes and Jalapeño-cheese mashed potatoes.
Since it's just two of us at home, I just cook a pound at a time and that makes about four servings (which means leftovers! To make potato taquitos or mashed potato waffles!) To serve more, double or triple the recipe. To serve 12 or more people, for example, use 3 pounds of potatoes with 3/4 cup cream and 3 tablespoons butter.
Fluffy Mashed Potatoes Recipe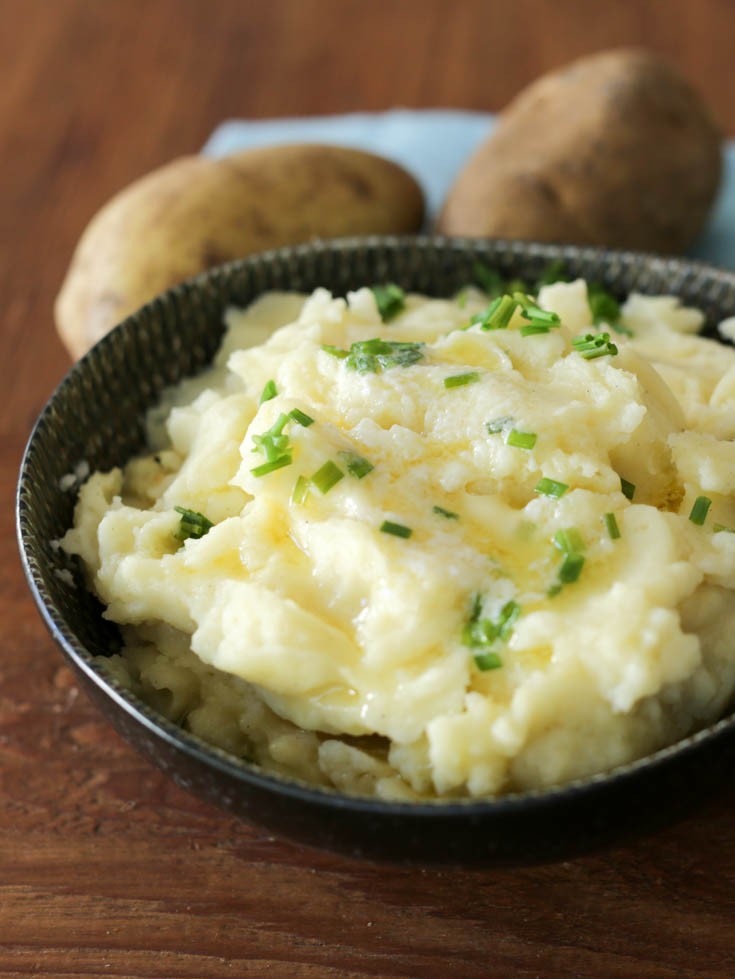 Print
Fluffy Mashed Potatoes
1

pound Russet potatoes

2

cloves garlic, peeled and left whole

1/4 cup

cream or half-and-half

1 tablespoon

butter

1 teaspoon

salt

1/2 teaspoon

white pepper
Instructions
Peel potatoes and cut in half if they are very large. Place in a pot with enough water to cover. Bring to boil and boil 10-15 minutes or until soft. (At this point you can stop and leave them in the water up to 30 minutes before mashing)
Drain well and dry the pot.
Run potatoes through a ricer or mash them in the pot with a potato masher.
Add remaining ingredients and stir gently. Serve hot.
Mashed Potatoes How-to Video
Need a potato ricer? Here's one!