Jalapeño Cheese Mashed Potatoes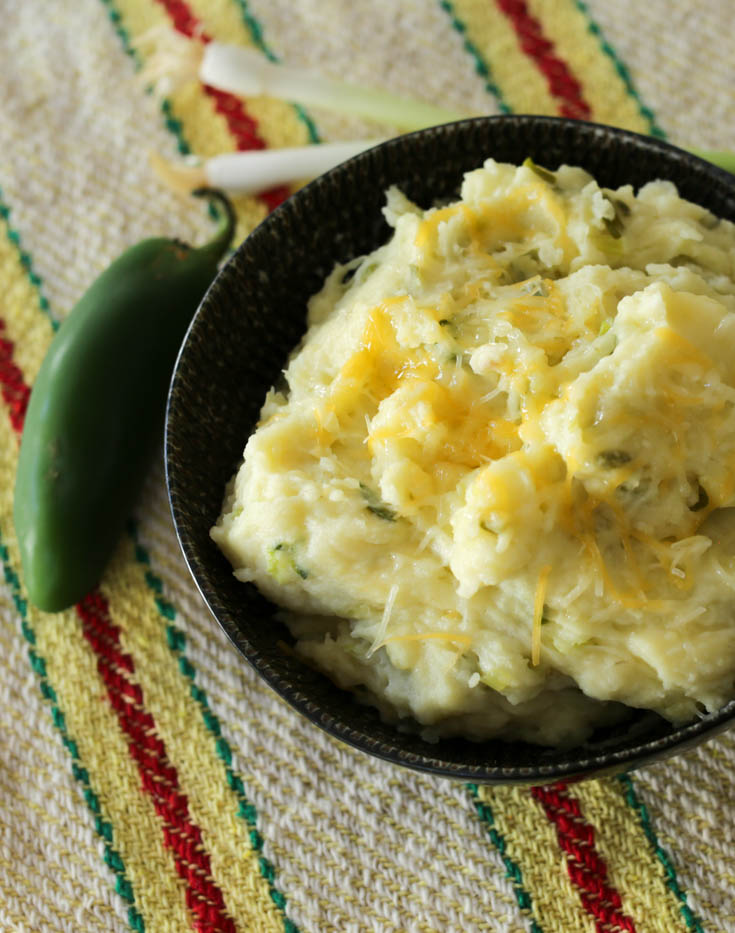 I love the fresh jalapeño bits in these cheesy mashed potatoes. Depending on your taste — and your jalapeños since some are hotter than others — use 1-2 per pound of potatoes. Remove the seeds and membranes if you want the jalapeño flavor without the heat.
These jalapeño cheese mashed potatoes are delicious along side a crispy chicken milanesa cutlet, some oniony fried pork chops, or pollo al carbon. Leftover mashed potatoes are great inside potato taquitos or used in savory mashed potato waffles.
Refer to this post about fluffy mashed potatoes for some general tips on making the best mashed potatoes and two ways to do some prep work in advance. Watch the mashed potatoes video on YouTube for a step-by-step demo.
To serve a crowd, triple this recipe and use: 3 pounds potatoes, 6 tablespoons butter, 6 green onions, 3 jalapeños, 1/2 cup cream and 1 1/2 cups cheese.
Jalapeño Cheese Mashed Potatoes Recipe
Print
Jalapeño Cheese Mashed Potatoes
1

pound starchy potatoes

2

cloves garlic, peeled

2 tablespoons

butter

2

green onions, minced

1

jalapeño, diced (remove seeds for less heat)

2 tablespoons

cream or milk

1 teaspoon

salt

1/2 cup

grated Cheddar or other melting cheese
Instructions
Peel potatoes if you like and boil with garlic for 10-15 minutes until tender.
Meanwhile, saute onions and jalapeños in butter over medium heat until softened.
Drain the potatoes well.
Mash them with the sauteed peppers and onion, cream and salt.
Stir in cheese and serve