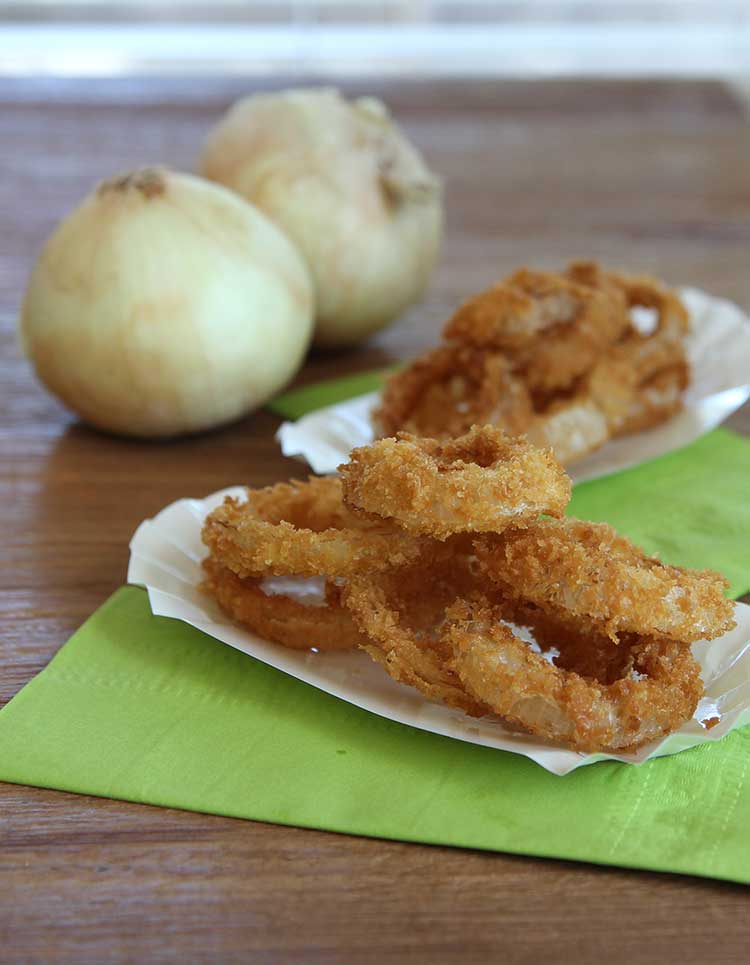 Sweet onions are in season now and I can think of no better way to enjoy their wholesome goodness than by battering and deep frying them. Extra crispy onions rings are what the doctor ordered! (Not my doctor, but surely some doctor at some point in history? Or a dentist?)
This recipe is adapted from my pal Larry's recipe for "Really, really, really crispy onion rings. Really". The only change I made (really) was to omit 2 tablespoons of instant mashed potatoes from the batter, for no reason other than that I don't usually have them on hand. The result is still really, really crispy onion rings so I'm going ahead and calling this one a win.
Even if you can't find sweet onions such as Walla Walla, 1015, or Vidalia, you can still make delicious onion rings. When choosing onions, looks for those that are more UFO-shaped than Earth-shaped. Flatter onions are generally sweeter.
And to minimize crying when you slice them into rings, put them in the refrigerator for a few hours (or days) first. I know that people say you shouldn't refrigerate onions, but that's the only reliable way I've ever found to make a difference in the tear gas. Onions rings can be served with ketchup, but I like them plain best (well, really I mean sprinkled with some spicy seasoned salt). They are also pretty damn good when dipped in tartar sauce, which would then necessitate making some of my extra crispy fish and chips, of course!
Onion Rings How-to Video
Crispy Onion Rings Recipe – Printable!
Print
Crispy Onion Rings
1/2 cup

all purpose flour

1/4 cup

cornstarch
big pinch cayenne pepper
several shakes black pepper

1 cup

cold club soda

2

–

3

cups Panko bread crumbs (this is important!)

2

large sweet onions

2

–

3

cups vegetable oil for frying
fine salt
Instructions
Whisk together flour, cornstarch, spices, club soda until smooth. Refrigerate 10 minutes.
Meanwhile spread Panko in a shallow bowl and cut onions into thick 3/4″ rings.
Heat oil to 350ºF
Stir batter once more, thinning with additional water if necessary (should be a little thicker than pancake batter) and use a fork to dip onion rings into batter.
Let excess drip off, then coat in Panko.
Fry onion rings 2-3 minutes until golden.
Drain on paper, sprinkle with salt, serve hot.