Cumin Grilled Lamb Sirloin Chops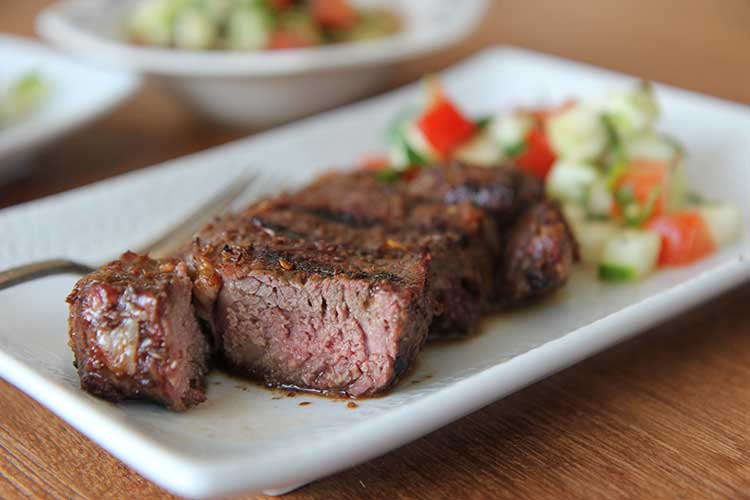 The American Lamb Board sent me some fresh lamb sirloin chops to play with, which was fun as they are a nice tender cut that's relatively new to butcher shops. I think lamb is an under-used meat in the US; people tend to go for beef instead. But lamb of today is perhaps much milder than the lamb you may remember from your youth. At least, it is to me. The first time I had lamb was at an elderly cousin's Easter dinner and he served a leg of lamb, cooked rare, and the whole dinner I could not stop thinking of Dr. Seuss's "roast beast", nor could I eat the thick oval slice that sat on my plate in a pool of pink.
These days, I've found a new appreciation for lamb as it's gotten easier to find in regular grocery stores, thanks to more American lamb growers. Ground lamb makes a traditional Shepherd's Pie or non-traditional burger patty (try a lamb cheeseburger with feta and see what I mean). Lamb stew meat in delicious curries and lamb chops on the grill. For these lamb sirloin chops, I was inspired by some lamb kebabs we had at Mr. Chen's Noodle House about a year ago — tiny chunks of salty lamb, crusted in cumin seed and chili flakes, skewered and grilled, crispy in their own fat. I imagine you could dice some lamb chops and do kebabs like that, too, but there is something wonderfully dramatic about serving each guest his or her own fat chop.
Lamb sirloin chops are boneless, typically weighing between a third and a half pound each. While they are a fairly lean cut, they still benefit from any sort of tangy condiment. I rubbed them with a cumin-red pepper mix then grilled outdoors until seared and medium-well. If you prefer your steaks a little more rare, reduce the grilling time by 2 minutes on the first side. The salad served with them is sour and herby with the earthy bitterness of cilantro marrying well with the toasted cumin seed on the lamb chops. In the winter when tomatoes and cucumbers are not in season, try making the same salad with thinly shredded cabbage (about two cups) and one large orange, peeled and coarsely chopped.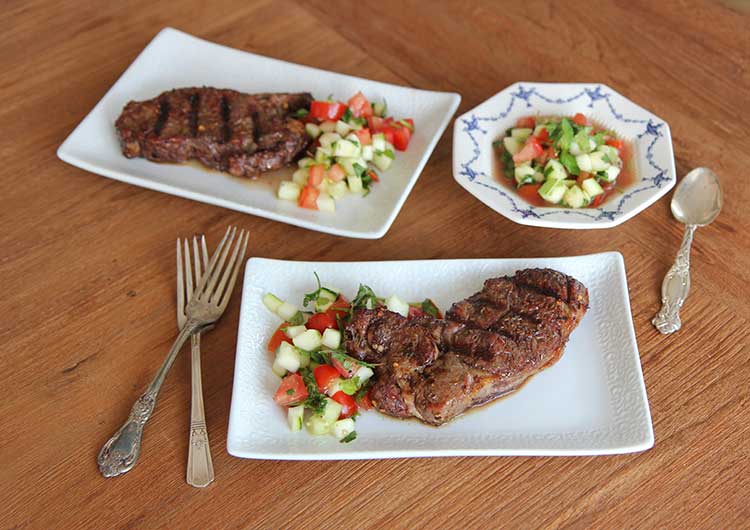 If you can't find lamb sirloin chops, regular bone-in lamb chops can also be cooked this way. I heard through the grapevine, too, that Central Market groceries (in Texas) will be doing a "Celebration of Lamb" in July with lots of different cuts you may not have seen before and coupons for several dollars off the pound. So that might be an inexpensive way to experiment with lamb if it's new to you.
Grilled Lamb Sirloin Chops Recipe
Print
Cumin Grilled Lamb Sirloin Chops
Author:
Prep Time:

1 hour

Cook Time:

20 mins

Total Time:

1 hour 20 minutes

Yield:

4

1

x
1 1/2

pounds lamb sirloin steaks

1 1/2 teaspoon

cumin seed

1/2 teaspoon

red pepper flakes

3/4 teaspoon

salt
Tomato Salad:

1

large tomato, seeded and diced

1

medium cucumber, peeled and diced

2 tablespoons

lemon juice

2 tablespoons

olive oil

1/2 teaspoon

salt

1/4 cup

chopped cilantro

2 tablespoons

fresh mint, chopped
Instructions
Trim the excess fat from the outside of the steaks (this will help prevent flare-ups on the grill). Crush or coarsely grind the cumin seeds and mix with red pepper and salt. Sprinkle each side of each sirloin chop evenly and pat the mixture in so it sticks. Refrigerate 1-3 hours.
Combine tomato, cucumber, lemon juice, oil and salt and let sit while you cook the chops:
Preheat a grill to very hot (450-500ºF). Place chops on the grill and cook uncovered 7 minutes. Turn and cook another 5-7 minutes until the internal temperature reaches 155ºF for medium and 160ºF for medium-well.
Add herbs to tomato salad, stir, and serve with chops.
Nutrition
Calories:

400

Fat:

20

Carbohydrates:

5

Protein:

49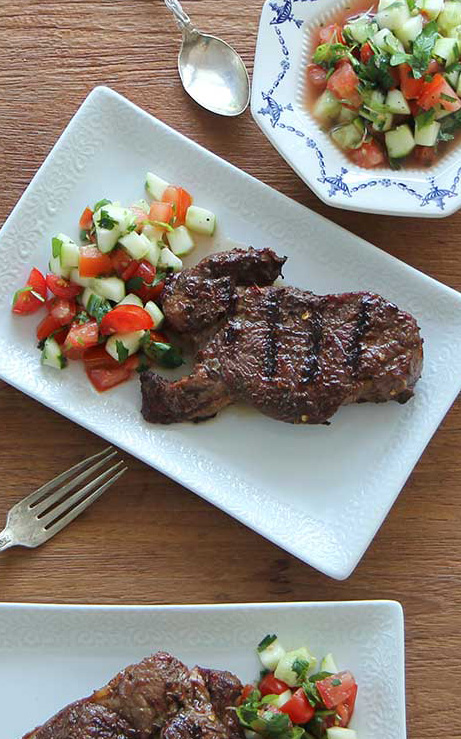 And here's a handy diagram to help you when buying cuts of lamb: