A recipe from my great-grandmother's files; I think this one was actually in her husband's handwriting. I've had it — and considered making it — for five years or so. Something about it put me off, but lord knows that was the dumbest thing I ever did because this bread is dope as hell, y'all. Forget the dill part, this is really just a perfect white bread recipe. Easy to slice, excellent for sandwiches, and delicious enough to make a meal in itself with a thick smear of butter and sprinkle of flaky salt.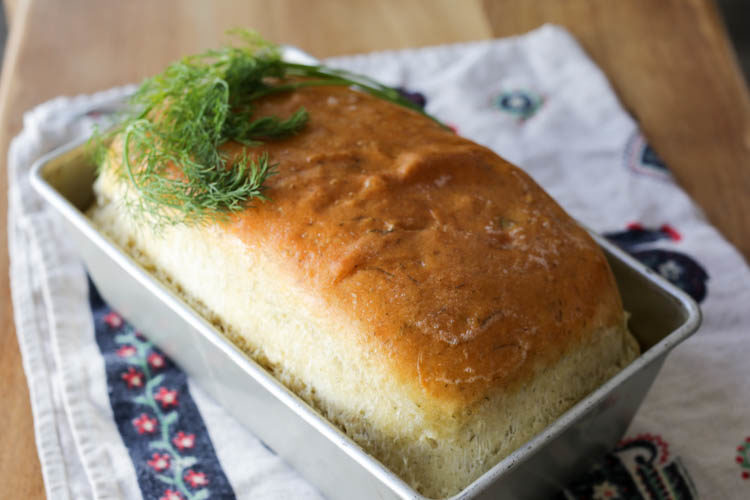 Cottage cheese is a surprise ingredient and one that you'd never guess was in there. I don't even know where it goes once it's inside. It just gets all mixed up and the batter goes from lumpy to smooth and bakes up to give you this damn fantastic texture. Look at that fine crumb!
You can double the recipe to make two loaves and you might want to do that. The first time I made this, we had another small family over for lunch and between the four adults and three kids, the one loaf was gone by the end of the day. (P.S. It goes great with minestrone soup and broccoli cheese soup.)
It keeps very well, wrapped up at room temperature, for about three days. And seriously if you want to leave out the dill (it doesn't really add that much flavor tbh) and call this perfect white bread instead, that's okay by me.
Print
Dill Bread
1 envelope dry yeast (2 1/2 teaspoons)
1/4 cup warm water
1 cup cottage cheese, room temperature
2 tablespoons soft butter
1 egg
2 teaspoons dried dillweed
1 1/2 teaspoons salt
1/4 teaspoon baking soda
2 1/4–3 cups all-purpose flour
Extra soft butter for greasing pan
Instructions
Put the yeast into a large mixing bowl (the bowl of your stand mixer if you have one) and add the water. Allow to soften for a few minutes.
Add cheese, butter, egg, dill, salt and soda and mix well.
Add 2 cups of flour and mix. Will probably be a stiff, sticky batter.
Begin kneading the dough, adding more flour as needed to make a smooth, elastic dough. It may still be a little sticky to your hands but as long as it can pull together into a ball, it should be good. This may take 5 minutes or longer.
Cover with a damp cloth and let rise in a warm place (70oF or so) for 1 hour or until doubled.
Punch down and shape into a loaf. Grease a large (9×5) loaf pan with a teaspoon or so of butter and place the loaf inside. Cover with a damp cloth and let rise another hour.
Set oven to 350ºF. Bake the risen loaf for 30 minutes until golden brown on top. Spread top with a little more butter.
Let cool 10 minutes then gently tump out the loaf from the pan and let cool on a rack at least 10 minutes before slicing.