Dirt Cake recipe Video (scroll down for printable recipe)
The Dirt Cake is something that many people grew up on. Not me. I think dirt cakes are indigenous to the American midwest which would explain why I'd never heard of them until I was well past voting age. That, and my mom is a devout sugar-hating hippie and dirt cake is almost 100% sugar.
Most recipes include instant pudding mix, powdered sugar, milk, cream cheese, butter and Cool Whip plus a pack of Oreos. It really sounds completely insane, but when you get back from the amount of sugar involved in it, a dirt cake is like an American trifle — layers of creamy pudding stuff with layers of other stuff. In dirt cake, it's broken up cookies; in a trifle, it's broken up cake (plus some berries usually so you could argue that a trifle is a bit healthier, but I don't know how far that argument would get you with a nutritionist).
As I am my mother's daughter, though a bit more lax with my cookie intake than she, the classic dirt cake recipe I found would just not do. I omitted the cup of powdered sugar and the stick of butter that is usually included and guess what happened. Nothing. I mean, nothing bad. I thought the end result was quite delicious, really, and I can't imagine making it any other way. With my dirt cake recipe, you can actually taste a little of the tangy cream cheese and it offsets the sweetness of the pudding mix and cookies, turning the lowly dirt cake into something seemingly a little fancier. Why is it that when it comes to desserts and champagne, less sweet equals more fancy?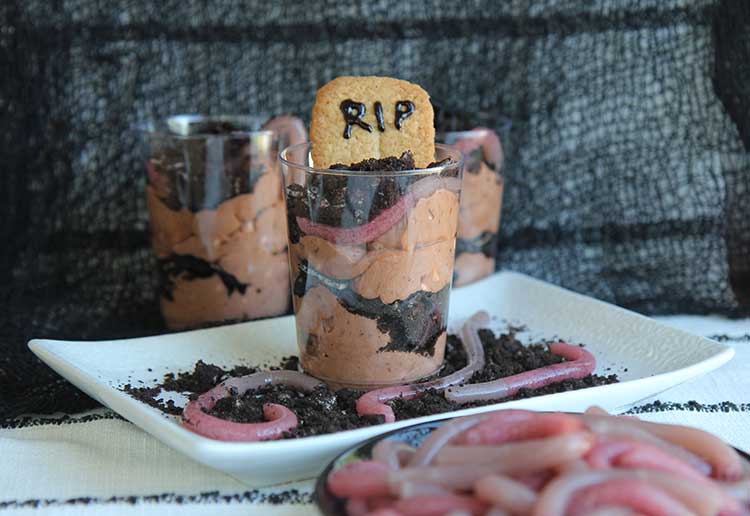 Make my fruit-juice-sweetened, healthier Gummy Worms recipe to go with your Halloween dirt cake!
Reduced Sugar Dirt Cake Recipe – Printable!
Print
Dirt Cake
Author:
Cook Time:

10 mins

Total Time:

10 minutes

Yield:

8

1

x
8 ounces

heavy whipping cream

2 tablespoons

sugar

1 teaspoon

vanilla extract

8 ounces

cream cheese or neufchatel, softened

3 cups

milk
Large box (5.9 ounce) instant chocolate or butterscotch pudding

1

–

15

ounce package Oreos (freeze them for an hour or so)
Gummy worms, cookies, black decorating gel
Instructions
In large mixing bowl, whip cream with sugar and vanilla on medium speed until it begins to thicken. Increase speed to high and whip until stiff. Scrape into another bowl and set aside.
In the same large bowl, without washing, beat cream cheese on medium speed until lightened. Add 1 cup of milk and beat until smooth. Add remaining milk and pudding mix. Beat about 2 minutes until it thickens. It's okay if it looks a bit lumpy – it's supposed to look like mud anyway.
Fold the whipped cream into the pudding mix.
Refrigerate.
Place most of the Oreos in a large ziploc bag and smash with a rolling pin until coarse crumbs.
Layer in a 2 quart dish or in 8 individual cups: pudding, crushed Oreos, pudding, crushed Oreos. Hide some gummy worms in the pudding layers and tuck some around the edges. Make gravestones with cookies and black decorating gel.
Serve right away or refrigerate up to 24 hours. (To make ahead of time, prepare the dirt cake and refrigerate. Add decorated cookie "gravestones" right before serving.)
Nutrition
Calories:

255

Sugar:

7.3

Fat:

22