Easy Homemade Baby Food (without a blender!)
Easy Homemade Baby Food (scroll down for printable baby food recipes)
I get asked daily what I'm feeding Chef Baby now that he's old enough for solid food. I've been keeping his babyfood pretty simple (until we're sure he's not going to react to any foods) but not boring or bland because I want him to develop a broad palate — as much for my benefit as for his! If I can manage to raise a kid who will eat just about anything without a groan or a whimper, I'll be a happy mama. Here are four of Flint's favorite homemade baby food recipes.
*About Salt in Baby Foods* As pointed out in a comment below, babies younger than 12 months do not have well-developed kidneys and can handle no more than 1 gram of salt per day. Use caution and to be on the safe side, omit salt altogether. This also applies to families who skip making "baby food" and who choose to blend up "adult food" so that everyone eats the same thing.
Homemade Baby Food Recipes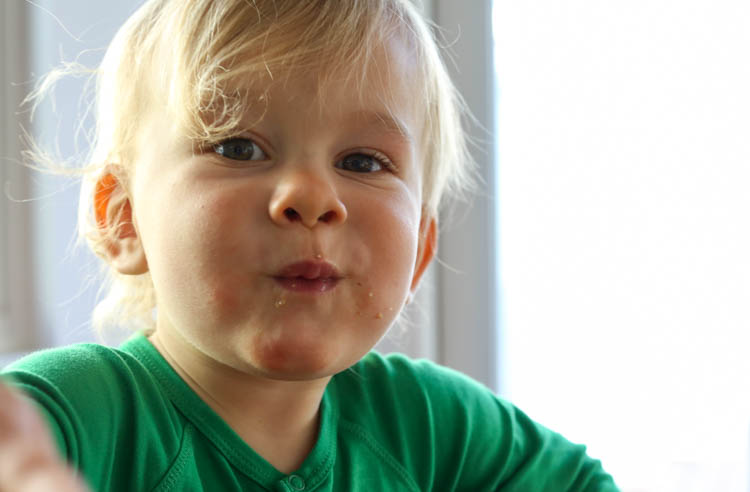 Sweet Potato Babyfood
Flint LOVES the sweet potato-coconut combination. Of course he loves it a little on the sweet side with cinnamon added, but he also likes more savory flavors like cumin. Try it on your baby and see! And if they reject it the first time, try again in a couple days.
Print
Sweet Potato Babyfood
Author:
Yield:

1 cup

(

8

-

16

servings)

1

x
1

medium sweet potato

1 tablespoon

coconut oil
Optional (try adding these to individual servings to see how your baby likes the new flavors!)
pinch of ground cinnamon
pinch of ground cumin
pinch of ground coriander
pinch of ground ginger
pinch of garlic powder
Instructions
Cut the potato into quarters and put into a pot with enough water to cover. Cover and bring to boil on high heat. Boil 5-7 minutes until the potato is quite soft.
Drain and cool to handle.
With very clean hands, peel the skins from the potato and discard. Mash the flesh with coconut oil until fairly smooth. (My baby seems to like some small chunks)
Refrigerate up to one week.
Serve 1-2 tablespoons at a time for 6-8 month old baby. Add optional seasonings to individual servings to offer your baby lots of new flavors he might like!
Apricot Oatmeal Babyfood
You could really use any dried fruit for this, but I do recommend adding some prunes for fiber. Constipation is a problem when babies first get started on solids and the prunes really help.
Print
Apricot Oatmeal Babyfood
Author:
Yield:

1 cup

(

8

-

16

servings)

1

x
4

dried apricots

4

dried prunes

1/4 cup

rolled oats (old fashioned oats, not instant or steel cut oats)

1 cup

boiling water

1 tablespoon

butter
Optional (add to individual servings to experiment with new flavors)
pinch ground cinnamon
pinch ground ginger
pinch ground cardamom
Instructions
Finely chop apricots and prunes put into heat-proof bowl with oats, boiling water. Let sit until water is absorbed. Blend with an immersion blender, food chopper or blender.
Refrigerate up to one week.
Reheat 1-2 tablespoons of oatmeal at a time by adding an equal amount of boiling water and stir. Add any optional flavorings you want to try.
Baby Guacamole
Flint is very sensitive to sour flavors (read: he spits them out) so my regular guacamole recipe doesn't work. I've found though, that avocado makes a perfect vehicle for introducing new herbacious flavors to him. And he also has no problem at all with onion, praise be.
Print
Baby Guacamole
1/4

ripe avocado
pinch salt
Optional flavorings (choose one or several)

1 teaspoon

finely minced green onion

1 teaspoon

finely minced cilantro or parsley

1/8 teaspoon

dried basil

1/8 teaspoon

dried dill weed

1/8 teaspoon

dried oregano
pinch ground cumin
Instructions
Peel and mash the avocado with the salt and any other seasonings you want to try. Do not refrigerate, serve right away.
Baby Lentils and Apples
When I first smelled the combination of chicken broth and apples, I thought of Thanksgiving. So that's what I decided to go for. No time like the present to get baby accustomed to cornbread dressing! This recipe makes a couple of cups so you probably will want to freeze half of it unless your baby has a really big appetite.
Print
Baby Lentils
1/4 cup

red lentils

1 cup

chicken or vegetable broth (low sodium, homemade if possible)

1

apple, grated
Large pinch each: dried thyme, ground sage, and rosemary
Instructions
Combine all in a small pot and bring to boil.
Cover, reduce heat and simmer 10 minutes.
Steamed Broccoli
No mystery here, I just cut some broccoli into long florets with plenty of stem, steam them, cool them and then hand them over to Flint. He uses the stem as a handle and chews on the florets for a long time. It is good for his coordination and keeps him busy while we eat dinner. Plus, he likes it! Celery sticks and carrot sticks are good for this, too.