This super easy lamb curry recipe is pretty close to the lamb vindaloo we get at our local Indian takeout (and Chris even thinks it's better than that) but I hesitate to call it anything more than an easy lamb curry because I'm the first to admit my relative ignorance of Indian cuisine.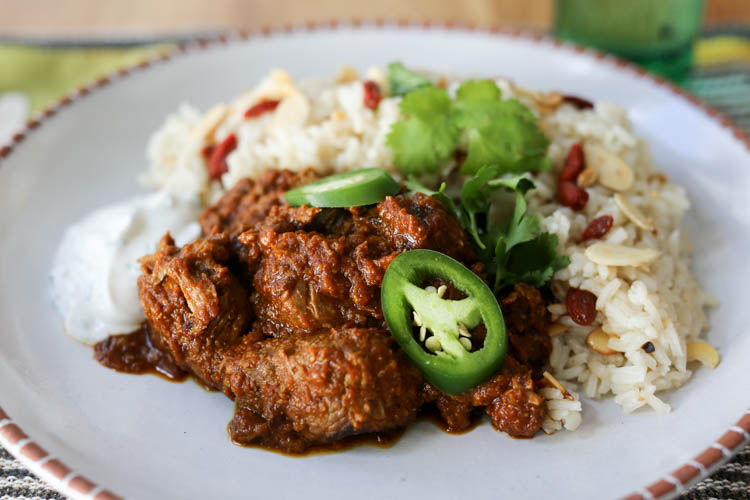 The bits I do know were picked up mostly from one person: my friend Laurel's husband Ash (he and I worked in a kitchen together in New Zealand a few years before Laurel met him and now they run an ethically sourced jewelry studio). The big takeaway I got from Ash is that almost all the "wet" curries start out with a blended up paste that includes all your tomatoes, onion, garlic and ginger and this paste gets fried in oil before the other stuff is added. That's how I've been doing it ever since and my "Americanized Indian Curry" game is pretty strong now. Aside from everything taking on a more authentic appearance when you do it this way, it also saves a ton of time because you don't have to peel ginger or mince garlic or any of that tedious crap.
So get thee to the kitchen and make this super easy lamb curry today! (Try it with beef if you prefer.) And please, fr the love of your insides, don't do like me and serve this with just rice. Though a rice pilaf is excellent alongside (for best compliments, use a dried fruit in it like raisins, cherries or goji berries) eat a dang vegetable, too! Coconut curried collard greens is what I usually serve with this. And one can never go wrong with garlic green beans.
For an even easier, even faster, even more bastardized curry-that-is-nonetheless-delicious make a ground beef curry.
And for a hilarious peek back in time, watch the video I made (in 2010!) for down and dirty curry, vegetarian.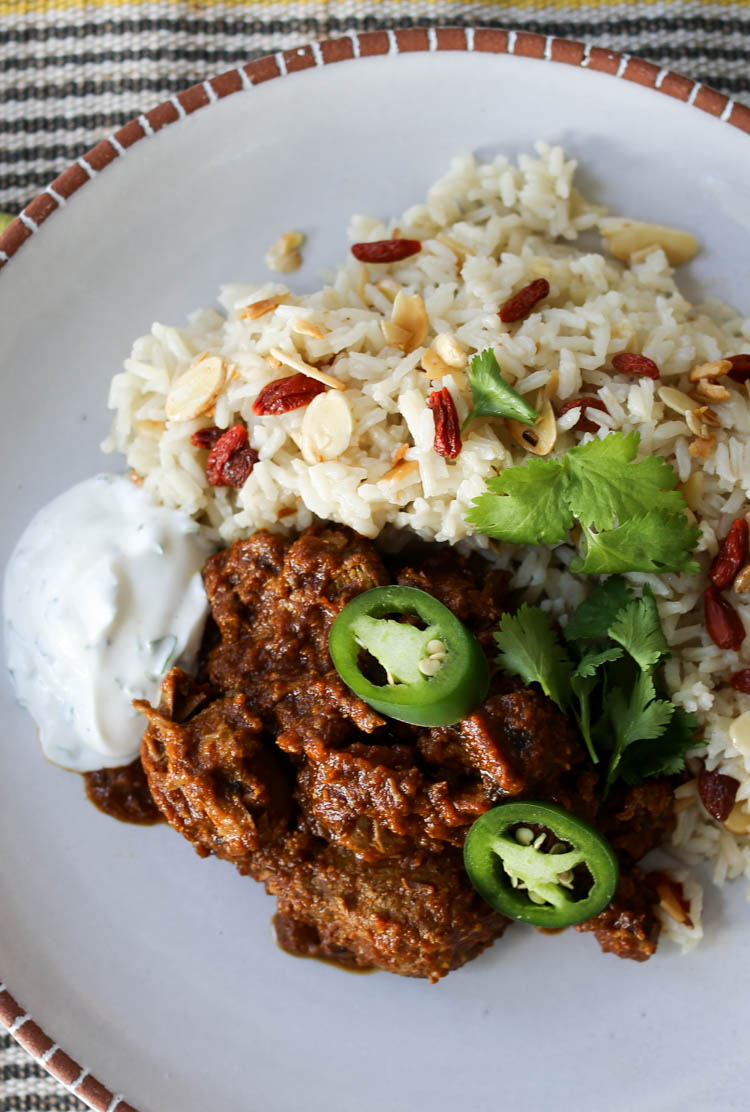 Print
Easy Lamb Curry
1 small/medium yellow onion (about 6 ounces, weight)
1 1/2 cups diced tomatoes (or 1–15 ounce can)
1 jalapeño
1/2 cup water
2 cloves garlic, smashed and peeled
1/2" length of ginger root (or 1 teaspoon dried ground ginger)
1 teaspoon whole mustard seed*
1 teaspoon whole cumin seed*
1/2 teaspoon coriander seeds*
1 teaspoon salt
2 tablespoons apple cider vinegar
1 tablespoon oil
1 pound lamb stew meat
1 teaspoon garam masala**
1/2 teaspoon turmeric
2 medium Russet potatoes
Garnish: fresh cilantro and/or mint, fresh jalapeños, plain yogurt
Serve with: Basmati rice, rice pilaf or 'cauliflower rice'
Instructions
Coarsely chop onion, tomato, jalapeño and ginger. Combine onion through vinegar in the blender and puree.
Heat the oil in a large, heavy-bottomed pot or braiser over high heat. Brown the lamb chunks well at least on one side.
Meanwhile, peel and cut potatoes into quarters.
Move the lamb to one side and add the garam masala and turmeric. Let cook 30 seconds.
Then pour in the puree and stand back. It will splatter. Allow it to cook for a few minutes.
Add the lamb and potatoes and cover tightly. Reduce heat to low and simmer 1.5-2 hours until the lamb is very tender. Stir it half way through and add more water if it is getting dry or sticking. I love to make this in the morning and then reheat it for dinner. Like all curries, it gets better the longer it sits.
Notes
*if your spices are ground, use 1/2 teaspoon mustard, 1/2 teaspoon cumin, 1/4 teaspoon coriander
**don't shoot the messenger, but Chinese 5-spice powder works okay, too
Nutrition
Calories:

225

Fat:

10

Carbohydrates:

8

Protein:

24