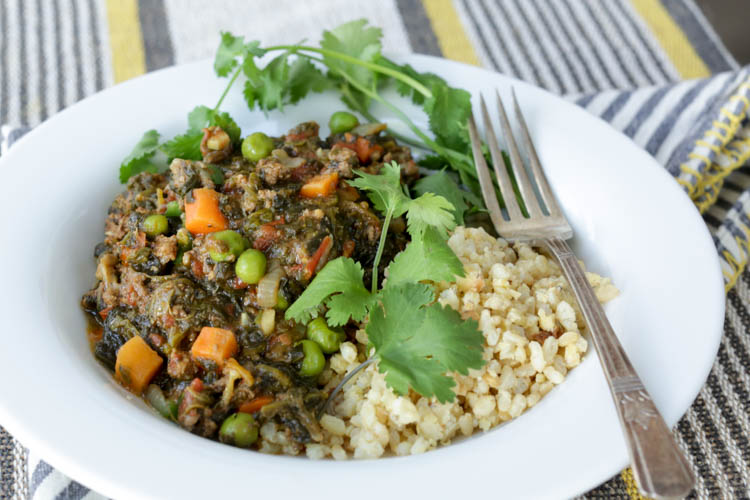 This ground beef curry is quick and easy — literally ready in under 20 minutes. If you've never thought of using ground beef in a curry, well, I hadn't either. But necessity is the mother of invention and all I had thawed out was ground beef (bison, actually) and I was doing an experiment with some lentil crepes that needed a filling and so voila.
The crepes sorta worked (more on that another time) but the ground beef curry was SO GOOD. And it's got a buttload of spinach in it, so you don't even need to make a separate vegetable side dish unless you want to. This would go well with cauliflower rice or roasted cauliflower; curried potatoes; white rice; rice pilaf. But if you don't want to mess with all that, the curry is good on its own. And I just had a thought that this mix would make an interesting Sloppy Joe filling, too, wouldn't it?
I use frozen chopped spinach for ease of prep and because fresh spinach would make this too watery. Just get out the spinach in the morning and by evening it will be thawed enough. Press most of the water out (your hands work fine) before adding to the curry.
This is a small-batch recipe that serves two or three, but can easily be doubled. To stretch the recipe further, add the peas and carrots. To keep this paleo, don't add peas (but carrots are okay!).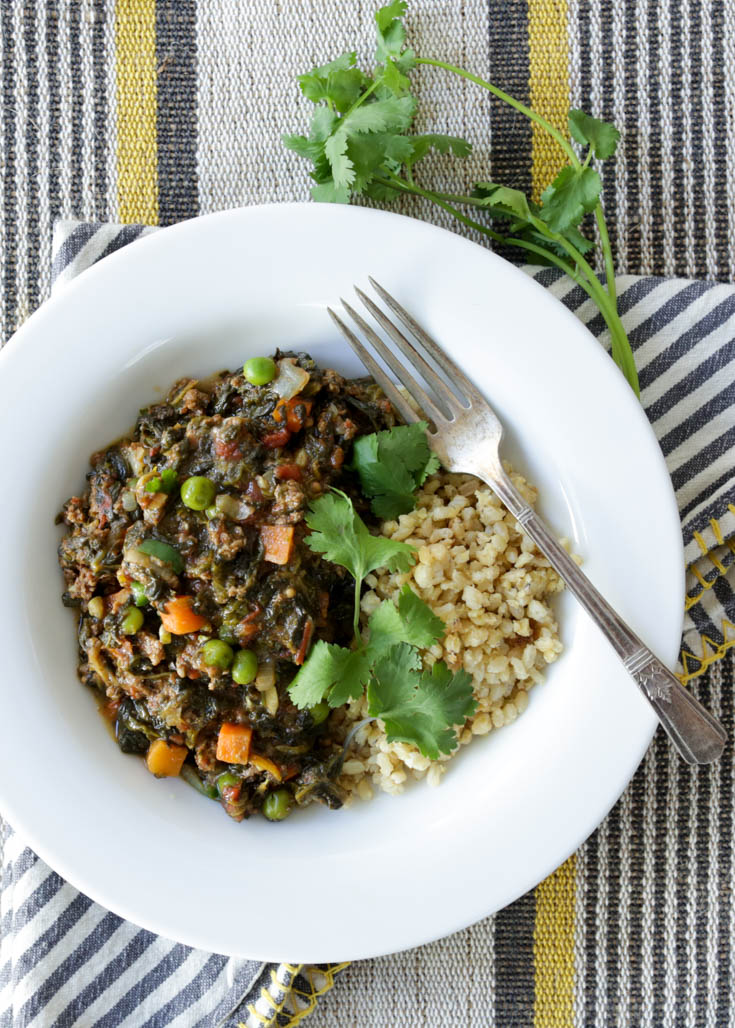 Print
Ground Beef Curry
1/2 onion, diced (about 1 cup)
2 cloves garlic, minced
1 tablespoon coconut oil
1/2 teaspoon cumin seed
1/2 teaspoon mustard seed
1 teaspoon curry powder
dash ground cinnamon
1/2 pound ground beef (or bison)
1/2 teaspoon salt
10 ounces frozen, chopped spinach
1 cup chopped tomatoes (fresh or canned)
fresh cilantro to garnish
Optional: 1 cup frozen peas and carrots
Instructions
Dice the onion. Melt the oil in a medium sauce pot over high heat. Add onion and brown for about a minute.
Add garlic and dry spices (except salt) and saute another minute or so until fragrant.
Add the meat and stir to crumble it up.
Squeeze most of the liquid from the spinach and add it to the meat with the salt and tomatoes. Add peas and carrots now, if using.
Cover, bring to simmer and cook 5-10 minutes. (You can simmer it longer if you like, but 10 minutes is sufficient if you're in a hurry)
Serve with rice, bread, potatoes
Notes
For a spicy curry, add 1/4 teaspoon cayenne pepper OR 1 jalapeño, minced, sauteed with the onion