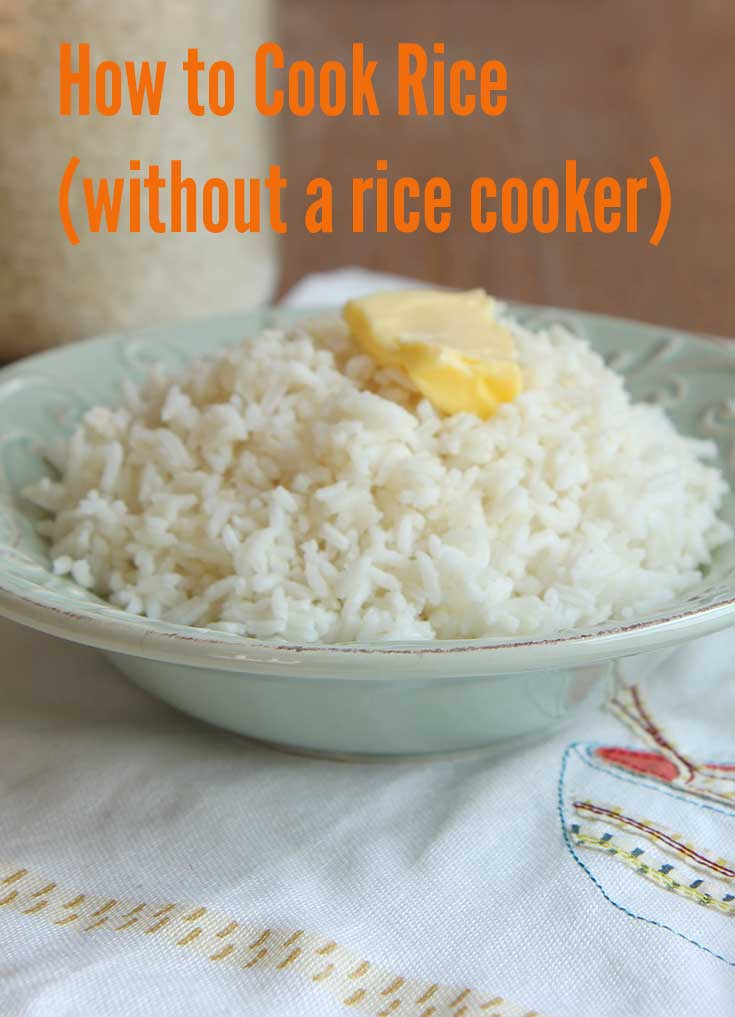 Lots of people struggle with how to cook rice. I know because I hear about it every week. So to appease the masses and throngs of youngsters and oldsters who've requested help with rice, here is another video in the Learn to Cook series: How to cook rice on the stove, without a rice cooker.
How to Cook Rice Video
How to Cook Rice Instructions
These instructions are specifically for cooking long or medium-grain rice on the stove. The amount of water required to cook one cup of rice is different for different rice varieties. Long grain rice that works with this method includes Basmati, Texmati, Jasmine, and popcorn rice as well as any white rice labeled "long grain rice".
You can use this method for cooking long grain brown rice, but you will need to increase the water by 1/4 cup and simmer the rice for 45 minutes when cooking brown rice. The technique is the same.
Print
How to Cook Rice
Author:
Cook Time:

15 mins

Total Time:

15 minutes

Yield:

4

-6

1

x
1 cup

long-grain white rice

2 cups

water

1/4 teaspoon

salt

1 teaspoon

butter or oil, optional
Additional spices if you desire: 1 bay leaf; 2 cracked cardamom pods; 1 clove garlic, minced; 1″ stick cinnamon; 2 slices fresh ginger; 1/2 teaspoon cumin seeds
Instructions
Combine all ingredients in your pot and put the lid on it. Put the pot on high heat.
Once the pot comes to a boil (you will notice steam and hear bubbles) reduce the heat to as low as you can go without turning it off and set a timer for 15 minutes.
DO NOT open the lid. DO NOT stir the rice. Just turn the heat down and set a timer.
*Tip for electric stoves: Since electric burners take a while to cool from high heat to low heat, have another burner on the back of the stove set to low so that once the rice pot comes to a boil, you can switch the pot to the low burner and turn the high burner completely off. This will help prevent burning or overocoking the rice.
When the 15 minute timer dings, turn the heat off and let the rice sit for 10 minutes before fluffing with a fork and serving. You can let it sit longer, up to 30 minutes, and it will be just fine and even stay warm.
Nutrition
Serving Size:

1/2 cup

Calories:

169

Carbohydrates:

24

Protein:

2
Rice Cooking Tips
When cooking rice on the stove, make sure you are using a heavy-bottomed pot (no cheap aluminum pots, please) and make sure that the pot is large enough to accommodate the rice swelling to four times the original volume. For example, use a 1 or 1.5 quart pot to cook 1 cup of rice. If cooking 2 cups of rice, use a 2 quart size pot.
Your pot will also need a tight-fitting lid. A glass lid is helpful to avoid peeking temptation, but not necessary. If you really don't own a pot with a lid, get a piece of foil fitted around the top of the pot before you start cooking. Once the rice/water is boiling, slip the foil lid on top and weight it with a medium-gauge pan or skillet (not cast iron).
For gas stoves, turn the heat under the rice to the lowest setting possible after it's come to a boil. If cooking rice on an electric stove, use one burner on high to bring the pot to a boil, but have another burner set on low so that you can immediately bring the temperature down to a simmer without waiting for the hot burner to cool off. That's a trick I learned from my great aunt Maline. Be careful around the hot burner until it cools off!
Don't peek! Don't lift the lid to look or stir the rice while it's cooking. You'll let the steam out and end up with undercooked rice.
Let the rice rest. By leaving the rice covered and off the heat once the timer goes off, you allow residual steam to absorb and the rice grains to firm up a bit so that when you stir it, it doesn't all break up like rice pudding. This is part of what makes rice a great side dish! You can leave it for 10 minutes or up to 30 minutes and it will stay nice and hot in the pot, ready when you are, for serving. So go ahead and get your rice cooking first thing and prepare your other courses while that happens.
Things that go with rice:
Serve hot cooked rice with stir fry, or beef stew, or New Orleans red beans.
Store leftover rice in the fridge and reheat in the microwave or in a pot with a small amount of water over low heat. Or use leftover cold rice to make fried rice.
Follow this link to learn how to cook short grain rice for sushi rolls.
Or this one for a basic risotto recipe using arborio rice!
For more about cooking different types of rice, check out my Learn to Cook book! It's got everything you need to know about cooking all varieties of rice.