Flatbread Pizza Video (scroll down for printable recipe)

This recipe started out as a good and easy flatbread recipe. But then pesto got involved and we had to embrace the ease and loveliness that is flatbread pizza. Of course if you just want to make the flatbread and serve it with hummus or lamb or anything else, by all means stop after you've cooked them and for heaven's sake don't put any pesto on them! But to turn flatbread into a meal, continue down the Path of Pesto (and cheese and vegetables and really whatever you have in the fridge) for a pantry dinner in around 30 minutes.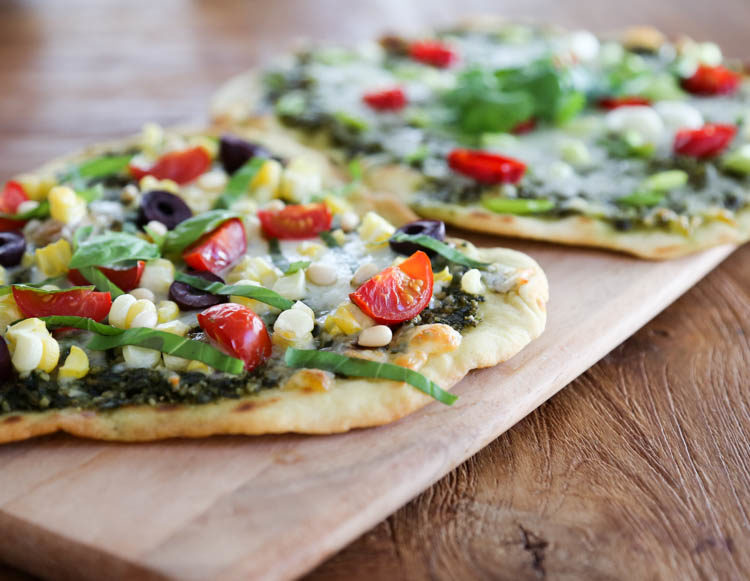 Other toppings that work well on these are chopped arugula and spinach, pineapple chunks, prosciutto, cooked sausage, cooked diced potatoes, and thin slices of summer squash.
Flatbread Pizza Recipe
Print
Flatbread Pizza
Dough:

11/2 cups

flour

1 1/2 teaspoons

baking powder

1 teaspoon

salt

2 tablespoons

olive oil

1/2 cup

milk
Toppings:

1/2 cup

pesto (or pizza sauce)

2 cups

grated mozzarella, provolone, cheddar
Your choice: diced tomato, corn kernels, onion, peppers, olives, anything
Instructions
Combine dry ingredients in a large bowl and mix olive oil in to make some chunky bits. Make a well in the center and pour in milk. Mix. Knead 3-5 minutes.
Divide into 4 pieces and roll each out into shape. Maybe a circle, maybe a triangle, maybe an amoeba. It's not important as long as it's thin, about 1/8 inch or a half centimeter. If it's easer to stretch the dough thin, then do that.
Heat a cast iron skillet over medium-high until a splash of water sizzles. Cook each flatbread for about one minute on each side until bubbly and brown. Lay them on a baking sheet. (if you wish to stop here and serve them as is, brush a little melted butter on each and wrap the stack in foil to keep warm.)
Spread each with about 2 tablespoons pesto, 1/2 cup cheese and whatever toppings you like.
Bake at 400ºF for 20 minutes or if you're in a hurry and you don't burn things, broil for 3 minutes until melted and toasty.
Don't miss these two pesto recipes: classic basil and spicy cilantro pesto. Both are delicious.