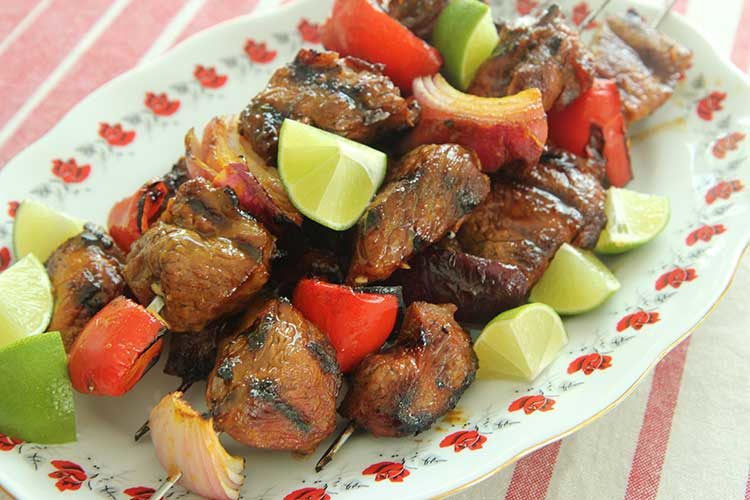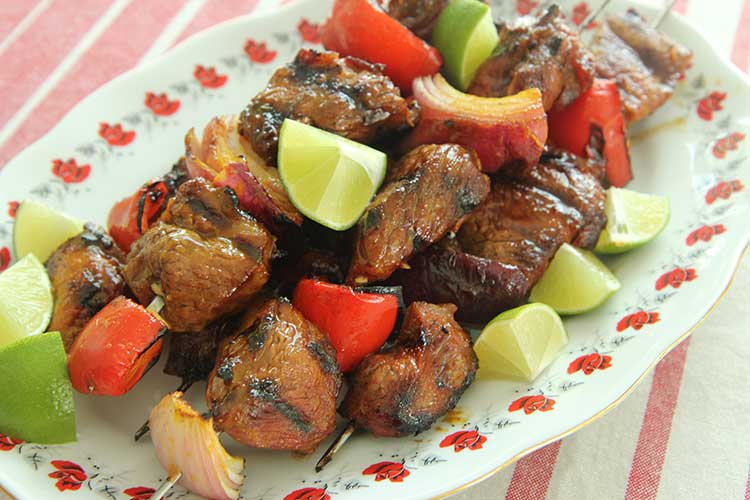 It's July! Which to my mind means it's officially grilling season. The American Lamb Board asked me to come up with a recipe using a boneless leg of lamb and a grill and a beer pairing for it as part of their summer grilling contest. Most people think of a leg of lamb as a stuffy affair (literally stuffed maybe) all tied up and roasted rare and served on a china platter to a table full of British diplomats. Whoa-ho. Not in my backyard, buddy.
Instead of cooking it whole or even butterflied, I took the simple and quick route and cut it up to make kebabs (or skewers? Do you call them kebabs or skewers? I grew up saying kebabs but now I see skewers all over the place). I love kebabs on the grill because they marinate and cook super fast and if you have some pickier eaters in the group, it's easy to cook one kebab medium-well and leave the others medium or medium-rare. (Here's a handy chart from the American Lamb Board stating cooking temperatures for lamb.)
Lamb is best served with a sturdy beer that won't be overwhelmed by the lamb. For this recipe, with its pineapple sweetness and little bit of spice, I chose an amber ale. The complexity of it pairs nicely with meaty lamb, while the ale's nuttiness is complemented by the fruity glaze.
The pineapple juice tenderizes the meat, but be careful not to let it marinate too long or it will over-marinate it and turn the texture kind of grainy. Two hours is perfect but one hour will do if that's all the time you have. Remember to save some of the marinade for basting. It creates a shiny, sweet and sour glaze on the kebabs. Also remember to oil your grill before you start! The sugars in the juice may stick to your grate if it's not cleaned and oiled.
You might also like these Indian-spices chicken skewers!
Pineapple Lamb Skewers Recipe – printable
Print
Pineapple Lamb Skewers
1

boneless leg of American lamb (about

3

pounds)

12 ounce

can pineapple juice concentrate, thawed (100% juice)

3

limes (juice 2 and reserve 1 for garnish)

1 tablespoon

salt

1 teaspoon

turmeric

2

cloves garlic, minced (about

2 teaspoons

)

1

habanero pepper (minced for heat, just halved for mild lamb skewers)
Optional vegetables:

1

red bell pepper, cut into

1

inch squares

1

red onion, cut into

eight

hs
Instructions
Cut the lamb into 1 1/2 inch cubes, removing large chunks of fat, and set aside. You should get about 24 pieces.
Combine juice concentrate with 3 tablespoons lime juice from 2 limes, salt, turmeric, garlic and the habanero pepper in a medium bowl and whisk until salt is dissolved.
Reserving 1/4 cup of marinade for basting, pour the rest over the lamb and marinate for 1-2 hours.
Thread lamb chunks onto skewers, leaving some space between, alternating with vegetables if you like.
Get a hot grill going (400-450ºF) and scrub it and oil it. Grill skewers for about 9 minutes total, turning twice and basting each time you turn. Keep the grill closed between turning/basting to retain heat. Cooked this way, you will have medium-done lamb (pink and juicy throughout) which is my preference for kebabs. To be sure, check the kebabs with a thermometer. They should read 135ºF when you remove them from the grill. Let them rest 5-10 minutes to allow the residual heat to bring them up to 145ºF. (Increase or decrease cooking time by 2 minutes total for well-done or medium doneness.)
Serve with fresh lime wedges.
Notes
Got leftover grilled lamb? Make a lamb and tsatsiki salad! Dice lamb and reheat quickly in a hot skillet. Toss on top of hearty salad greens like arugula, baby spinach and/or Romaine lettuce. Spoon generous amounts of tsatsiki sauce over the top.
Tsatsiki:
1 cucumber, peeled and grated
1 cup plain yogurt
1/2 teaspoon salt
1 clove garlic, minced
1 teaspoon dried mint or 1 tablespoon fresh minced mint
Press water from cucumber by rolling between clean towels. Combine with remaining ingredients and refrigerate.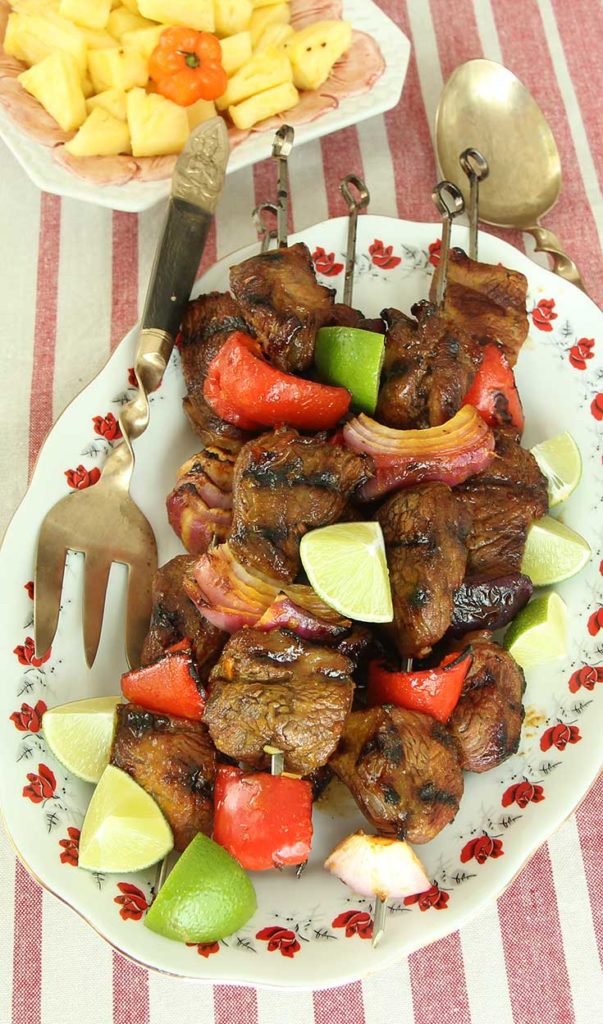 You might also like Cumin-grilled Lamb Sirloin Chops