If you've been keeping up with my Twitter account and FaceBook and Google Plus and all that junk where I post my most intimates, then you know Chris and I just got back from a trip to the Texas Riviera — a.k.a. Port Aransas. We ate a boatload (not literally) of fried seafood while we were there and loved it so much we came home and ate some more.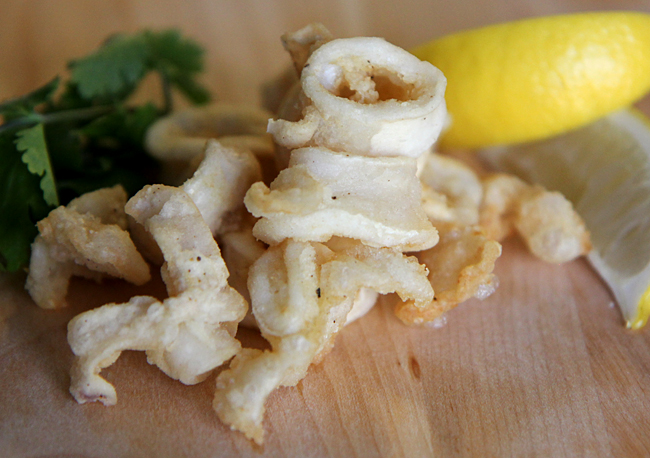 I know it's not, like, the most dietary thing for those of you who are trying to eat healthier this year, but uh, it's real good. I learned this super quick and simple calamari recipe from a Greek lady I used to work with.
There is really only one thing to remember when frying squid and that is not to overcook it. Like, just two minutes or less. Fer real. So, if you can manage that you can make perfect fried calamari whenever and pretend that you, too, are on the Texas Riviera.
Fried Calamari Recipe Video
Print
Perfect Fried Calamari
1

pound small squid

1 cup

all purpose flour

2 teaspoons

salt

2 teaspoons

pepper
Vegetable or olive oil for frying
Lemon wedges for serving
Instructions
Separate the bodies from the tentacles and remove the beaks from inside if that hasn't already been done by the fishmonger.
Rinse the squid bodies and tentacles. Drain well.
Slice the bodies crosswise into rings about 1/3-1/2″ wide. Leave the tentacles whole.
Mix the flour, salt, and pepper in a paper bag.
Drop a handful of squid in the bag at a time and shake to coat. Remove excess flour and set aside on a plate.
Heat the oil (4 inches deep) to between 360-365 degrees F.
Use a slotted spoon or a spider to lower several pieces of coated calamari into the oil.
Fry no longer than 2 minutes, until the calamari and light golden color and the sputtering has subsided.
Drain on paper towels briefly then serve with lemon wedges.
Continue with the rest of the squid.