Learn To Cook: Easy Sauces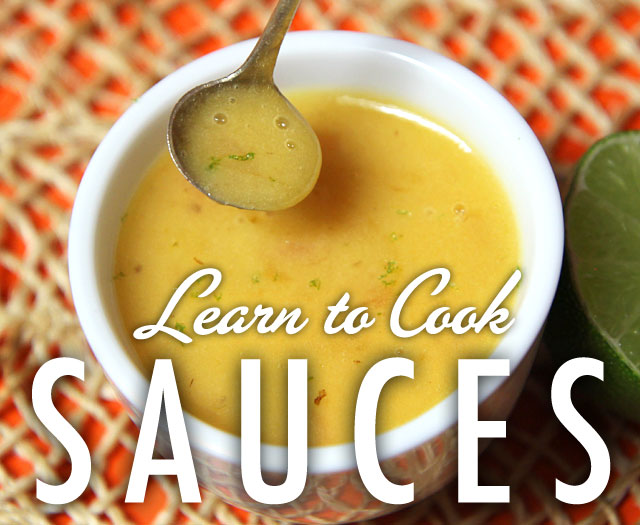 This is the second in a series of answer posts to reader-submitted questions. Some of these posts may be incorporated into the revised edition of the Learn to Cook book.
"Sauces! I can get by making meat and veggies, but I have no idea how to throw together a quick sauce to jazz it up (like a lemon butter or white wine garlic)! I have no idea what I'm doing."
"Sounds simple enough, but I can't make a lemon butter sauce to save my life."
Okay! Great questions! We got this, team! Easy sauces, coming right up. But first. Let's dish.

Sauces serve many purposes. They might add a complementary flavor or texture to the main dish to balance it out.  Think about the classic pairing of a fat, succulent bratwurst with a sharp mustard that cuts the richness, or the opposite idea: tender asparagus with a tart, eggy Hollandaise to add richness. Texturally, you might consider the combination of a sweet, sticky fruit chutney alongside salty, charred meats or a slick garlic aioli on a crunchy crostini. Sauces might also enhance a dish by matching its flavor, rather than contrasting. This is a little trickier to do; it works best when the main dish is mildly seasoned — think of baked chicken and chicken gravy, or broiled white fish with anchovy butter melted over top.
Sauces are also a lifesaver to overcooked meats. A dry chicken breast or fish fillet becomes edible again with a pat of compound butter melted on top, or covered in a cream sauce. That's not to say we should aim for overcooked as an excuse to make a buttery sauce, but it's a good trick to remember.
And of course, sauces also add visual appeal, as in bright red raspberry sauce on chocolate cake.
To close: Sauces make things fancier than they were before. Learn to use them to your advantage.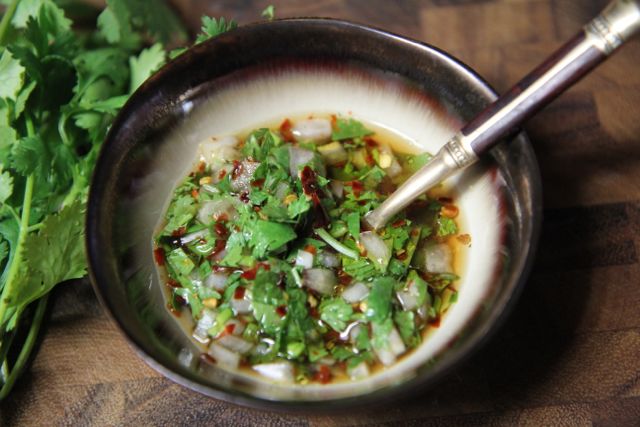 I'll start with an uncooked, super easy sauce that goes great over grilled, roasted, or baked meats and seafood and also goes well with boiled or roasted potatoes, steamed green beans and summer squash, and fresh sliced tomatoes. And, omigaw, it's stupendous on a simple cheese omelet. It's a spicy Argentinian sauce called Chimichurri and there are endless variations.
Print
Chimichurri
Author:
Prep Time:

10 mins

Total Time:

10 minutes

Category:

Sauce

Cuisine:

South American
1/2 cup

minced, packed cilantro or parsley (or a mix of both)

6 tablespoons

red wine vinegar

2 tablespoons

olive oil

2

cloves garlic, minced (

2 teaspoons

)

1/2 teaspoon

dried oregano

1/4 teaspoon

salt

1/4

–

1/2

teaspoon crushed red pepper flakes, depending on your taste for the hot'n'spicy
Optional: 1/4 cup minced onion (white, yellow, red, or shallots)
Instructions
Combine all ingredients and let stand at room temperature for at least 10 minutes and up to 2 hours before serving.
This will keep refrigerated up to 48 hours. Makes about 3/4 cup of sauce.
Notes
Variations:
Substitute lemon, lime, or orange juice for the vinegar to make a citrusy sauce for seafood
With parsley, add a teaspoon of fresh thyme or mint for a sauce well-suited to chicken and lamb
Add a 1/2 teaspoon toasted cumin seeds for an earthy touch that goes even better with beef
If you vary the basic recipe far enough, you'll come to the land of persillade and gremolata, which are chopped herb condiments of the French and Italian persuasions, respectively.
For Persillade, just combine the following and serve immediately atop cooked meats and fish, or stir into bean or seafood soups just before serving to add a bright, clean flavor and a shot of color:
Print
Persillade
Author:
Prep Time:

5 mins

Total Time:

5 minutes

Category:

Sauce

Cuisine:

French
1/2 cup

chopped parsley (flat leaf if you can get it; it looks prettier in this sauce)

2

cloves minced garlic

2

–

3

tablespoons extra virgin olive oil

1/4 teaspoon

salt
Optional, if you like this sort of thing: 1 anchovy fillet, mashed
Instructions
Combine all ingredients and serve right away. Make about 3/4 cup persillade.
For a top-notch white wine sauce, make a Beurre Blanc ("white butter"), an easy French sauce that uses the proteins and lecithin in butter to hold the elements together in a smooth, rich, buttery sauce for use over seafood or chicken. It's a great sauce to add a little fat and flavor to lean meats. At the Palace Cafe in New Orleans, I had blackened catfish topped with a Crystal beurre blanc and it was heavenly. Some beurre blanc recipes (like the Palace Cafe's) use heavy cream in addition to the butter to help stabilize the sauce, but the original recipe didn't use it and I find it rich enough without. If you want to try it with cream for a special occasion, add 2 tablespoons heavy cream to the wine mixture after it's reduced, reheat to a simmer, then whisk in the butter as directed. You can also add any fresh herbs you like, thyme, tarragon, and basil are particularly nice.
Print
Beurre Blanc
Author:
Cook Time:

15 mins

Total Time:

15 minutes

Yield:

4

1

x
1/2 cup

white wine (or beer!)

2 tablespoons

lemon juice

2 tablespoons

minced shallot (green onion may be used instead)

1 teaspoon

minced garlic (optional)

4

–

8

tablespoons cold butter, cut into 8-16 pieces (in other words, each piece =

1/2 tablespoon

)
Optional: 2 tablespoons heavy cream, fresh herbs
Instructions
Heat the wine, shallot, garlic in a small pot over low heat.
Simmer until reduced to about 1 tablespoon of liquid; this may take 7-10 minutes. (Add the cream and fresh herbs now, if using)
Add the cold butter two pieces at a time, stirring with a whisk until almost melted before adding another two bits.
Continue adding the butter, two pieces at a time, until there are only two pieces left.
Remove from heat and add the two remaining bits of cold butter. Swirl the pan until it's melted and serve immediately
Notes
The finished sauce should be uniformly glossy and about the consistency of bottled Catalina dressing or heavy cream, but the more butter you add, the thicker it will be. For a more wine-tasting sauce, use the lesser amount of butter.
If it begins to separate as you are adding in the butter, it's too hot. Remove it from the burner (which should be as low as possible) and whisk in some more butter off the heat until it comes together again.
Leftover sauce can be kept in the refrigerator for up to one week and used as a flavored butter to saute vegetables!
You can also use red wine to make "beurre rouge" but I ain't tried it personally.
And if those aren't enough for you, here are some other recipes from previous posts:
Tartar sauce for fish and seafood, and even French fries
Pico de Gallo for all your fiestas
Cream gravy for chicken fried steak or chicken and mashed potatoes
How to make a pan sauce for steak using red wine and the browned bits from the skillet
This mango salsa is great on fish or chicken