Halloween Cocktail: Bumbaclot!
Okay, I know this is a gross word and if you know what it means, you might be really grossed out right now, thinking I am a huge perv, but it also happens to be a very funny word, and gross is the name of the game at Halloween. So let's proceed.
Even though it may not seem like rocket science, I spent a few sleepless hours working on this drink in the middle of the night. (Does waking up obsessing over a cocktail make me an alcoholic??? We'll never know.) I wanted it all: high alcohol content; neat-o color; no Red 40 or other colorings that will give me more cancer than I am probably already headed for; and something gross and chunky in it.
The first thing to do was some research on liqueurs to find one that was naturally colorful. I was really surprised to learn that Chartreuse is colored its fluorescent green color with herbs, not poison. Ooh goody – green slime drink! But, alas, once at the liquor store, I found that it is prohibitively expensive for a gal like me. So I settled for a pomegranate liqueur that was not only Red 40-free, but also on sale for only $18. Perfect. Now that I knew what color it would be, I had to come up with some awesome, wicked, gross-out name. Bumbaclot!
And since the word is Jamaican, obviously I had to use rum. I don't normally drink rum EVER, since my first experience getting shit-faced drunk at age 15 consisted of downing ten rum shots and chasing them with rum and coke. Brilliant. Just Brilliant. Needless to say, I passed out in the driveway and woke up the next morning with dry heaves galore.
But I figured, "What the hell? It's Halloween." So I got rum.
Long story short, I present to you The Bumbaclot. A Halloween drink that is sure to become a classic.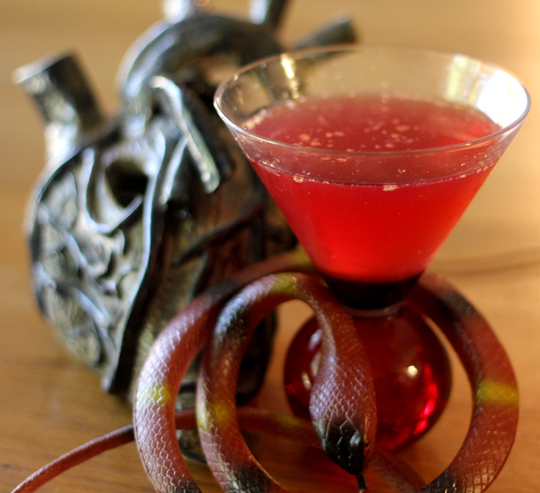 For two fancy servings:
Print
Bumbaclot!
An original Halloween cocktail recipe
4 ounces

white rum

2 ounces

pomegranate liqueur (or other red boozy stuff)

1 ounce

lime juice
Ginger ale

2 teaspoons

pomegranate molasses (leave this out if you can't find it. It might be hard. I'm sorry. Or you could substitute strawberry jam!)
Fresh, grated ginger
Instructions
Put a teaspoon of pomegranate molasses (or jam! I truly am brilliant!) in the bottom of your glasses.
Shake the rum, liqueur and lime juice together with ice.
Pour carefully over the molasses (or jam!) so as not to stir up your blood clot too much.
Top it off with as much ginger ale as you like, or will fit.
Grate some ginger over the top.
Garnish with a band-aid or tampon. JUST KIDDING.
Try this with my other Halloween recipe: Marshmallow Ghosties!