Homemade Hot Chocolate Mix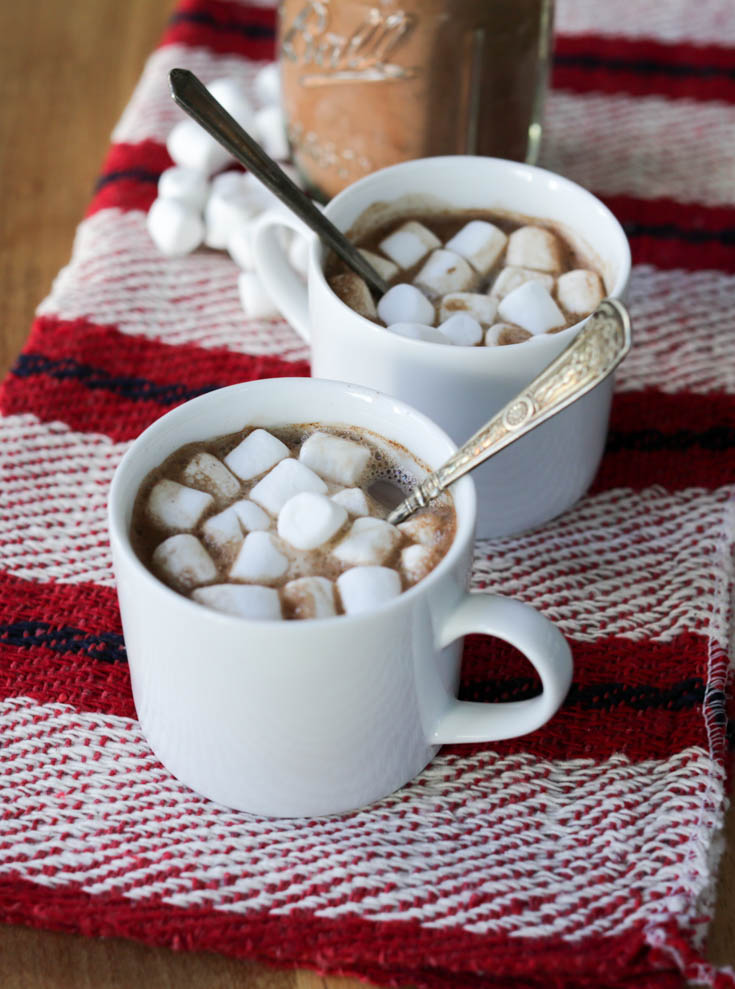 I'd forgotten about hot chocolate until recently. As a kid, my mom would make it sometimes by just stirring leftover chocolate frosting into hot milk. Or sometimes we'd just have Swiss Miss (the sugar-free variety after my dad was diagnosed with diabetes). I thought about that again when I was thinking of edible gift ideas. Homemade hot chocolate mix is a thoughtful gift for someone who can't drink milk (most readymade mixes have milk powder and this one can be mixed with any nondairy milk) or for someone who is vegan (read the label and get a chocolate with no milk protein). It's also good to keep around the house for cold nights and surprise guests. Between you and me and the sheets (that's not right, is it?) it's also also good just made with hot water if you're out of milk. I swear.
We love to add cinnamon and cayenne pepper (and a splash of orange liqueur) to our hot chocolate. If you like mint, use mint extract instead of vanilla and leave out the spices. If you like coffee, add a couple tablespoons of instant coffee. If you like almonds, use almond extract. If you like chai, add some ground cardamom with the cinnamon.
For best blending, put the mix into a mug with a little cold milk and stir with a fork until pasty. Add hot milk and stir briskly. Or make it in a pot: add mix and cold milk, whisk together. Heat over low until steaming, stirring occasionally.
Package in a plastic bag stuck inside a mug. Tie a tablespoon measure to the mug with a note: 3 tablespoons per mug of hot milk. Maybe a note that looks like this (feel free to print and cut!)
Homemade Hot Chocolate Mix
Adapted from Smitten Kitchen
Print
Homemade Hot chocolate Mix
1/2 cup

+

1 tablespoon

cocoa powder

1/2 cup

sugar

3 ounces

semi-sweet baking chocolate (about

1/2 cup

chopped)

1 tablespoon

corn starch

1/4 teaspoon

vanilla extract

1/8 teaspoon

salt
For Spiced Hot Chocolate add:

1/2 teaspoon

cinnamon

1/4 teaspoon

ground cardamom

1/8 teaspoon

cayenne pepper, optional
Instructions
Whizz everything together in a food processor until finely ground. Pack into a jar.
Use 3 tablespoons chocolate mix with 8 ounces of milk (try with any non-dairy milk like almond or coconut milk, too).
For best mixing, put the dry mix in a mug, add a little cold milk and stir with a fork or small whisk to make a paste, then top with steaming hot milk and stir to dissolve. Or top with more cold milk and microwave for a minute, then stir.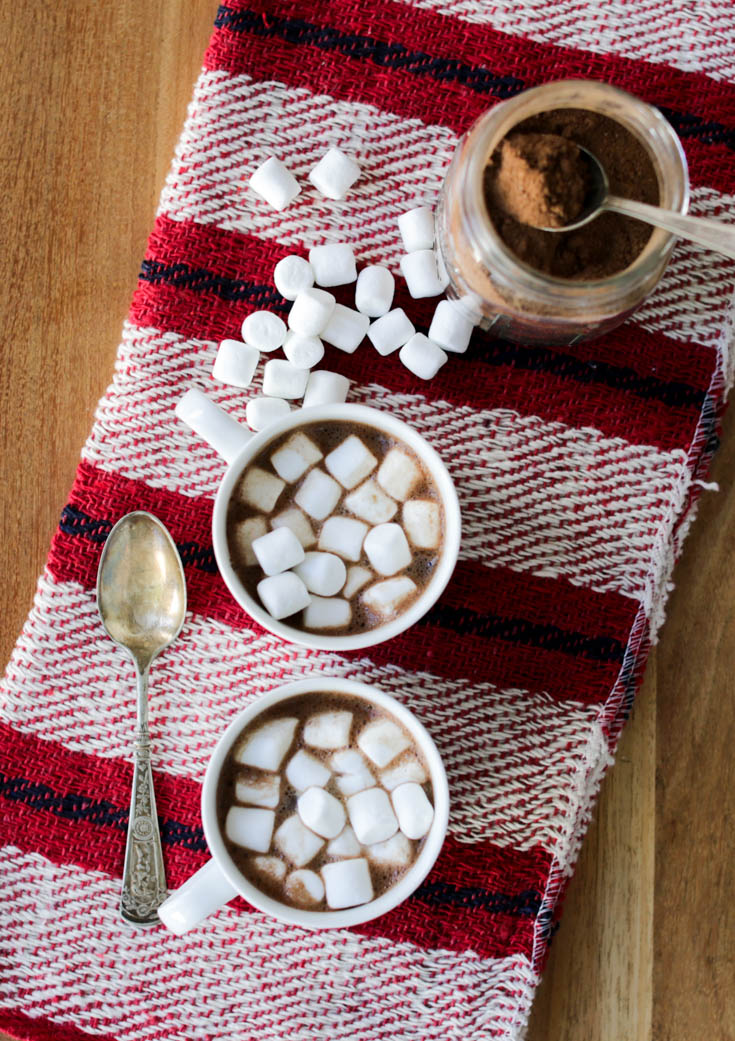 More Edible Gift Ideas