Homemade Microwaveable Burritos
I've been making my own microwaveable burritos since I was in college. True, I don't make them often any more since I don't need to pack a lunch anymore but recently I got an email asking about homemade microwaveable burritos so I thought I'd share.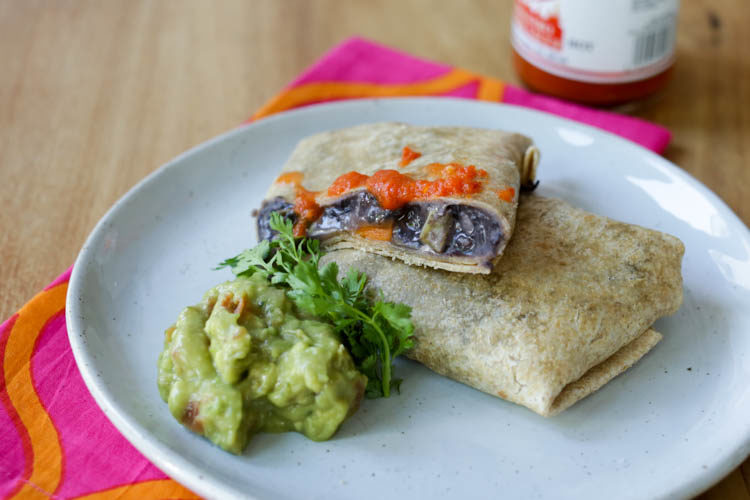 SORRY THE PICTURE IS SO UNINSPIRING. I really did try. The thing to understand about microwaveable burritos is that they are not photogenic. But they are easy and cheap and they taste pretty good so as long as your choices aren't solely ruled by Instagrammability, you should like these. 😉 For a regular, toasted burrito check out this video on "Big ass burritos" 🙂
This is a vegetarian burrito with refried beans (I used refried black beans in the picture) roasted vegetables and cheese. Swap out the butternut squash for sweet potato or even carrots. Of course you can add meat or rice or tofu if you like. The freezing and reheating techniques are the important takeaway here.
Once you get your burrito folded up tight, you want to wrap it in waxed paper real snug. Snug as a bug in a rug and whatnot. Freeze it. Pull it out a month later when you're really hungry or you forgot to pack a lunch and you're in a major hurry. Loosen the paper a little to let steam out, but keep it mostly wrapped so the tortilla doesn't get all hard and rubbery. Microwave it. Add some hot sauce, sour cream or guacamole if you wanna treat yaself.
Print
Homemade Microwaveable Burritos
1/2 pound butternut squash, small cubes (about 2 cups)
1 poblano pepper
1 tablespoon olive oil
1 teaspoon cumin seeds
½ teaspoon salt
½ teaspoon black pepper
6 large flour (or GF) tortillas
3 cups refried beans (2-15 ounce cans)
¾ cup grated Cheddar, colby-jack, or Monterey jack cheese
Instructions
Peel and dice squash. Slice the poblano into strips, removing the seeds.
Combine squash, sliced pepper, oil and cumin. toss to coat. Spread in a single layer on a large baking sheet and roast at 425ºF for 20 minutes, stirring once.
Meanwhile, cut 6 – 12"squares of wax paper. Lay a tortilla on top. Put about 1/2 cup of beans, followed by a portion of roasted vegetables and a little cheese. Fold up the bottom, then each side, then roll away from you to close it. The folded burrito should now be seam-side-down. 
Bring the top and bottom edges of the waxed paper up and crimp the edges together to seal. Fold each side under the burrito. Stack burritos into a freezer safe container and freeze. They keep up to 3 months.
To reheat frozen burrito: Loosen the waxed paper. Micro 1.5 minutes. Flip and micro 1 minute more. Let stand 1 minute.
Thawed burritos only need 45 sec increments.