Interview with Lisa Fain, aka The Homesick Texan (Plus Book Giveaway!)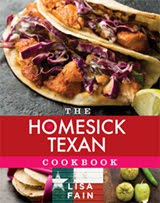 The Homesick Texan Cookbook starts out with a long, cold, lonely journey alongside a New Jersey highway.
I like cookbooks that start out like this. I like cookbooks that are more than their recipes. They are also stories; they are life. Lisa Fain's debut cookbook is exactly what I like.

If you haven't heard of her, Lisa Fain is The Homesick Texan — a Texas girl moved to New York City. She began her food blog in 2005 and published her first cookbook in September of this year. When I started this site, hers was one of the blogs I frequented for inspiration from her writing and her gorgeous food photos (all of which she takes herself!).
Her cookbook's focus is Texan and Tex-Mex food. Fortunately for us food-lovers, Texas is enormous and its cuisine varied, so her book includes everything from Dallas-style soft cheese tacos to Austin-style black beans; from West Texas carne asado to East Texas frog legs. I want to try everything in this book.
I was happy to finally meet Lisa at her Austin book signing and I somehow managed to trick her into letting me interview her even though she is incredibly busy with the book tour. She is a pretty nice lady, if you ask me.

You're a Texan who moved to the Big Apple. How was it adjusting to New York?

Moving to New York had been a long dream of mine, so when I first arrived I was
thrilled with they city's energy, architecture, and cultural opportunities. But it didn't
take me long to realize that New York may have just about everything but it doesn't
have Texas food. I reckon I'd always taken for granted that you could easily find
queso or cheese enchiladas and it was pretty hard finding these things in New York.
I became obsessed with finding the perfect Tex-Mex or chicken-fried steak, and it
was from this that my blog was born.
What ingredients were difficult or impossible to find when you moved to NYC?

When I first got here, you couldn't find decent chili powder. Nor could you find Ro-
Tel tomatoes, Ranch Style Beans, fiery hot sauce or edible tortillas, both corn and
flour. It was such a shock!
How did you cope with missing ingredients? Did you start cooking more from
scratch or finding substitutions? Any particularly clever solutions you were proud
of?

Well, it was this lack that again got me in the kitchen. While you couldn't find chili
powder, you could find whole dried chiles at Mexican markets, so I started using
those instead in my chili and Tex-Mex. I also started making my own hot sauces
instead of buying jarred, along with my own tortillas. As for the Ro-Tel (which
incidentally, you can find in New York now though it's not everywhere), my friends
and I would take canned diced tomatoes and add some roasted or pickled jalapeños
and some cumin. It didn't taste quite the same, but it was still good. Not having
everything I needed definitely made me a better and more creative cook, so I'm kind
of grateful now.

What do you think defines Texan and Tex-Mex cuisine? How do you differentiate
between Texan and Tex-Mex?
Texas is a vast and varied state, and the cuisine reflects this. Along the Gulf Coast
border, you find seafood dishes, with a Mexican influence in the South and more of
a Cajun influence in the North. German and Czech settlers heavily influence Central
Texas, and this is where the meat-market style of Texas barbecue comes from, along
with terrific sausages and soft pastries known as kolaches. East Texas feels the most
Southern, so it's there you'll find traditional Southern dishes such as black-eyed
peas, collard greens, catfish and fried chicken. The West and the panhandle are arid
and dry, so beef dishes predominate. And since Texas shares a border with Mexico,
that country's influence can be felt across the state.
You just released a cookbook! Tell me about it. How long did you work on it?
What can people expect to find in it?
I like to think of my book as a celebration of our state's vast cuisine, from enchiladas
to chicken-fried steak and everything in between. In my book, which took about a
year to make all together, you'll find fried shrimp, fish tacos, enchiladas, brisket,
tortilla soup, huevos rancheros, Houston-style green salsa, homemade tortillas, big
pots of chili, big pots of beans, kolaches, chocolate pie, and lots of other good things,
too. You won't go hungry!
She's right about that.
In fact, I love her cookbook so much I purchased an extra signed copy for a lucky one of you, my pretties!
To enter the random drawing, just leave a comment telling me about your favorite Texan or Tex-Mex dish! I'll announce the winner next Saturday. Good Luck!
Tuesday, November 29 UPDATE:
Using Random.org to generate a number between 1 and 42 (total comments minus duplicate comments and my comments) the winner is #9: Carra Martinez! Congratulations, Carra! No more "totchos" for you! (Even though they sound super delicious.)
Thanks to everyone for participating! I hope to do more giveaways in the future.