How To Cook Black-Eyed Peas
How to cook black-eyed peas video
In most of the US, black-eyed peas have got to be eaten on New Year's Day to ensure prosperity and good luck in the coming year. Add some greens to your New Year's Day menu and there's all your money, too.
The story is that during the Civil War, when old General Sherman came through the Confederacy and burned everything down, the yankees hadn't never heard of humans eating black eyed peas. Up north they just fed those to the cattle. So when they came through, the soldiers thought, "Surely these wretches aren't eating black-eyed peas, fergodsake!" And they left the fields alone and after the smoke had cleared and everyone came out to see, they saw that there were still lots and lots of black-eyed peas left to chow down on and that's how they came to represent good luck. It's a weird story to memorialize through superstition.
And I'm pretty sure it is all superstition, since by now I should be utterly swimming in gold coins and heating my personal blimp with a fireplace that runs exclusively on 100-dollar-bills. But I am instead typing on a 6-year-old laptop with a busted mousepad and wearing a blanket because I can't afford to run the G.D. heater. So, basically, I'm saying don't count on eating a bowl of peas to make you rich.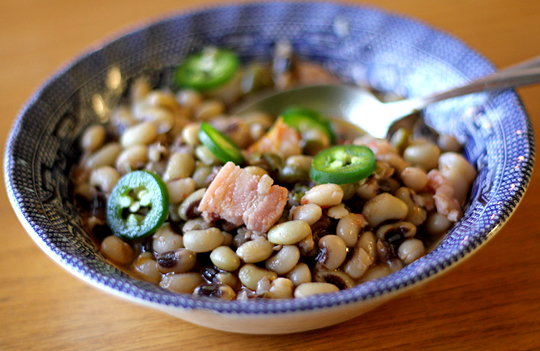 Black-Eyed Peas recipe
Print
How To Cook Black-Eyed Peas
Black-eyed peas cooked with salt pork and jalapeños
Author:
Cook Time:

1 hour

Total Time:

1 hour

Yield:

6

-8

1

x
1

lb frozen blackeyed peas

4 oz

(

1/4

lb) salt pork or bacon, diced

1

–

2

jalapenos, minced

1

small tomato, diced (about

1/2

c)
Instructions
Fry the salt pork or bacon in a pot for about 4 minutes until some of the fat is rendered and it's starting to crisp up.
Add the peas and stir them around to coat in grease.
Add the pepper and tomato.
Add enough water to just cover the peas and slap a lid on that puppy.
Bring to the boil, reduce heat, simmer 45 minutes.
Serve with hot sauce. Them will be the best black-eyed peas you ever put in your mouf.
Notes
To Use Dried Peas: Follow the instructions above for 1 pound dried peas, but add twice as much water to cover the peas. Bring to boil, then simmer 1 1/2 hours until very tender and almost falling apart.
And here's another delicious recipe for black-eyed peas that uses canned peas: Texas Caviar!