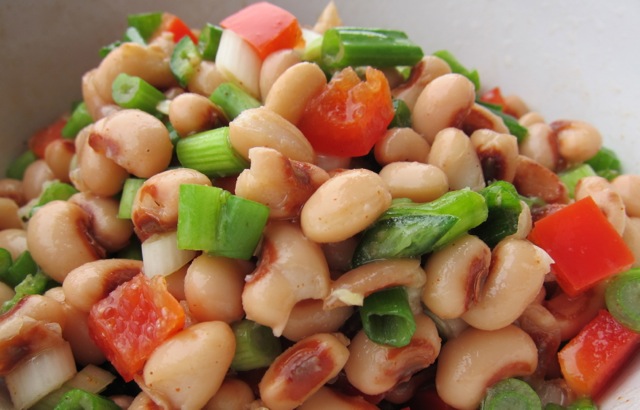 We're on vacation! We're at the beach with Daisy! We're being lazy and eating things out of boxes and cans! But it's still New Year's Day tomorrow and that means we have to eat black-eyed peas for good luck in the coming year and I figured the easiest way to do that when you're stuck with a tiny condo-kitchen is to make the marinated black-eyed pea salad known as Texas Caviar.
I first had this black-eyed pea salad when I was real small. My grandma made it for me and while I surely enjoyed it, I was also left confused and bewildered years later when confronted with actual caviar. "But, but, but… this is… fish eggs??" And it was, and I had a hard time with that, and I preferred my grandma's Texas caviar over those weird, orange balls popping in my mouth any day.
There are infinite versions of Texas caviar. The simplest I've seen is just cooked and seasoned blackeyed peas, drained and served with toast points (or tortilla chips), minced red onion, hot sauce, sour cream, and any other caviar accoutrements. Another easy recipe uses canned peas, Ro-Tel tomatoes, and Italian dressing. But that ain't really my style, even if I am cooking in a tiny condo-kitchen. Here's how I make it. You can serve this as a side dish to accompany grilled meat or barbecue or, as we shall probably do, as a salsa with tortilla chips and icy cold beers.
Print
Prep Time:

5 mins

Total Time:

5 minutes
1 15-ounce can black-eyed peas, unseasoned
3 tablespoons canola oil or another mild vegetable oil
1 tablespoon cider or red wine vinegar
1 bunch green onions, thinly sliced (about 1 cup)
¼ cup diced red bell pepper
1 jalapeno, minced
1 clove garlic, minced
¼ teaspoon each salt and paprika
Instructions
Instructions
Rinse the peas gently and drain well.
Combine all ingredients in a bowl.
Refrigerate at least one hour before serving.
This will keep in the fridge up to a week.
And here's how to cook black-eyed peas cooked with salt pork, in the grand old tradition. And a new variation on Texas Caviar: spicy black-eyed pea salad.