Spicy Black-eyed Pea Salad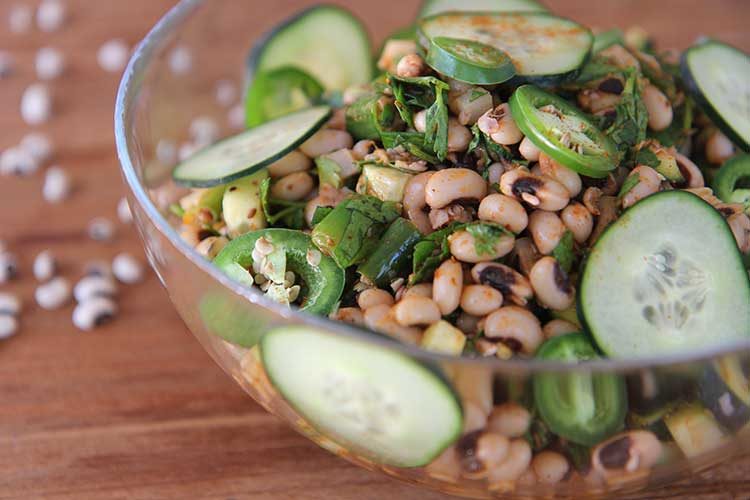 With the new baby sucking up all my time, I have just about zero hours a day to cook, so things that can be made in advance are the tops, as are things that can be begun and then halted for 2-48 hours until I get a chance to get back in the kitchen and finish them. There are not too many recipes that fit these requirements, but bean salads always work.
This black-eyed pea salad is what I came up with for serving on New Year's Day this year. In case you're unfamiliar, eating black-eyed peas on January 1st is a tradition in the southern US that has spread to Texas and probably most other states as well. I don't rightly know, but if you want to read more about how they came to represent good luck, you can read about it in my earlier post about how to cook black-eyed peas. (Side note, greens are also eaten on January 1st to make sure you also get lots of money in the coming year to go along with your luck.)
Inspired by winter citrus and radishes, this salad is tangy and spicy and fragrant and gets better the longer it sits in the fridge. Make it two hours to two days ahead of time for the best flavor.
Spicy black-eyed pea salad recipe
Print
Spicy Blackeyed Pea Salad
Author:
Cook Time:

2 hours

Total Time:

2 hours

Yield:

8

1

x
1 cup

dried black-eyed peas
salt

2

tangerines

2 tablespoons

apple cider vinegar

2 tablespoons

olive oil

1 teaspoon

honey

1

clove garlic, minced

1 teaspoon

paprika

1/2 teaspoon

salt

1/4

–

1/2

teaspoon crushed red pepper

2 teaspoons

whole coriander seed

1 teaspoon

whole cumin seed

6

green onions

4 tablespoons

minced parsley

1/4 cup

diced daikon or red radishes

1 cup

diced cucumber
Optional: few slices fresh jalapeño and cucumber for garnish
Instructions
Dissolve a teaspoon of salt in 2 cups boiling water and add the dried peas. Let soak one hour. Drain.
Cover with fresh water and simmer about 30-60 minutes until soft. Drain and rinse. Set aside.
Juice the tangerines to yield about 1/4 cup. Whisk in the vinegar, oil and honey. Add garlic, paprika and salt and pepper and whisk.
Toast the cumin and coriander in a dry skillet over medium heat for about a minute until the cumin starts to smell toasted. Remove from heat and crush in a mortar and pestle. Add to dressing.
Roast the green onions by holding briefly over a gas flame or place under the broiler for a minute or so. Slice white and green parts.
Pour the dressing over the cooked peas in a large bowl and stir gently to combine. Add green onions and remaining ingredients. Let sit at room temperature two hours before serving, or refrigerate up to 48 hours.
Notes
If you prefer, use two cans of black-eyed peas, drained and rinsed, instead of cooking your own. You'll need about 2 1/2 cups of peas to make this recipe.
Nutrition
Calories:

88

Sugar:

7

Fat:

4

Carbohydrates:

12

Protein:

3
 Texas Caviar is another black-eyed pea salad that's found all over Texas.