How To Make Salsa – scroll down for recipe
Subscribe to my YouTube channel to get notified of new videos.
I think I heard a couple of years ago that salsa topped ketchup as America's number one condiment. Well, duh. I could've told you that. What's really sad, though, is that all those people who now love salsa more than delicious ketchup have probably never even had my amazing homemade salsa! That is so sad to me! Don't be one of those people.
Salsa is so easy to make and you only need a few things and you can jazz it up as you see fit and adjust the spiciness to your liking. There is absolutely no reason NOT to make salsa! Plus, if you use fresh tomatoes, you avoid the barfy BPA that's in pretty much all canned tomato products now.
Come on, FDA! Get it together!
How to Make Salsa – Blender Salsa Recipe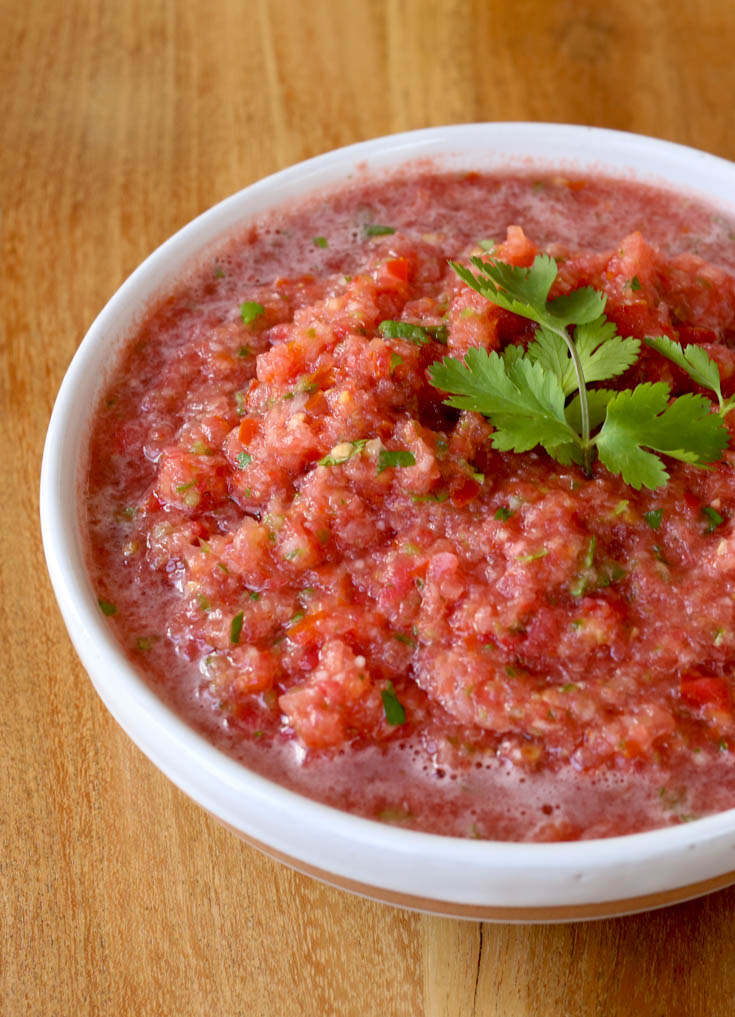 Print
How To Make Salsa
A quick red salsa in the blender
5

Roma tomatoes – seeded. (peel them if you want to, but that's a lot of work and this is supposed to be easy)

1/4 cup

chopped onion

1

clove garlic, mashed

1

–

2

jalapenos (cut out membranes and seeds for less hotness)

2

–

4

T lime juice (start with

2

and add more if you want to after tasting)

1/2

t salt

1/4

c cilantro
Instructions
Combine tomatoes, onion, garlic, jalapeno, lime juice and salt in a blender and whirl it around until it's smooth.
Taste to adjust for lime juice and salt.
Pour into a bowl and mix in cilatro. Set aside for an hour in the fridgerator to let the flavors blend and the consistency equilibrate. WTF does that even mean? Sorry. J/K.
Alternatively you could make salsa verde!
Eat salsa with chips or put it on tacos or chimichangas. Hey that reminds me of a joke I made up:
What kind of Mexican food can be used to clear smoke out of your house?

A Chimney-changa!
Ok. Good bye!