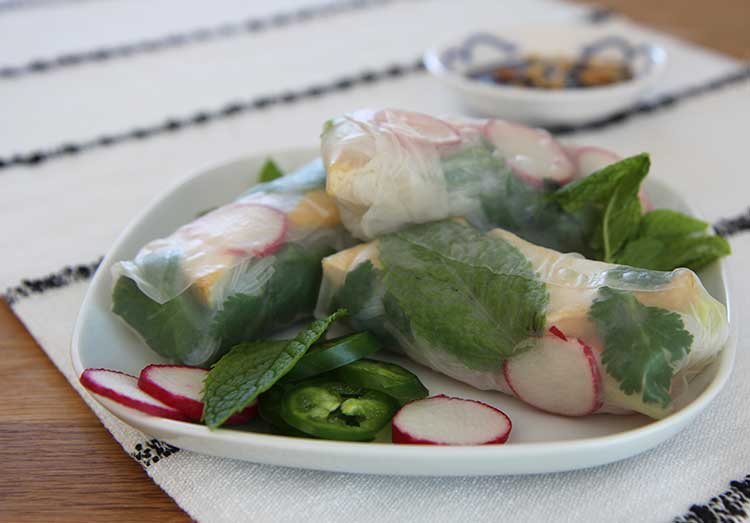 There's a misconception about rolled-up foods that they are hard to make. Not true! Spring rolls, sushi rolls, dolmas, fruit roll-ups: these things are easier than you probably think. You can put lots of different fillings in them, like cooked shrimp, fried tofu, cooked pork, you know what I mean — you've eaten at Vietnamese restaurants before, right?
Anyway, they're a great thing to bring to a potluck because they will blow that sexy mail clerk's mind AND impress the shit outta your boss. Bring some hoisin sauce or Sriracha or peanut sauce (secret recipe below!) to dip these mofos in and party down at the company picnic with the sack races and the Miller Lite. Whoo! Party!
To package them to-go, just layer them in a plastic container with moist paper towels between each layer so they don't dry out.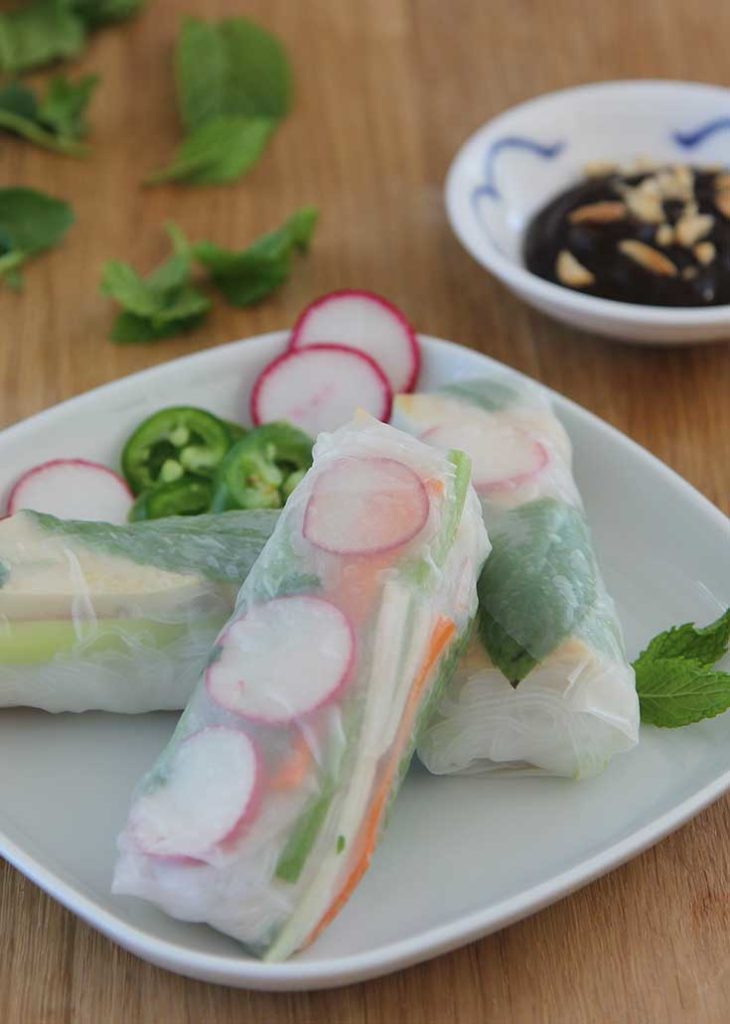 How to Make Spring Rolls Video
Spring Rolls Recipe
Print
How To Make Spring Rolls
Author:
Prep Time:

15 mins

Total Time:

15 minutes

Yield:

1

2

1

x
Rice paper wrappers (8″ or 22 cm diameter) – probably can make 12 rolls with the following amounts of filling ingredients

2.5 ounces

dry vermicelli noodles (rice or mung bean thread)

1

t oil

1

carrot cut into sticks about

4

" by 1/4″ by 1/4″

1

cucumber cut into sticks about 4″ by 1/4″ by 1/4″ (cut out or around the seedy center)

1 cup

shredded lettuce

1 cup

bean sprouts

1/2 cup

cilantro and/or mint and/or basil leaves
Secret Peanut Dipping Sauce: Recipe below
Instructions
Cook the noodles in boiling water for just about 2 minutes. Turn off the heat and stir them around until they turn clear, not opaque. Drain and toss with the oil. Rinse with cold water for several seconds to cool them. Throw a couple ice cubes in there with them and let those melt. Cut the noodles with scissors, just a few times, right in the bowl.
Fill a pie pan with hot water and place a rice paper wrapper in there and push it under until it softens, 10-30 seconds or so depending on how hot the water is.
Pull it out and lay it on your work surface.
Put your fillings on the lower third of the wrapper, in the center 4 inches. Fold up the bottom over the filling, while holding the filling together with your ring fingers, then the sides, then roll it tightly away from you. Put it on a plate and cover with a damp towel.
Repeat with remaining rolls.
Refrigerate, covered with damp towel, for up to a couple hours.
Eat these all summer long, dude!
Secret Peanut Sauce Recipe!
Print
Peanut Sauce Recipe for Dipping
Peanut sauce!

1/4 cup

peanut butter

2

–

4

tablespoons lime juice

2 tablespoon

soy sauce

1 teaspoon

sugar

1/2 teaspoon

minced garlic or ginger
cayenne pepper to taste
Instructions
Combine all ingredients in a bowl with a whisk.
Add a couple tablespoons of warm water if you'd like a thinner sauce.