Indian Tacos Recipe Video – scroll down for printable recipe
Subscribe to my YouTube channel to get notified of new videos.
Indian tacos AKA Navajo tacos are like tacos but made with Indian frybread (AKA Navajo frybread) in place of the tortilla. They are drop-dead delicious. (And pretty much drop-dead unhealthy due to the frying and the, uh … all the frying.)
They were invented in the 1860s by the Navajo after their "relocation" by the US government. "Relocation" seems like a nice word for it, but it was not nice. They were forced at gunpoint to walk 450 miles to an overcrowded internment camp. Rations of wheat flour, powdered milk, and lard were supplied. Indian Frybread was the result.
After a few years, this particular camp was abandoned – deemed a failure – and the remaining Navajo were allowed to walk back to their traditional territory and granted 3.5 million acres in which to resettle. The frybread came with them and is now a feature at not only in home kitchens, state fairs, and powwows,  it's also the official bread of South Dakota! Similarly to a tortilla, frybread is served as an accompaniment to most meals but is often eaten on its own with honey for breakfast – I'm thinking kind of like a sopapilla.
This frybread recipe makes the kind of frybread I had at the Oklahoma state fair. There are many regional variations so this might not be the exact frybread you're thinking of but it's real good. To make Indian Tacos, just make the frybread and serve topped with taco meat, cooked beans*, shredded cheese, tomato and lettuce, pickled jalapenos, sour cream, hot sauce, you know, whatever you put on a taco normally. I recommend eating with a knife and fork, though; these are huge and messy.
Indian Tacos recipe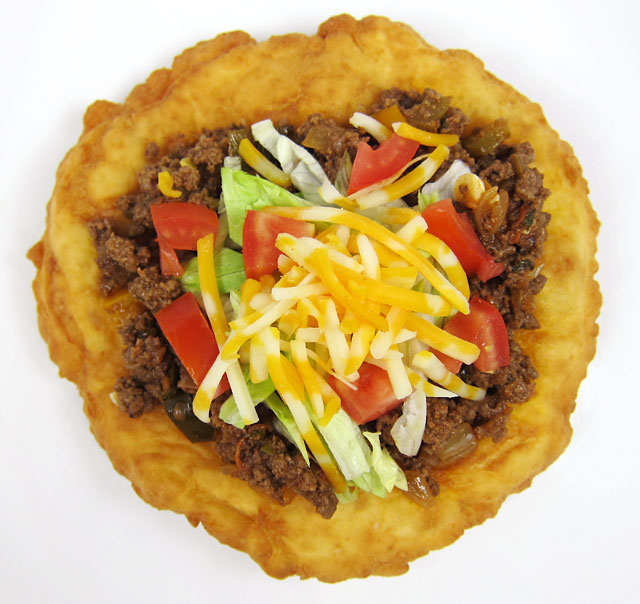 Print
Indian Frybread and Indian Tacos
For the Frybread:

2 cups

all purpose flour

2 teaspoons

baking powder

1/2 teaspoon

salt

1/2 cup

milk

1/2 cup

water
Additional

1/4 cup

flour for shaping

2 cups

oil for frying
For the Indian Tacos:

4

cooked frybreads
Cooked pinto beans
Taco meat*
shredded cheese
lettuce, tomato, onion
hot sauce, pickled jalapenos
Instructions
Whisk the flour, baking powder and salt together. Combine milk and water in a separate cup.
Add wet ingredients to flour mixture and stir with a fork to mix well. You will have a soft dough.
Flour your countertop well with the remaining 1/4 cup flour and coat your hands, too.
Shape the dough into a cylinder and cut into 4 pieces.
Pat each piece out into a circle about 1/3″ thick (1 cm) and 6″ across.
Heat the oil to 350 degrees F and fry breads one at a time, for about 2 minutes on each side.
Drain upright.
Serve topped with beans, meat, cheese, and vegetables of your choice.
Notes
See recipe for crispy beef tacos (linked in post) for taco meat recipe
*Scroll down to the bottom of this post to see how to cook dried beans.
You might also be interested in puffy tacos!