Instant Pot Chorizo Beans
You can make these beans in an Instant Pot or in a regular pot. I've had my Instant Pot for over a year but only in the last couple months have I been using it regularly. I have a hard time learning new technology — yes I realize that it's super lame to describe an electric pressure cooker as "new technology" — and honestly, all the buttons and options and things just made me think "blech" when I took it out of the box and so I put it right back in the box and hid it in a cabinet for 6 months.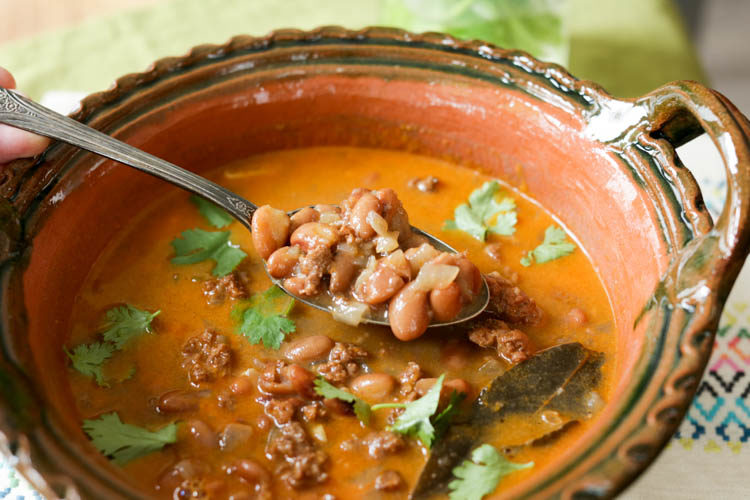 All that is to say, once I finally tried it out, I do enjoy using it especially for beans and meat and other things that take a long time to cook (ex: spicy pickled beets). I make these chorizo beans in mine and now you can, too!
These beans are fantastic on their own with a slice of cornbread, or serve with some chili-cheese enchiladas and Mexican rice.
And if you can't find fresh (uncured) Mexican chorizo, use a hot Italian sausage or breakfast sausage instead.
Print
Instant Pot Chorizo Beans
1/2 pound fresh (Mexican) chorizo sausage
1 small onion, diced (about 1 cup)
2 cloves garlic, minced
1 teaspoon ground coriander
1/2 teaspoon ground cumin
1 bay leaf
1 teaspoon salt
1/2 pound dried pinto beans
4 cups water or chicken broth (**more if cooking stovetop)
Garnish: cilantro and/or lime wedges
Instructions
Using the 'saute' function on your Instant Pot (or using the 'stove + large pot' function on your stove 😉 ) cook the chorizo and onions together for a few minutes until the chorizo is crumbled up a bit and nearly cooked through.
Add the garlic and stir for a few seconds.
Add remaining ingredients. For Instant Pot, switch function to 'beans' and seal the lid. Cook for 30 minutes on high pressure. For a regular pot on the stove, add remaining ingredients and cover. Turn heat to high and bring to boil. Then crack the lid and reduce heat; let beans simmer for about 2 hours. **You will need to check them every 30 minutes to make sure they have plenty of liquid. Add more water or broth as needed**
Once finished cooking, allow pressure to release naturally. This will take 5-10 minutes. Stir the beans and taste for salt and add more if needed.
Stovetop instructions: the beans are ready when they are all tender and easy to squish between two fingers. Taste them for salt and add more if needed.
Like all beans, these get better each time they are reheated and they'll keep in the fridge for a week. So eat your beans!