Since making these jackfruit tinga tostadas, green jackfruit has become a pantry staple. (Although I do severely limit the canned food items I buy to reduce my family's exposure to BPA and its equally-bad replacement BPS, I make exceptions for green jackfruit and for coconut milk because they are very hard to find otherwise.) If you haven't heard of it, green jackfruit is unripe jackfruit. When still green, it is very bland and a little fibrous; it absorbs flavors you cook it with and shreds up into bits that (at least visually) resemble shredded beef or chicken.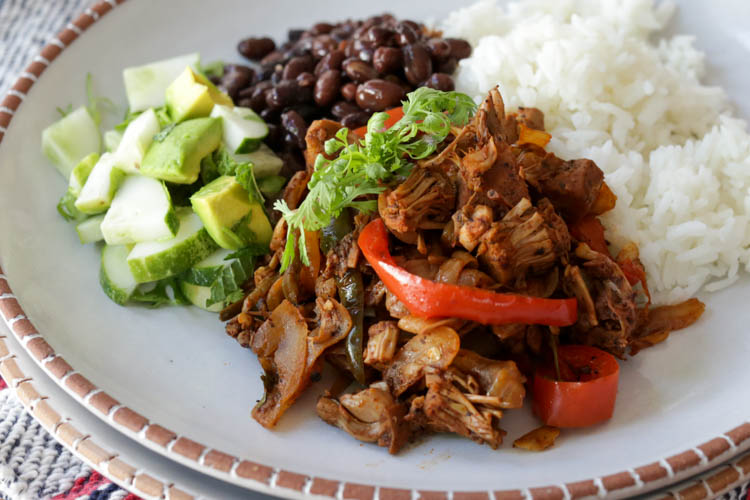 Ropa vieja is a Cuban shredded beef dish that translates to "old clothes" because the shredded meat looks sort of "tattered". I do have a classic ropa vieja recipe, but since Chris and I have been eating way less red meat, this jackfruit ropa vieja is what I've been making lately. Leave a comment if you want me to share the beef ropa vieja recipe sometime, too.
Traditional ropa vieja uses green bell peppers and red, but for this I use just a little red bell pepper and a jalapeño. To me, the green bell pepper flavor is too strong and it overpowers the dish when you're using bland jackfruit instead of beef.
Look for canned "young green jackfruit in brine" at Trader Joe's or an Asian market.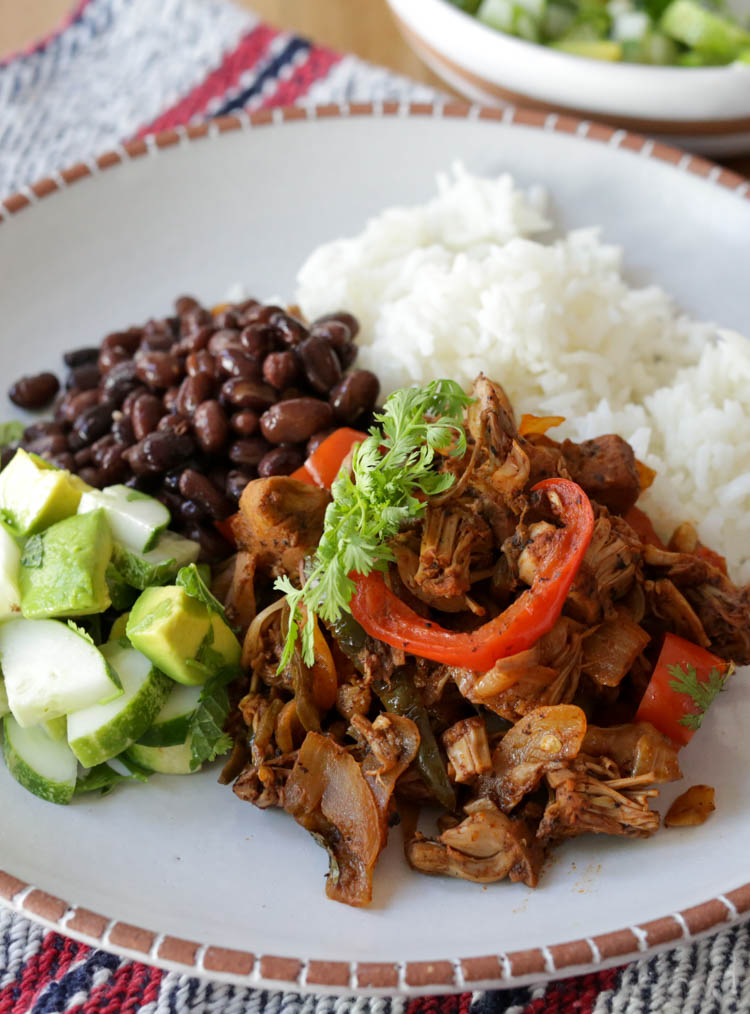 I serve this jackfruit rope vieja with black beans, buttered white rice, and a chopped salad of cucumber, avocado, fresh herbs (cilantro, parsley, mint) lemon juice and salt. Like most vegan/vegetarian versions of recipes, you're not going to fool anyone into thinking this is beef, but it is delicious in its own rite. And not that I'm counting, but if you are . . . take a look at that calorie count, yo! 84! Damn!
Print
Vegan Jackfruit Ropa Vieja
Author:
Yield:

4

servings

1

x
1 medium onion
1/2 red bell pepper
1 jalapeño
5–6 cloves garlic
1 tablespoon olive oil
1/4 cup tomato sauce
1/2 teaspoon salt
1 teaspoon cumin
1/2 bay leaf
20 ounce can green jackfruit
1/2 cup vegetable broth
1 teaspoon soy sauce
small handful cilantro, chopped, for garnish
Instructions
Cut the onion lengthwise in half. Peel. Cut each half lengthwise into slices so you get lots of onion strips. Cut the bell pepper into strips, removing seeds and membranes. Cut the jalapeño into strips (I leave the seeds/membranes for heat). Mince enough garlic to get 1 tablespoon.
Heat the oil in a large, heavy skillet (cast iron if you have it) over medium-high heat until very fluid. Add onion and tomato sauce.
Cook onion and tomato sauce together for about 10 minutes, stirring occasionally. After 5 minutes, the onions should be softened. Allow the tomato sauce to thicken and caramelize. The final few minutes, you will need to stir frequently to prevent burning. Add the salt, cumin and the half bay leaf and cook another minute.
Once onions are browned, stir in the peppers and garlic. Reduce the heat to low.
Drain the jackfruit and shred or chop it finely. Add jackfruit and veg broth to the skillet. Stir. Cover and simmer 20 minutes.
Remove lid and simmer to thicken sauce. Discard bay leaf. Add soy sauce. Stir and taste for salt.
This tastes best if made several hours or a day before serving to allow flavors to marry.
Top with cilantro at serving time.
Nutrition
Serving Size:

3/4 cup

Calories:

84

Fat:

4

Carbohydrates:

10

Protein:

2