Deviled eggs are one of my favorite party snacks to make. People make fun of them a little bit — they have a reputation for being old-fashioned  or giving you farts and egg-breath — and perhaps there's a nugget of truth there, but good lord, deviled eggs are delicioso!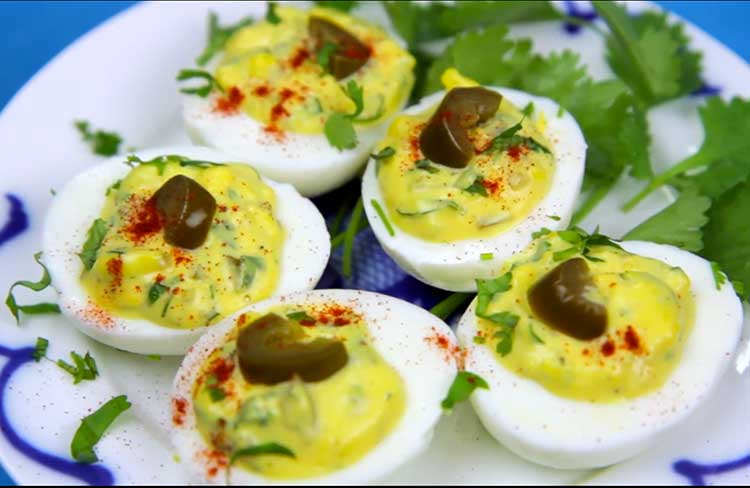 Deviled eggs in their basest form are made with mayonnaise, mustard, some cayenne pepper, salt. They get their name from the association of hot and spicy foods with the Devil. Often people add onion, pickles, capers, hot sauce, herbs, horseradish, and every family surely has a member who makes a "famous" deviled egg recipe of their own creation. This basic deviled eggs recipe is a great place to start from and if you're interested in coming up with your own "famous" deviled eggs, there are some ideas below the recipe card!
(Start with hard boiled eggs, of course. Learn how to boil eggs here!)
Print
Jalapeño Deviled Eggs
Author:
Cook Time:

10 mins

Total Time:

10 minutes

Yield:

6

1

x
6

eggs, hard boiled

3 tablespoons

mayonnaise

1 teaspoon

yellow mustard

1 tablespoon

minced pickled jalapeños or pickles

1/4 teaspoon

salt

1/4 teaspoon

black pepper

1 tablespoon

minced cilantro
Paprika
Instructions
Peel the eggs and cut in half length-wise. Pop the yolks out into a medium bowl.
Mash with the mayo, mustard, salt and pepper until smooth.
Stir in pickled jalapeños and cilantro.
Spoon into the egg white cavities.
Decorate with pickled peppers and/or paprika!
Deviled Eggs, Reinvented!
Now to get krazy! Using the same basic ratio above (6 eggs : 3-4 tablespoons binder) make your egg yolk mash, then season with other ingredients that appeal to you. Have fun with it by starting with 6 eggs, then dividing the yolk mixture into 3 parts and seasoning each differently to find the perfect combination for you!
Pick a binder
This is the gooey ingredient that fills out the mashed yolks and adds some flavor:
Mayonaise
Creme fraiche
Thick plain yogurt
Avocado
Cream cheese
Creamed cottage cheese
Green goddess dressing (suggested by Zander Fancypants on YouTube)
Pick a piquant
Eggs need something tart and tangy to cut the richness; pick one or two of these:
Dill pickle relish
Sweet pickle relish
Capers
Mustard (yellow, Dijon, grainy, deli)
Horseradish (prepared)
Minced pickled jalapeños
Minced sweet pickled jalapeños
Minced black or green olives
Pimientos
Hot sauce or salsa
Chipotles in adobo (suggested by AnMooose on YouTube)
Pick a fresh
Something to brighten the flavor; pick one or two:
Lemon juice
Fresh dill, cilantro, tarragon, or parsley
Minced green onion
Minced celery and/or celery leaves
Minced fresh jalapeño
Season well
Start with a few shakes of salt then add pinches of one or more of these:
Black pepper
Cayenne pepper
Ground cumin
Turmeric
Celery seed
Dill seed
Paprika
Smoked paprika
Toasted sesame seeds
Minced dried onion (suggested by Bill on Facebook)
For extra-fancy eggs, I've seen people add minced smoked salmon to the yolks, or anchovies. I've even seen eggs with the yolks discarded, and instead the egg white holes are filled with pico de gallo. They are tasty, indeed, and a low-cholesterol solution to a craving for deviled eggs!
For an extra fun twist, try my pickled deviled eggs recipe! They are so awesome!