Demon Eyes! (Pickled Deviled Eggs) Plus How to Boil Eggs
Pickled Deviled Eggs Recipe Video (scroll down for printable recipe)
Deviled eggs have been around since the dawn of mayonnaise, I believe.
They are called "deviled eggs" because they're a little spicy and the devil probably likes spicy food because he lives in Hell where it's really, really hot. Devil also is real big into Halloween and so am I so I thought deviled eggs would be a great party food to make on the show!
For some reason, deviled eggs are present at nearly every potluck, family reunion, and football party I've ever attended. I can guess why. They're cute, bite-size, and can be made the day before. They're also not completely unhealthy, compared to some of the other things on the food table, and assuming you're not eating a whole dozen of them. They are also very easy to put your own twist on and impress the hell out of some people because you thought to add curry powder or chopped olives or capers or jalapenos or cilantro or any number of ingredients that suit your fancy. Figure out what "twist" you like and make it that way a couple of times and suddenly you'll be getting requests for "those good deviled eggs you make" and then you won't ever have to think about what to take to a potluck again!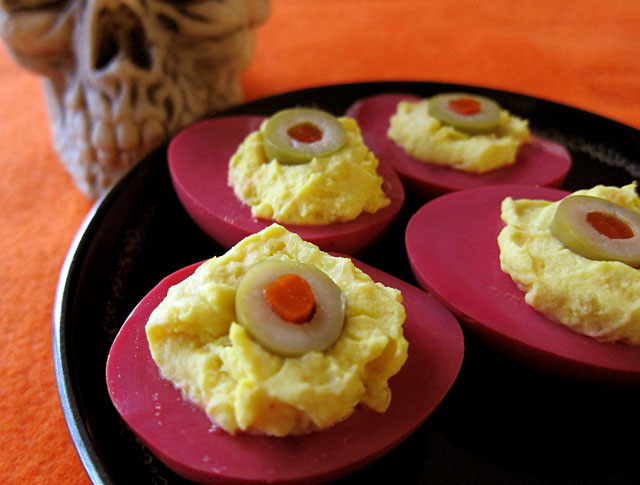 My particular twist is to make them look like blood-shot demon eyeballs for Halloween! YAY! HALLOWEEN!


But I really try not to use food coloring when I can help it. So I'm using beet juice! Pickled beet juice, to be precise, which has the added perk of flavoring the egg whites and firming them up a bit so they are easier to stuff without breaking. If you've ever had a pickled egg, you know the texture they take on when soaked in pickling brine. My friends that normally don't like boiled egg whites, citing a "yucky texture", like them this way. I presume you could do the same trick with pickled jalapeno juice instead and end up with some slightly-yellow, but delightfully spicy egg whites! Maybe do a few of each and call the yellow ones monster eyes or something cute like that.
Or you can use the same technique for pretty Easter deviled eggs, like these, below. For pickled pink eggs, peel the boiled eggs and soak overnight in enough pickled beet juice to cover (you can add some water to it if you need more volume) then halve the eggs and make the yolk filling.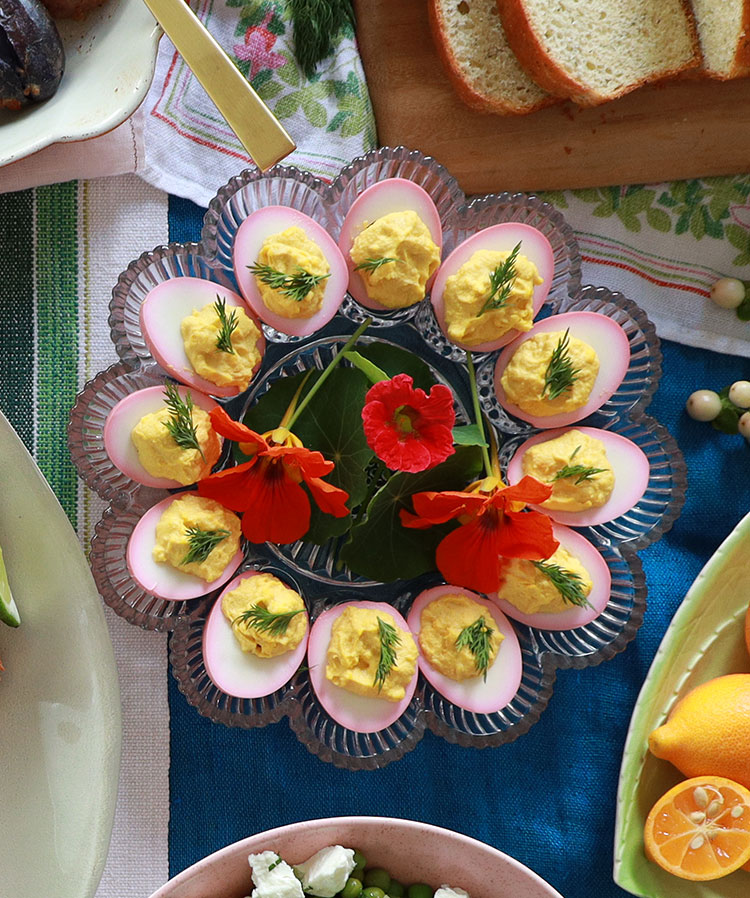 The trickiest part of making deviled eggs by far is boiling the eggs right. You want them hard-boiled, easy to peel, and with the yolks as centered as possible. For ease of peeling , get some eggs that aren't the absolute freshest. You can just buy a dozen a week before you'll boil them and leave them in the fridge, or check the dates on the ones in the store and find a dozen that are maybe a week or two out from the expiration date. The reason for this is that slightly older eggs don't cling so tightly to the inner membrane and the shell will almost just slip off. Once you have your eggs, follow this boiling-water start method for the easiest to peel boiled eggs ever.
Now let's make Pickled Deviled Eggs!
Print
Deviled Eggs
6

hard-boiled eggs, peeled

1 cup

of pickled beet juice

2 tablespoons

mayonnaise

2 teaspoons

yellow mustard

1

–

2

pickled banana peppers (or jalapenos if you like)

1/4

–

1/2

teaspoon cayenne pepper for spicier eggs

6

green olives with pimentos
Instructions
Slice the eggs lengthwise in half, using a sharp, non-serrated knife.. Rinsing your knife in cold water between eggs will make slicing easier.
Pop the yolks out and set aside.
Put the whites in a container and cover with the beet juice. Let sit for 5 minutes for a light pink color, and up to 24 hours for a dark purple color (I like the longer soak time for more flavor and color, plus a firmer texture).
Mash the yolks with a fork. They will seem crumbly and dry. No worries.
Add the mayonnaise, mustard, peppers, cayenne, and a little of the pepper juice if you like. Mash to make a very smooth, silky paste.
Use a small spoon to fill each egg white cup with a mound of the yolk spread.
Slice the green olives in half and press into each mound to make the demon eye pupil.
Serve immediately or refrigerate up to 24 hours.
If you want to throw a whole party based on Halloween recipes from my site, check out these episodes from last year! (Also check out my SWEET costumes of days-gone-by.)
Halloween Cocktail: Bumbaclot!
Marshmallow Ghosties!
Hallow-peno Poppers
And check this out for regular old deviled eggs!