Kabocha squash pie is incredibly better than any other kind of pumpkin pie, because the kabocha pumpkin is naturally denser and sweeter than even a sugar pie pumpkin. And fortunately for everyone, kabocha squash (aka Japanese pumpkin) are getting to be pretty easy to find in these modern days.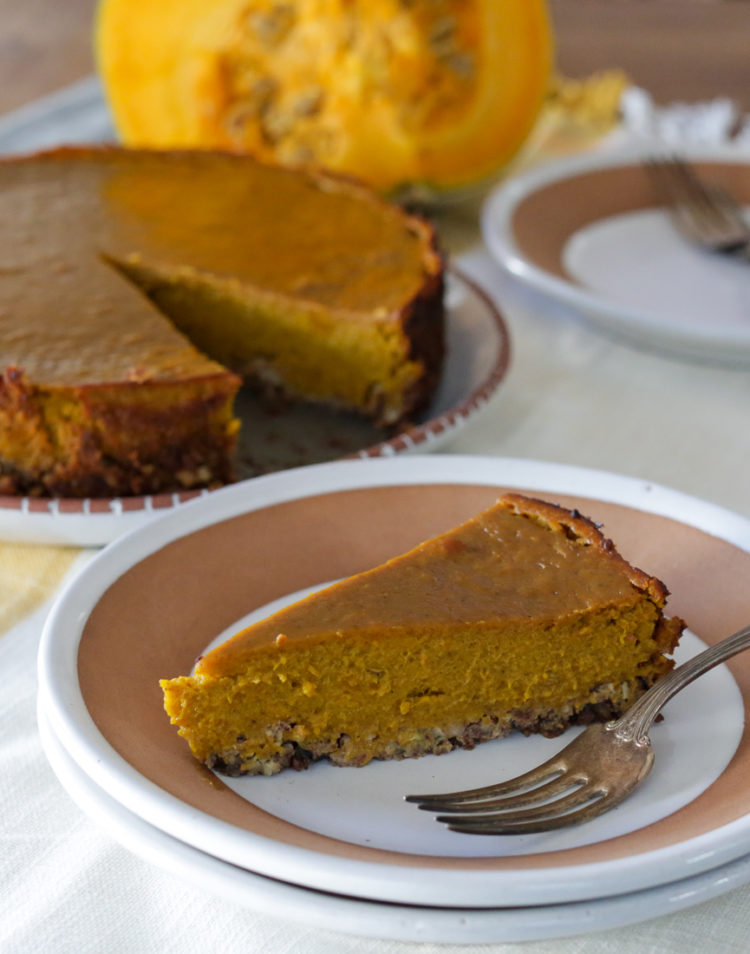 They can look a little funky with a gray-green peel, occasionally spotted with an orange or yellowish patch (like a ripe watermelon) and sometimes even adorned with hard, lumpy warts (for lack of a better word). A bright orange varietal called a Red Kuri also turns up at markets sometimes and works just as well as a green kabocha.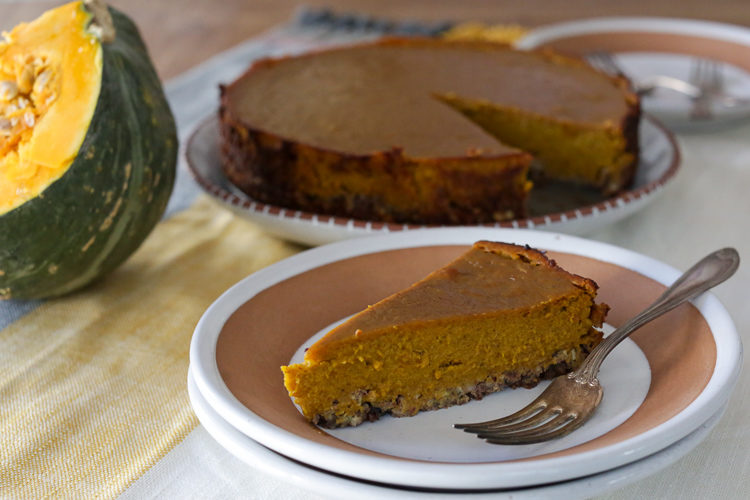 I adapted my pie recipe from from this Hawaiian kabocha pie recipe, reducing the quantity and swapping a nut crust for the standard pie crust since it's the dang ol' holiday season after all and why the hell shouldn't we eat nuts at every meal? (Allergies are one legit reason, and if that's you, just par-bake two pans of this homemade pie crust recipe for 15 minutes before pouring in the pie filling. Bonus! You'll get two pies instead of one that way.)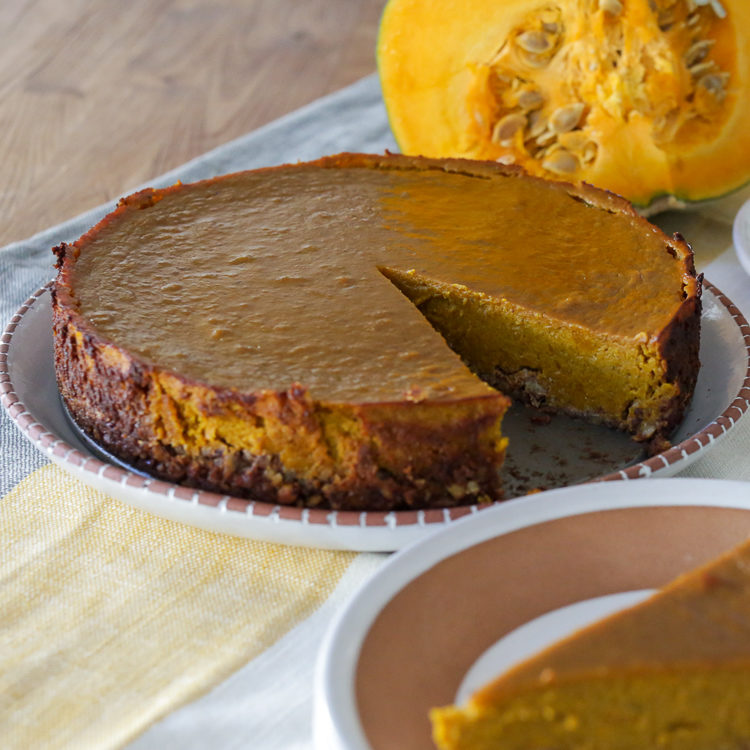 Oh! The other very good thing about kabocha squash is that it's one of the few winter squashes with an edible peel. That's right. It looks mean and mighty but once cooked, it's soft and tender. I still peel most of it away for this dessert, but if you love fiber, you can blend it on up.
For another tasty kabocha recipe, try this warm, roasted kabocha pumpkin salad with cotija and avocado dressing. It would make a fantastic, unusual Thanksgiving side dish or vegetarian main dish.
Print
Kabocha Pumpkin Pie
Author:
Yield:

12

slices

1

x
1 medium kabocha squash (3 pounds)
1/2–3/4 cup dark brown sugar
1 cup half and half
1 teaspoon cinnamon
1/2 teaspoon nutmeg
1/2 teaspoon grated fresh ginger (1/4 teaspoon dried ground)
1/4 teaspoon allspice
1/4 teaspoon salt
3 eggs
Nut crust:
2 cups shelled pecans and/or walnuts
4 tablespoons melted butter
1 tablespoon sugar
1 tablespoon AP flour
1 tablespoon flax meal
Instructions
In your oven, arrange one rack on the lowest level and another on the middle.
Start the nut crust. Toast the nuts in a dry skillet over medium heat for 5-10 minutes, stirring often, until they begin to smell toasty. Finely chop with a knife or pulse a few times in a food processor. You want very small crumbs. Mix with remaining ingredients. Press into the bottom and 1/4-1/2 inch up the sides of a 9″ springform pan. CHILL for at least 30 minutes in the fridge, or up to 24 hours.
Meanwhile, set up a steamer basket in a large pot. Cut the kabocha into 2″ cubes. If it's too hard, score the skin and pop in in the microwave for a minute to soften it.  Steam in the large pot for about 15 minutes or until very soft. Turn off heat and let cool.  
Set oven to 350ºF. Bake the nut crust for 10 minutes. Remove from oven to cool. INCREASE oven heat to 425ºF
Once the squash can be handled, remove the skin. You can probably leave it on if you want, but this is supposed to be a dessert, so we don't want too much healthy fiber 😉 Now puree the squash in a food processor or with a hand mixer. Taste it. Aren't you amazed!? It's so sweet!
Now add some sugar. I usually do 1/2 cup plus another tablespoon but if your squash is less sweet, you may want 3/4 cup. Use your judgement and your tastebuds. Then whip in the spices, half and half and the eggs. Pour the filling into the crust.
Place a deep pan with an inch of water on the lower rack of the oven. Bake the pie above it at 425ºF for 25 minutes. REDUCE oven temperature to 350ºF and bake another 30 minutes. It should puff a little in the center, still look very moist, but be firm when you gently shake the pan. Remove and let cool completely on the counter. Refrigerate until cold. Run a butter knife around the edges to loosen the crust and unmold from the springform. Can be made three days ahead of time and refrigerated until serving.
This would be delicious with whipped cream, but honestly needs nothing more than a cup of black coffee.  
Nutrition
Serving Size:

1

Calories:

260

Sugar:

16

Fat:

17

Carbohydrates:

23

Protein:

6
Virtual Potluck!
I have joined up with a bunch of blogger friends for a Friendsgiving Virtual Potluck! Be sure to check the recipes below out for wonderful Friendsgiving and Thanksgiving recipe and craft ideas!
Appetizers
Baked Brie with Honey & Walnuts
from Kelley of Mountain Mama Cooks
Reindeer Bacon Cheddar Cheese Ball
from Julie of Julie Blanner
Salads
Sauteed Kale and Brussels Sprout Salad with Cranberries and Walnuts
from Shashi of Savory Spin
Creamy Brussels Sprouts Salad
from Faith of An Edible Mosaic
Main Dishes
Savory Vegetable Crisp
from Bree of Baked Bree
Rosemary Lamb Steaks
from Danyelle of The Cubicle Chick
Turkey Pot Pie
from Kelly of Eat Picks
Side Dishes
Fried Brussels Sprouts
from Erin of The Almond Eater
Cheesy Horseradish Mashed Potato Casserole
from Renee of Kudos Kitchen by Renee
Cranberry Cream Cheese Dip
from April of April Golightly
Sauteed Garlic-Butter Mushrooms
from Linda of Simply Healthyish Recipes
Easy Cheesy Hash Brown Casserole Recipe
from Mel of Adventures of Mel
Cornbread Stuffing with Chorizo
from Isabel of Isabel Eats
Bacon Brussels Sprouts
from Kara of Kara J. Miller
Crockpot Sweet Potato Casserole
from Jennifer of Show Me the Yummy
Amazing Gluten Free Thanksgiving Stuffing
from Sommer of A Spicy Perspective
Pumpkin Caramelized Onion Gratin
from Denise of Chez Us
Crockpot Mac & Cheese
from Leanette Fernandez of Funtastic Life
Cheesy Brussels Sprouts au Gratin
from Rachel Gurk of Rachel Cooks
Drinks
Spiced Pumpkin Margarita
from Sharon of Cupcakes and Cutlery
Breads
Sourdough Pull Apart Rolls
from Erica of Buttered Side Up
How to Make Homemade Butterhorn Rolls
from Mel of Flour on My Fingers
Sweet Dinner Rolls
from Jocelyn of Grandbaby Cakes
Parker House Rolls
from Irvin of Eat the Love
Desserts
Sugar Pie
from Julie of The Little Kitchen
Oatmeal Apple Crisp
from Julie of Peanut Butter Fingers
Pumpkin Pie Milkshake
from Eden of Sugar and Charm
Strudel Pastry
from Justine of The Typical Mom
Tahini Hawaij Pumpkin Pie
from Amy of What Jew Wanna Eat
Turkey Cookies
from Meaghan of The Decorated Cookie
Mini Apple Pie Bites
from Lynsey of MoscatoMom
Kabocha squash pie
from Hilah of hilahcooking
Pecan Pie Cupcakes
from Courtney of Pizzazzerie
Coconut Cream Pie
from Schnelle of Brooklyn Active Mama
Chocolate chip cheesecake
from Jeannette of Hispana Global
Chocolate Pecan Pie
from Kate of I Heart Eating
Mini Pumpkin Cheesecakes
from Chelsea of Someday I'll Learn
Turkey Donut Race Cars For Thanksgiving Treats
from Theresa of Chewable Structures
Crafts and Centerpieces
Cinnamon Stick Holiday Candle Place Setting
from Alli of Made with HAPPY
Metallic Pumpkin Luminaries
from Amy of As The Bunny Hops
Easy centerpiece that will stun + party favor
from Noelle of Oh Happy Play