Kohlrabi Slaw with Green Goddess Dressing
I got some kohlrabi in my vegetable delivery this week and if you've never seen one of those, they're weird looking. Like a bald alien head with a bunch of leafy antennae growing out all around. Kohlrabi are related to broccoli and cabbage and all those healthy, delicious things and because lately it's been muggy as a swamp outside, I thought I'd turn them into a cold, crisp kohlrabi slaw.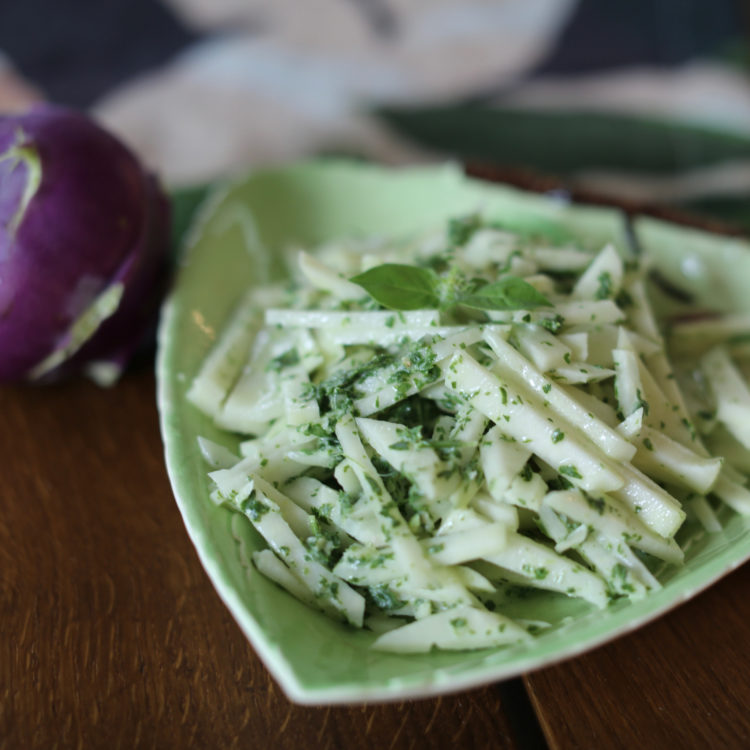 Annnnddd because I also got a bunch of parsley and basil, too, I made it be a green goddess-style slaw. I took a bite and then a beautiful angel came down from where all the hot rain originates and kissed my sweaty forehead and I knew I had been blessed.
Anyway, like I said, it's been HOT.
So for this kohlrabi slaw you just need a few ingredients, one of them being kohlrabi. If you don't have that vegetable, you can abso-toot-ly use broccoli stems instead. In fact, kohlrabi tastes pretty much like broccoli stems except a little less fibrous. Either way, you're gonna want to peel the thick skin off (the kohlrabi or broccoli stems) and julienne the tender insides. A bag of pre-cut broccoli slaw would work great, actually, but I always feel bad when I buy those bags because it seems so wasteful.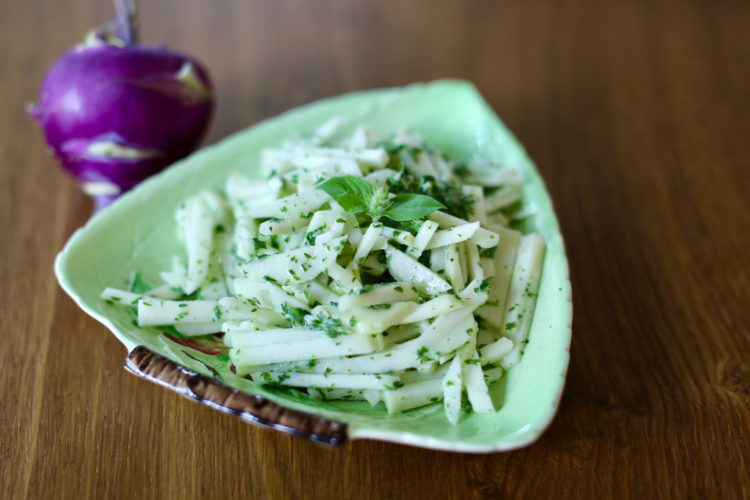 Either way, fast forward til you have a bowl of julienned vegetables, about four cups worth. Then you wanna make your simple dressing in the blender. Just cram in some parsley, basil, garlic, olive oil, vinegar, yogurt and salt and whizz it around until it's smooth. Pour it over that bowl o'veg and that's all she wrote.
Edit: She also wrote this sesame cole slaw recipe which is another light and crisp summer salad!
Print
Green Goddess Kohlrabi Slaw
A simple, cool, healthy kohlrabi slaw
Author:
Prep Time:

10 min

Total Time:

10 minutes

Yield:

4 cups

1

x
4 small kohlrabi (about 12 ounces weight)
Green Goddess dressing:
1 small handful parsley (1/4 cup or so)
1 smaller handful basil (couple tablespoons or so)
1-2 cloves garlic
1/4 cup plain yogurt
2 tablespoons olive oil
2 tablespoons apple cider vinegar
1/2 teaspoon salt
Instructions
Peel the kohlrabi (a paring knife works best; vegetable peelers tend to get clogged up with the fibers) and cut into matchsticks. 
Combine dressing ingredients in a blender and puree. It will be fairly thin. Toss about half of it with the kohlrabi. Serve or refrigerate up to 8 hours. 
You will have some dressing left over, but it's great on any kind of green salad or even chicken or tuna salad. 
Nutrition
Serving Size:

1 cup

Calories:

74

Sugar:

4

Fat:

4

Carbohydrates:

9

Fiber:

5

Protein:

3