I would love to call this Salt Lick coleslaw, since it is quite similar and Salt Lick coleslaw is one of my favorites (it's actually so good, it's worth the 45 minute drive from Austin any ol' day) but the original Salt Lick coleslaw recipe is already online and I could never get it to work for me. So I took the ingredients and reworked them into this slaw, which I'm calling sesame coleslaw.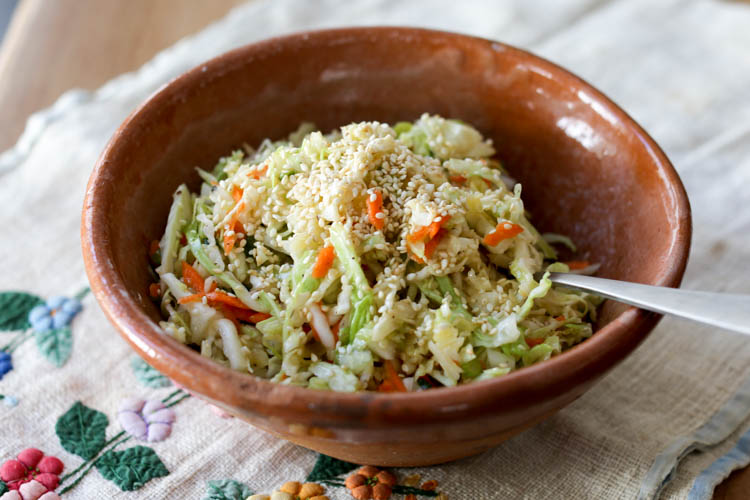 This simple slaw is sweet and sour and sesame-y, but the sesame seeds just add a nice, interesting surprise without being too overbearing. This makes a light tangy foil against rich roasted, grilled or barbecued meats. It's also great on a sandwich. Try it with barbecue chicken sandwiches, oven brisket, or pollo al carbón.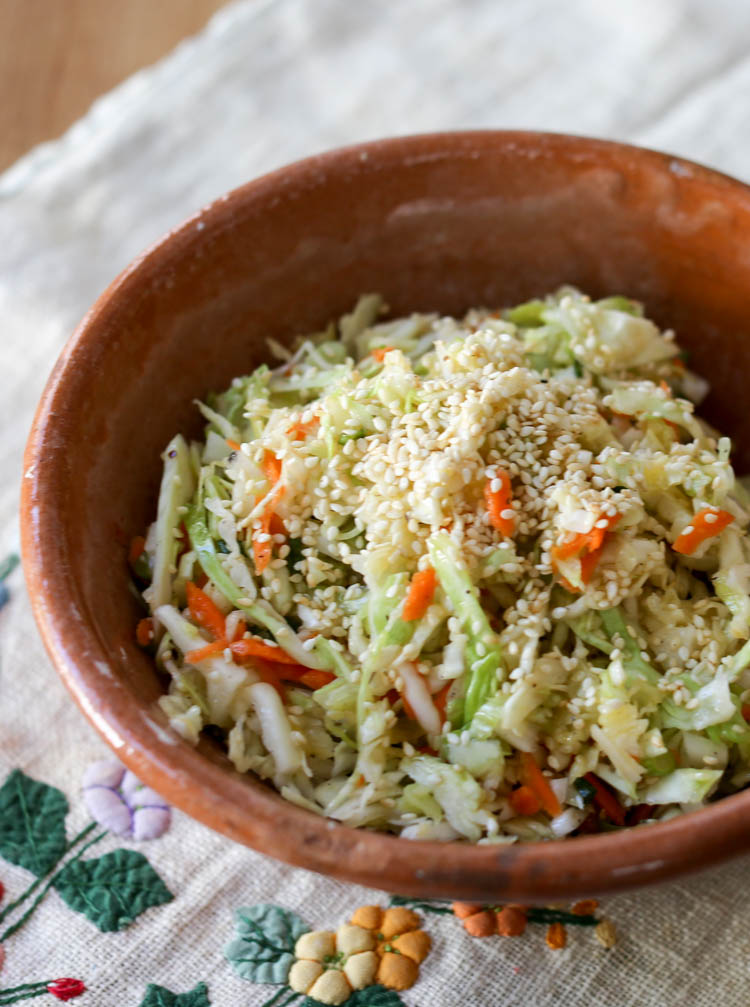 Print
Sweet Sesame Cole Slaw
1/4 cup apple cider vinegar
1 tablespoon maple syrup (or 2 teaspoons honey)
1/2 teaspoon salt
1/4 teaspoon white pepper
2 tablespoons oil
2 tablespoons toasted sesame seeds
1 pound cabbage, shredded
1 large carrot, grated
2 green onions, green parts only sliced
Instructions
Whisk vinegar, syrup, salt, pepper and oil together in a large bowl.
Finely slice the cabbage into thin shreds. Grate the carrots and slice the green onions. Add to dressing and toss well to coat.
If your sesame seeds aren't already toasted, put them in a dry skillet over medium heat and shake for a minute or two until they begin to brown. Add the toasted sesame seeds to the coleslaw and mix again.
This is best served within 24 hours but it keeps okay in the fridge for a couple of days.