Meatloaf with Spicy Tomato Gravy
Derrr, I'm not really sure what I can tell you about Meat Loaf that you don't already know. I mean, he only created one of the BEST SELLING ALBUMS OF ALL TIME.
And then invented one of the MOST FAMOUS RECIPES OF ALL TIME.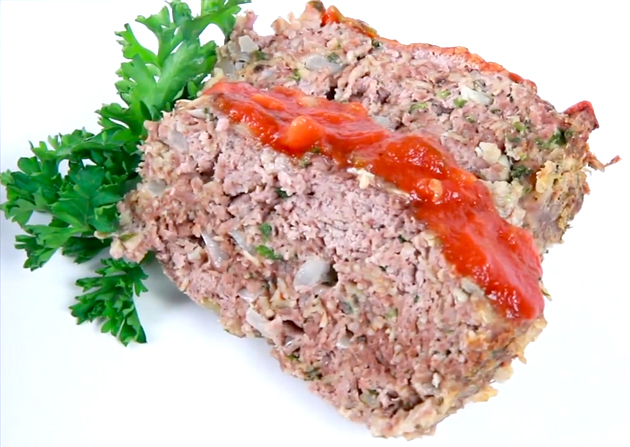 I mean, come on. The guy's a genius right? Bat Out of Hell AND ground meat with seasonings and eggs and grains all baked into one tasty sliceable loaf? He's obviously a total champion of both his left and right brain hemispheres.
But enough about my idol. Here's my simple meatloaf recipe (with a tasty twist) and spicy tomato sauce to top it. Eat it fresh out of the oven, or make meatloaf sandwiches! They are SO GOOD!
If you want to do that, I recommend slicing it while it's still warm, then chilling it. When you're ready for a hot meatloaf sandwich, fry a slice of it in a little butter, then put between some soft bread with fresh onion and pickles and some leftover spicy tomato gravy or ketchup. Ooh, maybe even melt some cheese on that sucker and make a meatloaf cheeseburger! Omigod, I can't believe I just thought of that and I am all out of meatloaf! ARGH!
Print
Simple, Perfect Meatloaf with Spicy Tomato Gravy
Your basic juicy meatloaf, with a spicy tomato sauce
1

pound of lean ground beef

2

–

4

ounces pork sausage

1

egg

1 cup

oatmeal, bread crumbs, cracker crumbs, cornflakes, sand (Just kidding about that last option)

1 teaspoon

salt

1 teaspoon

pepper

1/2 cup

minced onion

1/2 cup

minced parsley

2

cloves garlic, minced
Optional additional vegetables: 1/2 cup grated carrot, squash, spinach

1/4 cup

chopped onion

1 teaspoon

minced garlic

1

–

2

tablespoons minced jalapeno

1/2 teaspoon

oil

1/2 cup

chicken broth

1 cup

tomato puree

1 teaspoon

honey or brown sugar

1 tablespoon

wine or cider vinegar
Instructions
For the meatloaf, preheat the oven to 350 F
Combine meat, egg, oatmeal, seasoning, onion, parsley, and garlic and any additional vegetables you like. Mix it up well with your hands. Put it into a loaf pan, or shape it into a loaf and put it on a baking sheet. Bake one hour, or until the internal temperature reaches 160-165 F.
Make the sauce: Saute the onion, garlic, and jalapeno in the oil for about 5 minutes or until it's softened. Add the broth, tomato, honey, and vinegar. Simmer 30 minutes.
Allow meatloaf to rest for 10 minutes before slicing and serving with the tomato gravy.
Serve the meatloaf with this mashed potatoes recipe.