Migas – My Favorite Breakfast Taco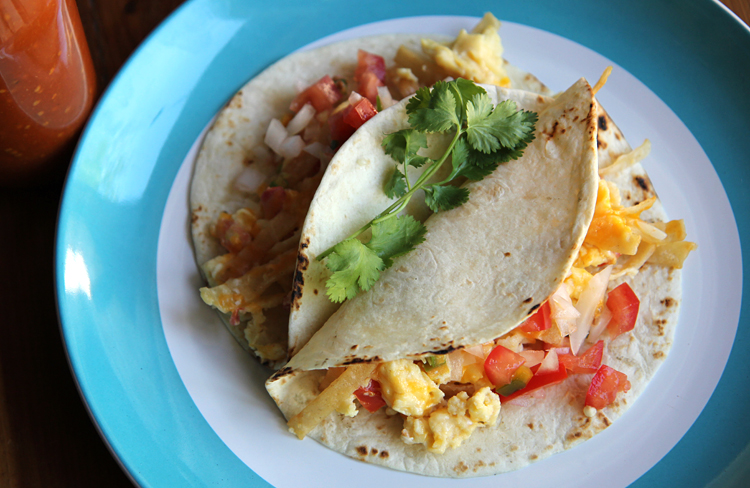 In this episode, I interview Carlos Rivero, co-owner of both El Chile and El Chilito. El Chilito has been a popular spot for breakfast tacos, anytime-tacos, and frozen sangria since the beginning of time. Or at least since they opened their order window 10 years ago on Manor Road in Austin. Migas tacos are one of their very famous taco offerings, and they are if not my very favorite migas taco in Austin, at least in my top three.
"Migas" means "crumbs" in Spanish, but culinarily, migas means "eggs cooked with tortilla chips, tomatoes, onions, and jalapeño then covered in melty cheese". Making migas is a great way to use stale chips or corn tortillas and eating migas is a great way to start any day, or afternoon.
#aid=P-UKyIGRxO0
Carlos and I talked about breakfast tacos in Austin, what makes them so popular with Austinites, and how they (most likely) came out of San Antonio, traveling northwards up I-35 to take over Austin like a delicious, welcome plague. But it is a fact that breakfast tacos have Austin's heart. In the video, we showed several places around town that are near and dear to Austinites: Maria's Taco Xpress; Torchy's Tacos; Tamale House and Tamale House East; and Mi Madre's. Most of these taco joints have been around for a decade or more and while anyone you ask has their favorite place for tacos, I feel confident in saying that these restaurants represent the best of the best. The "can't miss" breakfast tacos of Austin.
They each have their specialties, too. At El Chilito, my favorites are their migas tacos, the Charlie's Special, and their roasted salsa is great. For lunch, the barbacoa or the al pastor are the things to get, in my opinion. Oh man, do NOT miss the frozen sangria, either. That is like a magical panacea to cure all ills.
Maria's Taco Express is renowned for their chimichurri sauce that is tangy and hot. It's an unusual salsa to consider dousing onto a breakfast taco of eggs, but it works and it works VERY well. Try the chimichurri on their extra-cheesy migas. They have some good vegetarian tacos, too: the Verde and the black beans and rice. At Torchy's try the Monk Special for a lighter breakfast taco and The Wrangler when you're feeling particularly manly … or hungry. Of course, like all breakfast taco places, you can order a custom taco as well. They also have some of my favorite queso in town and the green chili pork tacos will knock your socks off. In fact, all of their lunch tacos are good and uniquely Torchy's. Tamale House (on Airport Blvd) has been serving breakfast tacos longer than any other place in Austin, I think. They are cash-only, but that's usually okay because their breakfast tacos are only 85 cents! For your change, you can get a breakfast taco with two items of any kind. Favorite combinations of mine are potato and egg; potato and bean; bacon and egg; and chorizo and egg. Their salsas are great and the food comes out fast. Perfect spot to hit on your way out of town for road trip breakfast! Mi Madre's has been serving East Austin and poor, hungry college students for many years. They are sensitive to the hippies of Austin and offer vegetarian refried beans (no lard). Try a bean and cheese taco, please. Sounds too simple, but it's delicious. For a heartier breakfast, try the Ranchero plate with carne guisada, eggs, potatoes, and beans. So good. Finally, Tamale House East: it's relatively new, and owned by the same family as Tamale House, but has made a name of its own. Unlike the Airport Tamale House, T.H.East has tamales on the menu (try the chicken mole tamales before you die!) as well as breakfast tacos and plates. They are famous for "Mom's Migas" and "Dad's Fajitas". The tomatillo chilaquilas are also delicious and I haven't had any like them anywhere else in Austin.
For more on breakfast tacos of all sorts, including recipes and reviews, check out my cookbook: The Breakfast Taco Book
.
Print
Migas
Author:
Cook Time:

10 mins

Total Time:

10 minutes

Yield:

4

1

x
3

corn tortillas (stale, if possible)

1 tablespoon

vegetable oil
salt

1

Roma tomato

2 tablespoons

minced onion
minced jalapeño to taste

4

eggs

1 tablespoon

butter

1/2 cup

grated Cheddar or Monterey Jack cheese

4

–

6

flour tortillas
Instructions
Stack the corn tortillas and cut into 1/4″ strips, then cut in half cross-wise.
Heat the oil in a heavy skillet over medium-high heat and fry the strips until crispy, a few minutes, stirring frequently. Drain on paper, lightly salt, and set aside.
Dice the tomato and combine with onion and jalapeño.
Beat the eggs thoroughly.
Melt the butter in the same skillet over medium-heat. Add eggs and cook until half-set.
Add 1/2 cup of the tomato mixture and cook until 3/4 set, stirring frequently.
Add tortilla strips and combine.
Sprinkle with cheese. Cover and remove from heat while you warm tortillas for serving.
Serve as tacos, or alongside refried beans and homefries.
Many moons ago, we did another
Migas Recipe video
. Watch that one for a blast from the past. Look at how hideous my hair-do was. Listen to how awkwardly I spoke to the camera.