Mini Sopapilla Cheesecake Recipe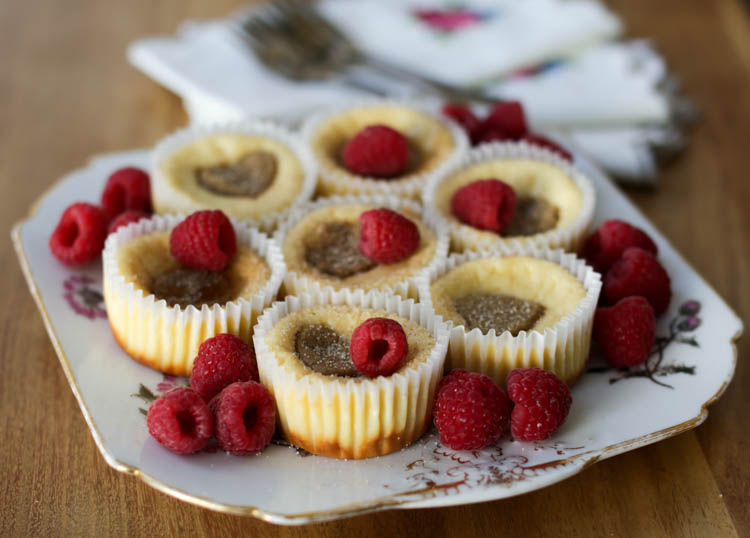 I was researching choux pastry to see what other kinds of things could be done with it (it's so fun and versatile if you've never tried it, start here with gougeres and then make churros) and I got stopped in my tracks when I spotted this recipe for choux au craquelin.
I was like, what? the hell?
Ne'er heard of it, but it sure looks good and crunchy! I'd also been mulling over a sopapilla cheesecake recipe … you know the one that's everywhere … I think Pillsbury invented it … thinking how I could make a version that didn't use crescent roll dough and didn't have to cook forever. Mini-cheesecakes with some kind of crunchy cinnamon thing is what I needed.
Watch the Sopapilla Cheesecake Video on YouTube
Craquelin turned out to be the thing. It's just three ingredients — butter, sugar, flour — rolled into "cookies" that you put on top of your choux pastry buns (in my case, on top of mini cheesecakes) and when it bakes, it turns crackly and crunchy like a streudel kind of. I added cinnamon to it because duh I need that.
Didn't take long to figure out how to make a honey cheesecake batter and top it with some rounds of cinnamon craquelin. Joy! The craquelin is so perfect, y'all. It's like topping your cheesecake with a crispy cinnamon sugar cookie so you get creamy honey cheesecake flavor with crunchy cinnamon toasty flavor creating the world's most best sopapilla cheesecake. Sorry, Dough Boy. Game. Set. Match.
Homemade Sopapilla Cheesecake Recipe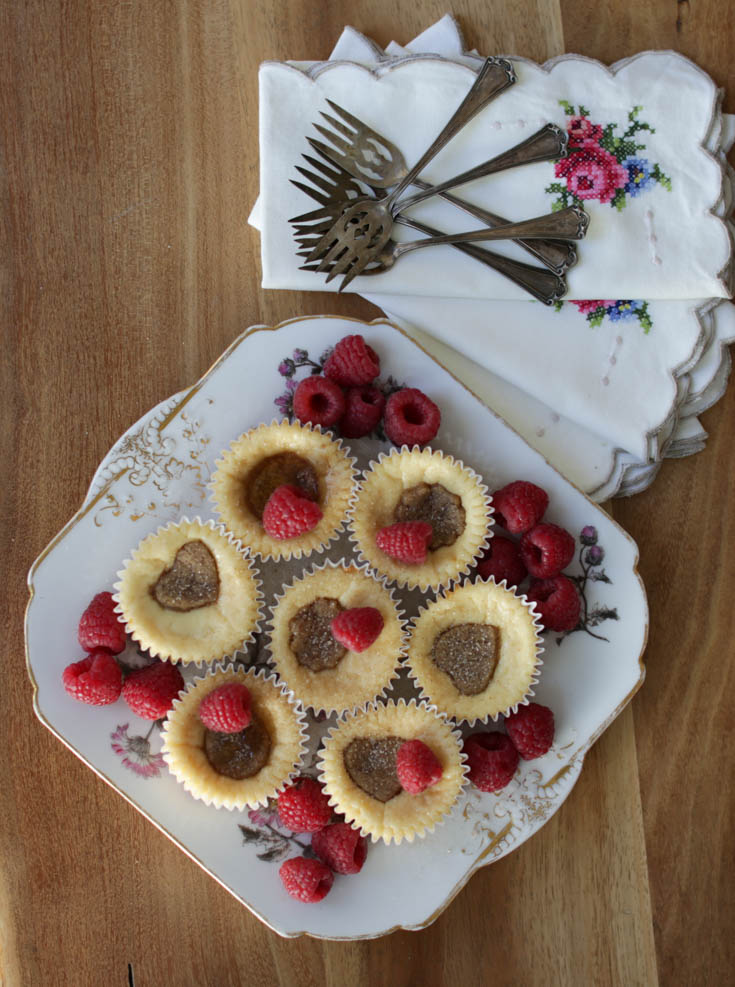 Print
Mini Sopapilla Cheesecakes
Cinnamon Craquelin:

1/4 cup

soft butter

1/3 cup

light brown sugar

1/2 cup

AP flour

1/2 teaspoon

cinnamon
Cheesecakes:

12

Ritz crackers

2

–

8

ounce packages cream cheese

2 tablespoons

corn starch

1/2 cup

sugar

2

eggs

2 tablespoons

honey

1 teaspoon

vanilla extract
Garnish, opt: raspberries, more honey
Instructions
Cream butter and sugar together until smooth. Mix in flour and cinnamon to make a stiff dough. Plop it onto some wax or parchment paper and roll out to about 1/8″ thick (3 mm). Transfer with paper onto a baking sheet and refrigerate while you make the cheesecakes.
Set oven to 350ºF and line 12 muffin tins with paper cups and place a Ritz cracker in the bottom of each.
Beat cream cheese until loosened up. Sift in cornstarch. Mix. Slowly beat in sugar until smooth and fluffy.
Mix in eggs one at a time, followed by honey and vanilla.
Pour about 1/4 cup of batter into each muffin tin, filling 3/4 full.
Cut small circles (about 1″ dia) from the craquelin and place a round on top of each cheesecake.
Bake for 20 minutes or until slightly risen and barely browned on the edges. Cool 10 minutes in pan.
Remove to rack and refrigerate until cold.
Garnish just before serving with a raspberry and a drizzle of honey
You might also like Cranberry Mini Cheesecakes!