Mushroom Quiche Recipe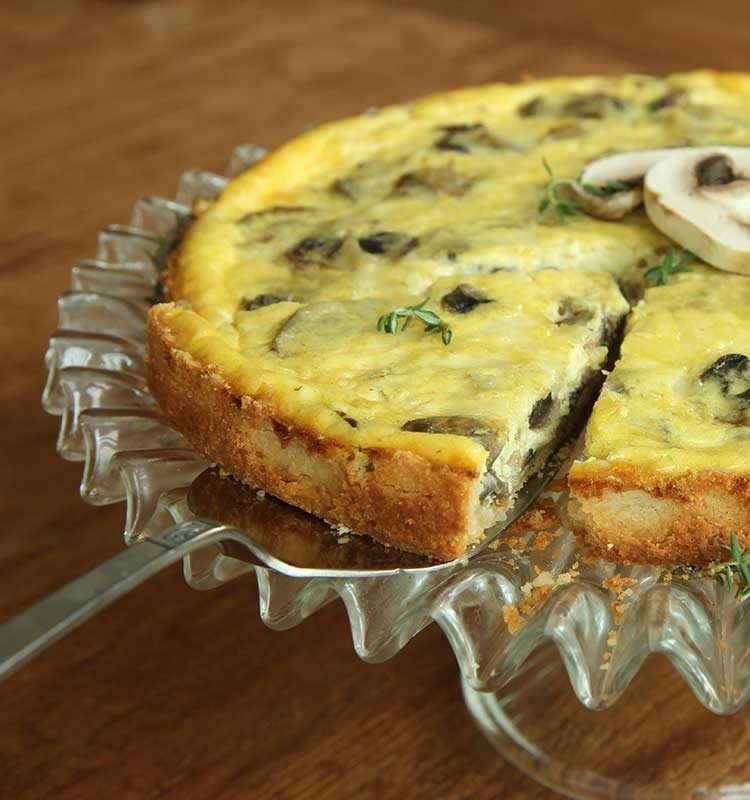 Until just about four years ago, I was an avowed hater of mushrooms. I mean that I found them disgusting, revolting and gag-worthy. Then suddenly, a switch flipped. Because I love food so much and so much of food (especially vegetarian food) involved mushrooms, I would make an attempt to give mushrooms a try every year or two just to make sure I still hated them.
And I always did, until the day when I didn't. Who knows what happened. Maybe I grew up. Maybe my tastebuds finally gave in. Maybe my body was telling me that I needed more vitamin D. At any rate, I love cooking with mushrooms now and this mushroom quiche recipe is THE BEST. The best one I have eaten, definitely the best one I have made. The recipe came from my grandmother's recipe collection, but it appears to be in perhaps her father's hand. It's a fantastic quiche recipe, whoever wrote it down.
In order of preference, bake your quiche in either a 9-10 inch tart pan (with removable bottom) or springform pan or pie pan. Something with a removable bottom is nice so that you can get the quiche out in one piece to slice it, and letting the quiche cool outside of the pan will yield a crust that stays crunchy rather than getting soggy.
Print
Mushroom Quiche
Author:
Cook Time:

40 mins

Total Time:

40 minutes

Yield:

6

1

x
1

pie crust

2 tablespoons

butter

1

shallot, finely diced

8 ounces

sliced mushrooms

1 teaspoon

salt

1/2

lemon (1 tablespoon juice)

1 tablespoon

bread crumbs

2

eggs
pinch cayenne pepper
pinch nutmeg

1/2 cup

cream

1/2 cup

milk

1 ounce

grated Gruyere or Comte cheese (or plain ol' Swiss cheese)
Instructions
Set oven to 400ºF
Roll crust out and line a 9-10″ tart pan, springform pan, or pie pan with it.
Saute shallots in butter over medium heat until softened.
Add mushrooms, salt, lemon juice and cover. Simmer 8 minutes.
Stir in crumbs. Remove from heat.
Whisk eggs, cayenne, nutmeg, milk and cream together. Add mushrooms to this.
Pour into pastry crust and top with cheese.
Bake 10 minutes at 400 then reduce heat to 350 for 20 minutes.
More French Recipes to Try!
How to make a cheese plate
Quiche Lorraine
Peach Melba
Gougeres
Tips on how to throw a French-themed Brunch Party